By ForexAlerts.ca
The following is an excerpt from today's premium report from ForexAlerts.ca recapping the major pairs they cover, how they traded them this past week, and what they look forward next week. They recently launched their service and are offering a 50% discount for a limited time. To learn more about currencies and take advantage of this offer click here.
USD/CAD - currently trading @ 1.0116
Bias: Bearish-Neutral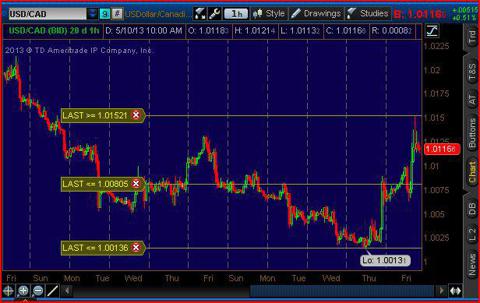 Levels:
Upside
1.01521
Range
1.00805 - 1.01521
Downside
1.00136
Positions
NO Open New Long Position
NO Add To Existing Long Position
YES Open Short Position
YES Add To Existing Short Position
Click HERE for the list of our trades in April
May 10th, 2013 - Entered Short position @ 1.0145
Commentary:
Our yesterday's and today's tweets:
a . 1.01427 is the new resistance level we're watching for to short the usd/cad.
b. the faster it gets there the better.
c. USDCAD has reached our short target of 1.01427. OK to short now.
d. Current price of USDCAD is 1.0145
We changed our Bias to Bearish-Neutral from Neutral. The pair is trading within the 1.00805 - 1.01521 range.
We want to take profits @1.00805 (we will cover all 100%)
Economic events that can influence direction:
| | | | |
| --- | --- | --- | --- |
| Date | Time | Event | Currency |
| Fri May 10 | 12:30 | CAD Net Change in Employment | CAD |
| Fri May 10 | 12:30 | CAD Unemployment Rate | CAD |
| Fri May 10 | 12:30 | Full Time Employment Change | CAD |
| Fri May 10 | 13:30 | Fed Speaks at Chicago Fed Conference | USD |
| Fri May 10 | 18:00 | USD Monthly Budget Statement | USD |