By Chris Ebert
I'm not telling folks anything they don't already know. The current rally in the stock market is simply too much of a good thing. But when everyone else gets caught up in the buying frenzy, it can make those who doubt the current rally's sustainability second guess themselves.
Ask yourself, "Does the current level of the VIX accurately represent my level of fear?" For all of you who know there is something not quite right going on, but can't quite put your finger on it, I give you the LSSI (Long Straddle/Strangle Index).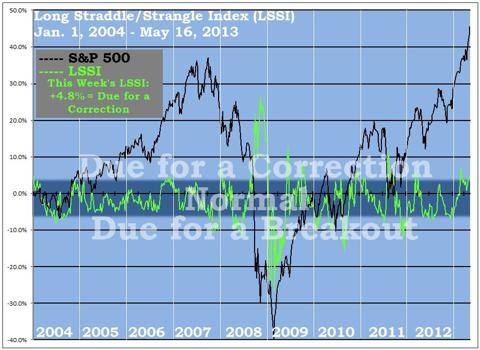 Click on chart to enlarge
The LSSI is normally published here weekly. Take a look at the chart. See how long the LSSI has been above zero? (since late February). Now look at how long the LSSI has historically remained above zero. (seldom more than a few months). And what causes the LSSI to fall back below zero? A correction in the S&P 500, typically at least a 5% to 10% correction.
A positive LSSI has a habit of preceding corrections in the S&P. An LSSI exceeding 4% is especially significant, and today the LSSI stands at +4.8%. Will the S&P break its 10-year habit? More importantly, do you want to bet on it?
Questions, comments and constructive criticism are always welcome. Enter them in the comment box below, or send them to OptionScientist@zentrader.ca.
The preceding is a post by Christopher Ebert, who uses his engineering background to mix and match options as a means of preserving portfolio wealth while outpacing inflation. He studies options daily, trades options almost exclusively, and enjoys sharing his experiences. He recently co-published the book "Show Me Your Options!"
Related Options Posts:
Introducing - Stocks And Options At A Glance
Possibly The Best Options Explanation Ever