By Poly
Oddly enough the weakest asset (crude) I've been tracking resisted today's equity market drop. This was primarily due to what was a bullish Department of Energy release of energy inventories. It showed a larger than expected decline in stockpiles of crude oil. The expectation was for inventories to decline by 650K barrels, but the number was 6.267 million barrels. That's a huge "beat" and this added some fire to crude despite the equity sell-off.
I doubt this release has any long term bearing on crude though. Stockpiles are still comfortably near record high levels, a reminder of just how weak underlying demand for crude really is. With a manufacturing ISM report this week that showed an actual contraction, it's hard to argue that demand will be picking up anytime soon. Actually what it does show is that crude demand should remain flat while new supply continues to hit the market.
As for the immediate crude Cycle, it's a difficult read. It's possible that crude found a DCL ahead of the Equity Cycle, or that they are both destined for one more drop this week into jobs Friday to mark that DCL. What I do know is that the trend is still lower and the upside should be capped. When the Equity Cycle selling begins to take on capitulation characteristics, crude too will be drawn significantly lower.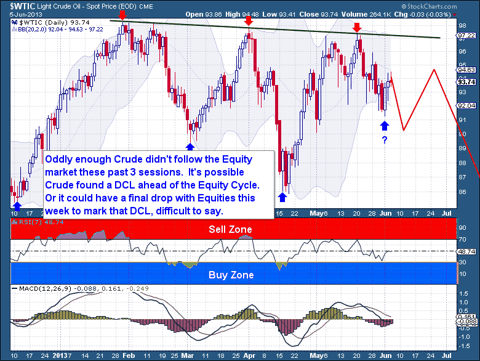 This as is an excerpt from Wednesday's premium update from the The Financial Tap, which is dedicated to helping people learn to grow into successful investors by providing cycle research on multiple markets delivered twice weekly. If you'd like to receive real time alerts as well as the most up to date reports, you may want to take their FREE 15-day trial to fully experience their service. Coupon code (NYSE:ZEN) saves you 15%.
Related Posts:
Expect Further Downside In US Dollar
Nikkei Was A Shot Across The Bow