Let's talk about this bounce we're having this week in regards to my timing signal. On Monday I recommended that subscribers of tradewithZEN start to book some profits on their shorts about midway through the session. The big red circle is when my timing signal turned bearish and the red arrow is when I made a live tweet to short the markets.
As of now we have a reduced short position, but I also saw an opportunity to add a few of the stocks we've been targeting on our watchlist on Monday. (see below). So far I don't want to add to our shorts as my timing signal hasn't fired a new signal so this rally may have a little more life left in it.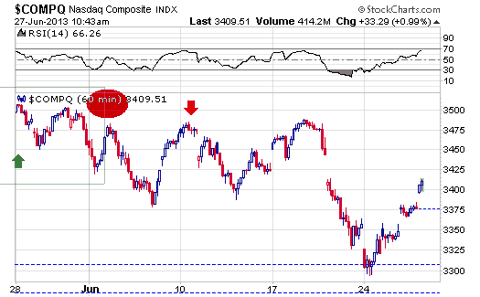 Below are three stocks I recommend that subscribers get long ( I personally bought AXL and didn't add the other 2 because I had already bought other stocks as the markets were selling off and didn't want too much long exposure) but I was quite clear that I thought any or all of these were a great opportunity to get long. They have all three bounced very nicely and if these are the sort of trading opportunities you would like to be exposed to then now may be the time for you to take a closer look at tradewithZEN.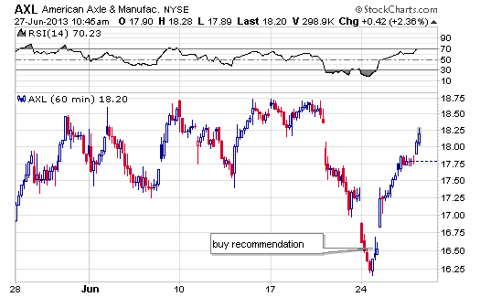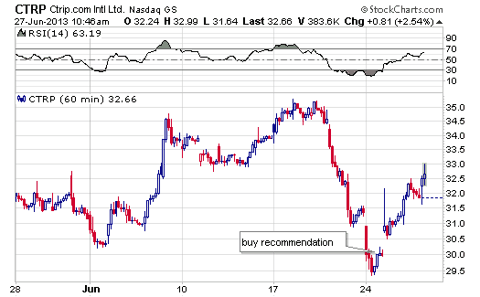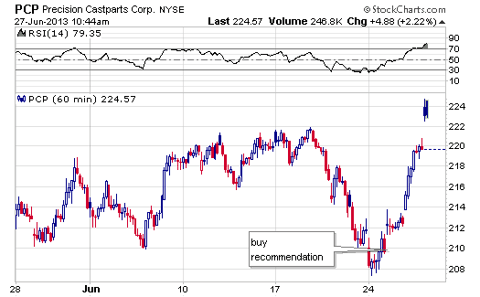 I have an outstanding record of providing stocks that have outperformed on weekly, monthly, and quarterly performances with very little risk or drawdown. Add in that you get a market timing signal that helps you identify times to be overweight/underweight equities and you get great value for $20/month. The only way you can lose is if you don't take the trades or don't ask me questions on how to best utilize the service. If you come for a month and cancel then you haven't done yourself any justice as it has taken me years to get comfortable with this sort of momentum trading. I've priced it so that anybody can afford this for many months before deciding if this approach works for you.
You will not find better value out there for what I provide for $20/month. Check out these testimonials.
If you have specific questions regarding the service check out the comment section of this post and if there is anything not answered there email me at tradewithzen@gmail.com
Best of luck in your trading,
Jeff