By All About Trends
The following is an excerpt from today's premium report by All About Trends. Enjoy a free 15 day trial to their service and receive daily stock picks, market analysis, and a complete trading plan.
Take a look at what we said over the weekend about Zillow with emphasis on the bold print.
7-7 While the bigger picture chart shows an issue that broke its green uptrend off the Nov. lows, the shorter term shows it building a bear channel (pink), even shorter term the blue line shows a POH.
So this issue could retest its highs here too folks, a downside break doesn't happen till it breaks the pink line to the downside in tandem with the indexes.
Here is the chart from over the weekend: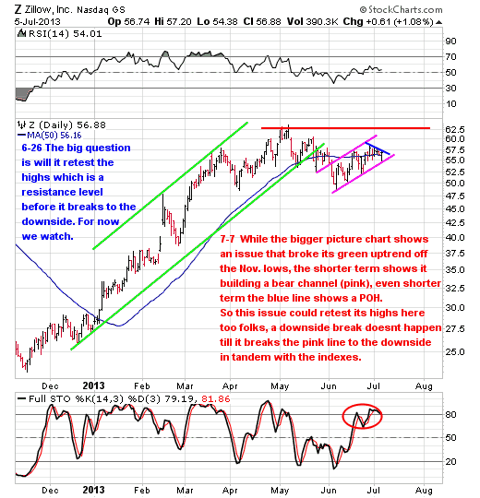 Here is today's chart showing the blue line POH upside crossover.
Now take a look at a 10-day one minute chart.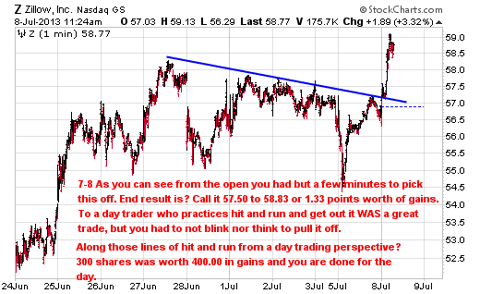 See that blue Pullback Off Highs POH line? Which is the only thing you need to know when it comes to trading on the long side no matter what time frame or frequency you operate in?
So, to sum it up this is a good example of trends within trends in multiple time frequencies and how to use them but not only that, for those looking for a short term game plan then here is one you can sink your teeth into.
Here is what I mean by that. 300 shares was worth about $400 in about an hour. To a day trader or scalper you are done for the day. But ahh not every trade is going to show you a $400 gain like this one did.
But try this on for size. What IF IF IF all you did is look for trade set ups like this and got a measly $150.00 per day and got out? Well for one thing it's $750 a week, $3,000 per month or $36,000 a year in a perfect world. Not to mention all the while going home flat at the end of the day without having to deal with gap risk long or short.
Now THAT is a plan for those looking for one! What's impressive is that it's only 150 a day worth of gains! Heck folks, that's 300 shares to move a lousy 50 cents!
Let me say that again. All you need is set ups like above, buy 300 shares, have it move 50 cents in your favor, get out and do it day in day out, week in week out, month in month out. How's that for a part time job!