By Astrology Traders
The following is an excerpt from Sunday premium report published on July 7th by Astrology Traders focusing on our core holdings. We started keeping a model portfolio for our astrology picks so you can clearly see how they are performing. We offer a free 2 wk trial, no cc required.
The home builders have been on a strong uptrend since last spring, where we also advised the likely emergence of a bullish trend that would be very long lasting. According to the NAR, National Association of Realtors, the sale of 1 home creates 1 new job. However, 1 new home construction creates 15 new jobs. This is a pretty striking number when you consider the supposed ambitions of the current administration to create jobs. These statistics are not getting mentioned in the media, however, the media is instead focused on the risk of another housing bubble. The gold miners will have to move over as the next target appears to be the home builders.
We have closed our position in KB Home with a 17% loss as this stock is at risk in the short term. I see the opportunity for a very bullish move emerging in August-October as Pluto moves direct creating the potential for a powerful influence that is positive for the home builders. What will be interesting to watch is how the public may be more powerful than the Fed "fiddling" in how strong this sector is moving forward. We are on the verge of total hypocrisy coming from the bankers and their approach to the economy and housing sector.
SPWR (SunPower Corp.)
As I mentioned above, we have closed our entire position with SPWR and have booked our 33% gains. I like SunPower for the long term and will be watching the price action over the next couple of weeks. This was our third position with booked gains in this stock. Overall we have over 150% gains from our original entry in January near $8.25.
INVN (Invensense Inc.)
We will be closing our position with INVN from our entry near $13.00 next week. We have over 19% gains from our entry on June 3rd. INVN will report earnings onJuly 24th. There is some stress in the astrology for the IPO and Inc charts going into earnings. The stock is currently overbought and Jeff thinks there is potential for a move back to near $13.32.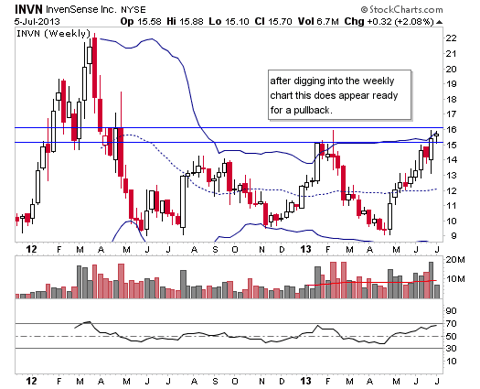 KKD (Krispy Kreme Doughnuts)
We added KKD to our Model Portfolio on June 24th at $16.32. We have over 18% gains with Friday's close at $19.38.

We have booked half of our position and will close the remaining half next week. The stock could pullback with general market weakness. We will revisit KKD in coming weeks.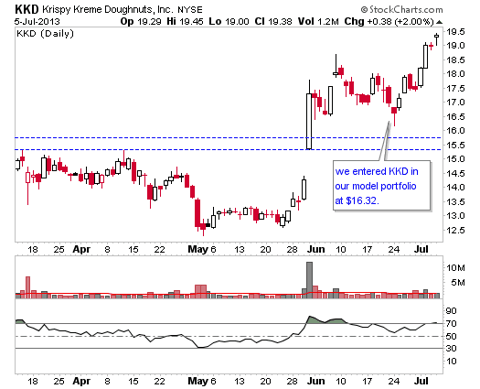 COH (Coach Inc.)
We have a realized loss ($125.80) on our COH position from our entry at $58.93. We closed half our position and intend to hold the remaining shares. Coach will report earnings on July 30th while Mars is trine Venus (luxury spending) and square the Sun in the IPO chart. The combination suggests a potentially very explosive move that is bullish. Before earnings there could be another pullback where we can add back shares at a discount. Continue to hold.
HIMX (Himax Technologies)
We have booked over 17% gains from half our Model Portfolio position with HIMX. We entered our position at $4.83 on June 24th and the stock closed on Friday at $5.69. There could be selling pressure in the next couple of weeks, however, there could be a bullish move that materializes near July 16th. Hold
Overall our trading strategy has provided substantial gains over the course of the last 2 months, all while the markets have been quite choppy. We have only one poor performer with KBH down 17%. At the same time we have four stocks with realized gains in excess of 15% and one with over 30%! The key to our success has been the combination of astrology with technical analysis.
Astrology Traders provides specific dates and in-depth analysis of future events for the financial markets through weekly updates, trade alerts, and educational webinars.

Related Posts:
What Solar Activity Is Warning Us About
Astrology Traders: Patience With HIMX Pays Off