By Poly
For the Euro, this has been a long and bruising 33 Day Cycle. But it too is now very deep in the Cycle and extremely oversold. The Bollinger band crash on such an extended Daily Cycle count is very solid evidence to support the claim that the Dollar is about to top for this Daily Cycle.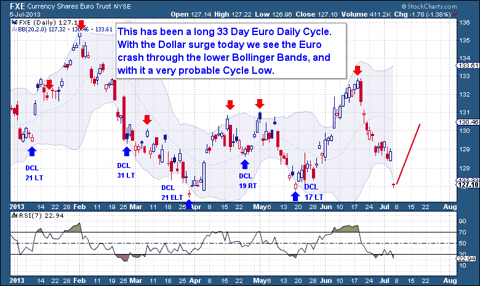 But trouble is brewing for the Euro and it is best shown on a weekly chart. With the Cycle just on Week 14, the Euro is on the cusp of showing us both a failed Investor Cycle and confirmation that a massive head and shoulders pattern is in effect. A Euro DCL right here should save it temporarily from showing a failed IC, but my expectation for the dollar to surge out of a shallow DCL should quickly help to push the Euro below (126.44 FXE) and into a failed IC state. That failure will set the scene for a sharp drop down to test the 3 Year Cycle Lows near the $1.20 region.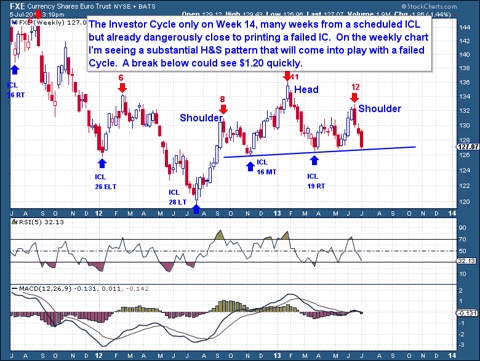 This is a massive and powerful surge by the Dollar. With the bond market tanking, this is not a move to safety, but one predicated on the idea that the US is still the best place to invest and risk capital. With the latest surge we now have new 3 Year Cycle highs and a continuation of that uptrend. From here we should expect a run to 87 within this Investor Cycle, a move that should continue higher towards the end of summer.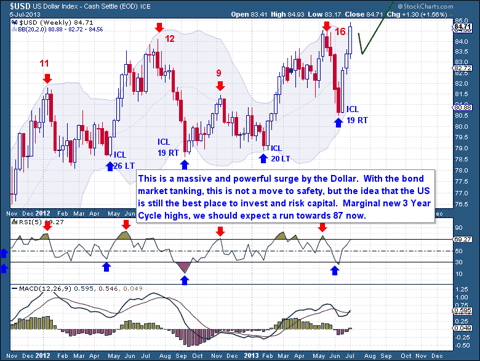 This is an excerpt from Saturday's premium update from the The Financial Tap, which is dedicated to helping people learn to grow into successful investors by providing cycle research on multiple markets delivered twice weekly.
Related Posts:
Investor Cycle Low Looms For Bulls