By Poly
This is an excerpt from Wednesday's premium update from the The Financial Tap, which is dedicated to helping people learn to grow into successful investors by providing cycle research on multiple markets delivered twice weekly. They now offer monthly and quarterly options to subscribe.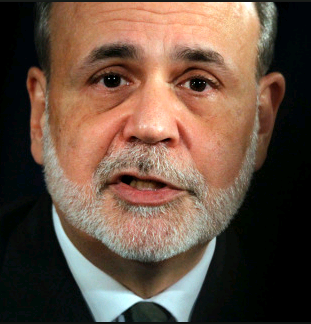 This past weekend I said the S&P was showing good relative strength, and now we know it's because the market was pricing in today's FED announcement. The media and "experts" were saying that the FED would taper, but the equity markets were already sitting at the all-time highs before the announcement.
Beyond the decision not to taper, the FED chairman made it a point to say "There is no fixed calendar schedule. I really have to emphasize that." The Fed also cut its forecast for 2013 economic growth to a 2.0 percent to 2.3 percent range from a June estimate of 2.3 percent to 2.6 percent. The downgrade for 2014 was even sharper than this, both downgrades suggesting that the FED is seeing a turn lower in its leading economic indicators. This outlook does not fit well with what the FED has been projecting in 2013. It suddenly appears as if the FED turned somewhat negative on the outlook for the economy, of course this by default suggests that the FED will extend asset purchases into 2014 before tapering and keep its zero interest rate policy (ZIRP) active for many more years.
Is this "negative outlook" by design, considering how far interest rates had moved these past few months? Probably both, the economy is already late in its business Cycle, so I'm not at all surprised to see weakness remain. Also though, I believe the FED is just not in a position to taper. This in effect would be a broad signal that the FED has now turned from an easing stance, to one of credit tightening. With an economy still languishing not far above stall speed, and a congress about to go hunting for more spending cuts, the FED simply cannot allow rates to get too far ahead of them. What this means more broadly is that the FED will remain more accommodating, for much longer than recently anticipated.
So with today's 1.3% move in the S&P, it's now the most overbought (short term) that I've seen in a very long time. I do believe the more accommodating stance that Bernanke showed today was a real shift in recent outlook, and it's likely to have a much more pronounced impact on the equity markets in the coming weeks/months. The impact on this Investor and Yearly Cycle is still to be determined though, but at this point I don't see enough here to warrant a dramatic shift in my view towards the longer dated Cycles.
The S&P is certainly overbought, and in the timing band for a Half Cycle Top. Members should expect at least a back-filling retracement here, there is just no room left to the upside without it literally running up to a major exhaustion top. Typically overbought surges above the Bollinger Bands, when in the timing band, hold very high odds of marking a top. In this case I don't see why this one should be any different, even in light of todays FED announcement. Look for another gap higher at the open tomorrow, but please do not going chasing it, you will likely be buying the actual Half Cycle top.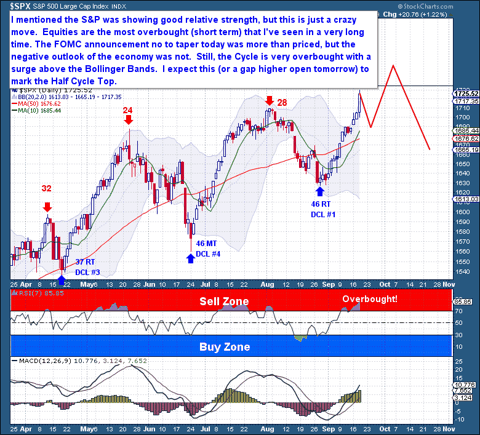 Related Posts:
Equities Appear To Have Put In A ST-Bottom
Blow Off Top Could Be In The Cards