By Harlan Pyan
The following is an excerpt from October 31th's premium update at All About Trends. Enjoy a free 15 day trial to receive daily stock picks, market analysis, & complete trading plan. Promo code: zen.
TRICK OR TREAT!
Is it tricks or treats today?
It's TRICKS and TREATS folks.
Here's why. A few days ago we talked about the top 10 heavily weighted stocks in the NASDAQ QQQ's make up over 30% of the index.
When you take a look at AAPL, GOOG, AMZN, MSFT, INTC and CMCSA you'll see they are all sitting and hovering here and not really giving anything back. This would easily account for why the index charts below aren't really coming unglued here.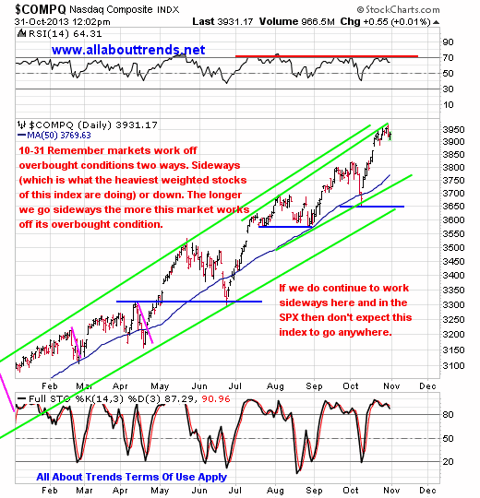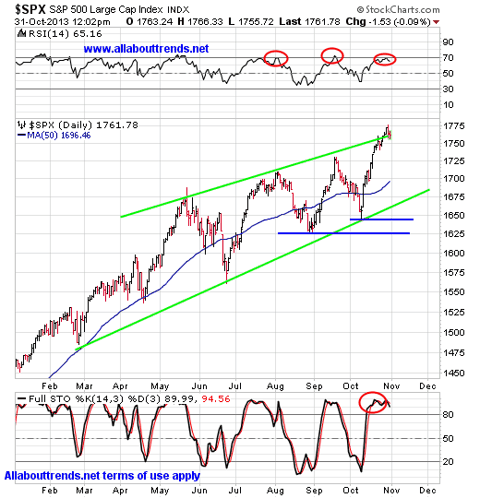 BUT when you look under the hood of that car on the show room floor you see the markets not firing on all cylinders, at least as far as some of the leaders go. That's been the trick. Distribution (selling on rising volume) in some of the leaders while the indexes mark time.
Now for the TREATS
It's a market of stocks folks and that's what we are seeing currently -- rotation and sit and spin. Sit and spin in the heaviest weighted names while some of the leaders get hit. BUT that all said? There are stocks with structure building. We've been highlighting them on the long side watch list and every day we've been adding to that list. So for those of you who are long only and trade what you see? Start to pay attention. Take these two names below for example.
HES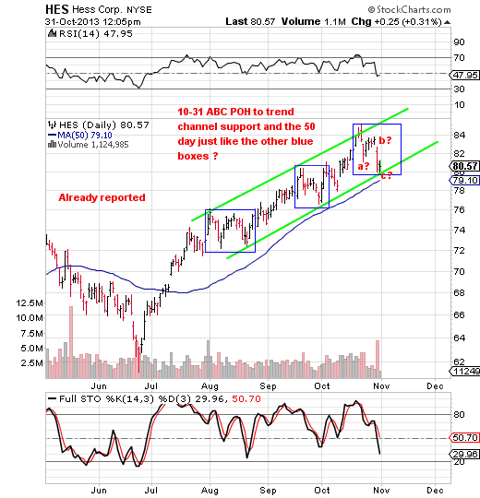 PXD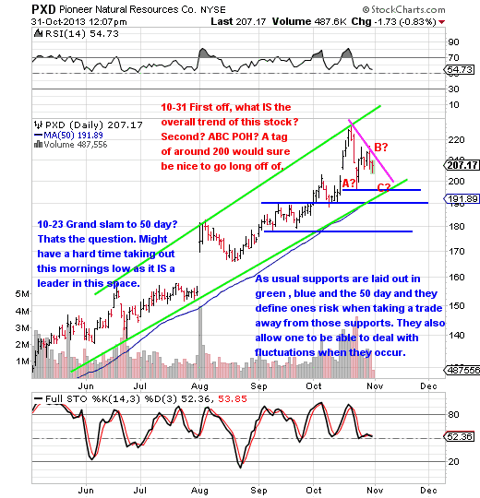 As you can see they all have that look of POHing and in clearly defined uptrends above the 50 day. HES is right there but PXD could use a little work yet.
So as long as the bulk of the heavily weighted index bames sit and spin its hard to say that the indexes are going to get killed here. So what does one do? Well you trade what you see and be willing to pay the price in the event they get hit.
The game plan for the day is?
While we have names setting up on the long side, it's really all about how long are they going to build out and how far are they away from trend channel supports or even sideways lateral supports and whether they get to those levels.
While we are not out of the woods by any means with regards to the indexes, its all about TRADE WHAT YOU SEE. Those four words are your mantra and nothing else. As long as the names on the long side watch list are in clearly defined uptrends that is all you need to know, its all about managing the overall uptrend and that is why we lay out trend channel supports and blue support lines so as to keep you focused.