By Poly
This is an excerpt from this week's premium update from the The Financial Tap, which is dedicated to helping people learn to grow into successful investors by providing cycle research on multiple markets delivered twice weekly. For more up to date commentary subscribe. Now offering monthly & quarterly subscriptions with 30 day refund available if not 100% satisfied.
The equity markets remain on track to hit the major top I described within the weekend report. I spent a considerable amount of time detailing that coming development, with today's surge being just one small confirmation of what should be a final move higher. There is no doubt now, the S&P is well into the 2nd Half of this Daily Cycle, therefore, as I outlined in the report, I now expect the final runaway portion of this Daily, Investor, and Yearly Cycles to play out over the next 3-7 sessions.
From this point, I expect a straight up climb to the point of exhaustion, and I would not be at all surprised to see 1,800 hit by early next week. But as this Cycle is already into the 2nd half and on borrowed time (with regards to expected Cycle counts), the next drop and close below the rising 10dma should confirm that the top is in. Along with the obligatory Daily Swing High, seeing the 10dma cross back below the 20dma will be our final confirming event of a Cycle in decline.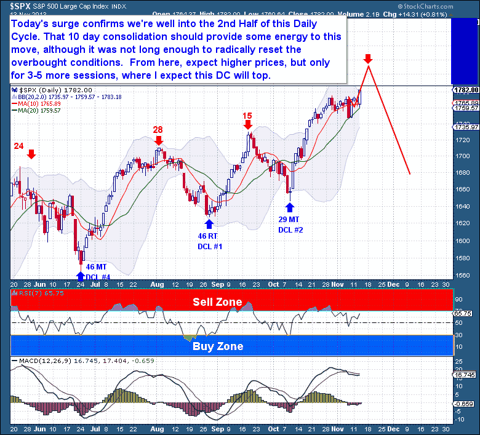 Investor Cycle Trade Strategy - Equities (S&P500)
The overall Equity Cycle trends are higher, making any Investor Cycle short trade one that goes against the primary trend. For this reason, even in light of evidence to support a major top, we must proceed with caution and smaller position sizes.
I will initiate a small short position once I see a loss of the 10dma on a closing basis. Expected trade in: Within 3-7 sessions.
Because I expect the coming ICL to also mark a Yearly Cycle Low, these declines need time to unfold. In that case, expect another (4th) Daily Cycle lower after this one. It's at that 4th Daily Cycle top where I would look to add a 2nd position. Expected trade in: Not for 4 weeks.