The following is a guest post from All About Trends, who teach traders how to achieve consistent gains through stock selection and daily trading education. When you become apremium member for $15/month (50% the regular price) you can expect to receive daily trade ideas and market analysis, along with a concise trading plan for each trade idea.
February 1st - Folks… with all this wash rinse repeat back and forth we've been seeing we have no choice but to hereby officially claim February 1st "Groundhog Day" one day ahead of schedule. As in just when you think they are going to kill 'em they run 'em and just when you think they are gonna run 'em they kill 'em.
Let's start with the 15 minute charts shall we.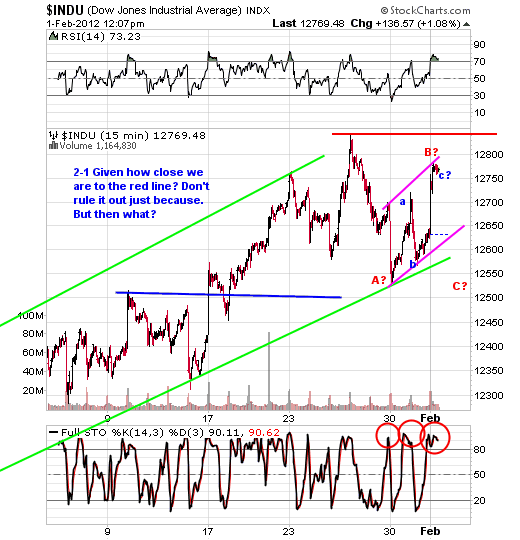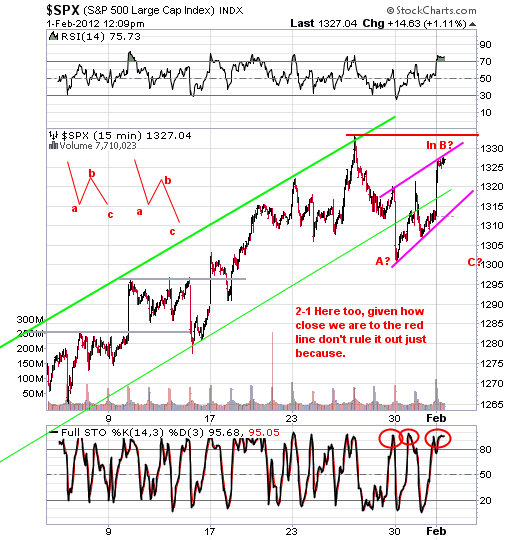 When you look at last five to six days in the two charts above you sure can't say there isn't volatile choppy sloppy trade that's for sure.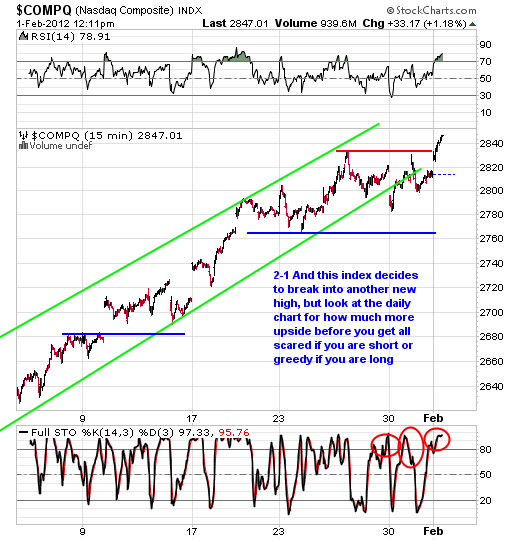 Of the three indexes above the Dow and the NASDAQ Comp. look the closest to tagging major resistance. Which also means they ought to stall out/pullback first.
In Summary:
Yesterday we said:
"So for today we are fine with what we have and aren't really feeling too keen about the chopping around on both sides of the market here."
Yesterday while the markets were down we weren't feeling too keen about shorting and today is a good example of why - we would have been chopped up. The flipside is today we are not too keen about going long anything here. IF it really is "Groundhog Day" in the markets then going long here would result in getting chopped up tomorrow. Look we're all for going long decent names that are Pulling Back Off of their Highs (POHing) however these three to four day pullbacks in an overbought state bother us as we've learned from past experience that they can bite just as fast. Frustrating? You bet. End of the world? Not at all. IT is just what it is currently which is exactly why we have been taking it easy on both sides of the market. Better to be safe and miss some things than to throw caution to the wind and run the risk of getting hammered.