The following is an excerpt from the weekend report from All About Trends. As a premium member for $15/month (50% off) you can expect to receive daily trade ideas, market analysis, and a concise trading plan for all their trades. I personally recommend their service.
As you all already know as we've all seen over the past month or so the Pullback Off Highs (NYSE:POH) long side set up pattern and using prior supports has been the ticket to making money from a low risk not having to chase a bus perspective. It's really a killer trade set up if you ask us.
Do yourself a favor as you look through the charts over the next week. Look back to when we stepped up to the plate on the long side (when the markets pulled back for 3-4 days) and apply that to numerous charts out there and you'll see virtually anything that was in play since that 3-4 day sell off to a support level WAS the absolute best time all according to how we operate in the markets. Virtually across the board it showed. We bring this up so as to set the stage for the bull count and going forward with regards to how to play coming weakness.
When we look at the index charts we see numerous reasons showing in the chart that makes us want to once again step aside for a bit and employ the same stance we did recently which was to ALLOW STOCKS TO COME TO US.
This is exactly what we want to do in the short term as there are numerous names that MAY be putting in bearish patterns (Potential double tops on Neg. RS divergence). Whether those patterns lead to full blown tops or that of needing a rest before another push higher remains to be seen, only time will tell. That's why we'll take it one step at a time and monitor the action as we go.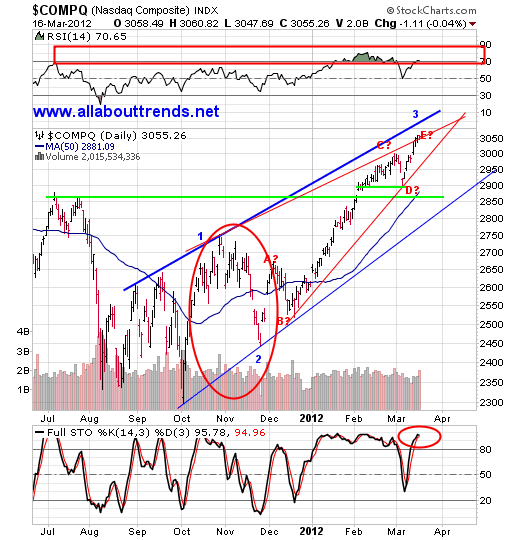 Take a look at the charts of the indexes for a moment. Let's look first at bull wave count. Those who follow that theory know that typically upswings in bull market cycles be it cyclical or secular know they are usually five wave up affairs. That said IF IF IF this is a big picture five wave up affair we are in then you can CLEARLY see we have 3 waves up completed and that means we still have big picture (Off Oct 2011 lows) waves 4 (down or sideways) and wave 5 (up) yet to rear their head.
You can also see we are big time stretched with triple witching options expiration adding more of a push higher late last week. Expect some of that to be relieved next week.
We are at the rising wedge resistance and trend channel resistance too . These patterns that are currently showing up build a case for Wave 4 being imminent. See that RED circle back in December? (We know we talked about this a month or so ago but ew have to revisit this) That is a wave two pullback and it lasted a month. Wave 4 could look like this.
Keep in mind wave 4 can be sideways or down. Also keep in mind that while we can easily sell off here some names may just be content to do their own thing and trade to the beat of their own drum so let's see how the weeks starts out before we jump to any conclusions about that.
So what happens if Wave 4 ended up looking like wave 2? No biggy as we have multiple supports as numerously mentioned here over the past few weeks. It is also a healthy occurrence as it really allows stocks to digest gains and catch its breath for the next moves higher assuming the bull count is in force.
What it also ought to do is take names down to supports that will allow us to jump into all from a low risk entry point perspective so welcome it when it shows up, don't fear it because if the bull count is truly in force then it's all about what happens after and that is a wave five climax run to this whole up cycle. We'll see as a lot has to happen/get through first and that's the fourth wave.
So thinking forward according to the bull count script? We have nothing but good times to look forward to but we all MUST do our homework and a lot of that is staying focused and monitoring the charts as new movements come to us.