The following is by Karen Starich, who uses astrology to forecast events in the financial markets.
In February Forbes ran an article "Can The Planets Affect Your Portfolio?" that I though I should chime in on. The answer is yes! I have to say that as an astrologer and trader I think the article is very timely. Uranus rules astrology and technology and just happens to have recently moved into the sign Aries, a long journey since the planets last visit in Aries during the 1930′s.
As an investor this is good information to know since the movement of the planets will have an impact on the sectors that the planet and the signs rule. Aries is all about making things happen and helps to cut through the barriers that thwart progress. When Uranus moved into Aries in 1927 a new era of advanced technology came on the scene with radio, television, commercial aircraft, mainframe computers, automobiles, and atomic energy. Uranus will not disappoint, as the planet has a tendency to bring sudden changes, and the beneficiary will be those investors who can recognize and seize upon the opportunities that are just around the corner.
The Forbes article is an excuse for me to also let investors here know what's going on with "that" tab on the top of this site titled "Astrology Traders." Last August we launched the Astrology Traders service to combine the astrology timing and trends to technical analysis charts. I provide detailed astrology analysis with dates for corrections and timing opportunities for a group of sectors and Jeff Pierce adds the technical analysis for the charts of stocks and commodities that we are focusing on. Together we look for the perfect stocks to fit the astrology and then give the dates and the entry point to make it happen. I have to say WE ARE ROCKIN!
This adventure has surprised us both. We continue to knock out incredible investment opportunities week after week, and I don't know why anyone would not want to be a part of what we're doing. Since Forbes brought it up I thought this the perfect place to share some of my past analysis along with the trades I recommended. By the way, a little side note here, the "other financial astrologer" mentioned in the Forbes article charges a lot more than we do!
Here's a peak at some excerpts from my past newsletters:
From my newsletter dated: February 19, 2012: Another Tech Boom
"Uranus will start to make some beneficial transits in March which suggest technology stocks may start to move higher. Watch for a correction in some key technology stocks and also the Nasdaq beginning February 26th through March 6th."
Stock Market
"The transits that would have provided corrections in the last couple of weeks have not demonstrated significant pullbacks, instead producing smaller daily or intraday corrections. There could be building momentum while burning off some of the overbought conditions for a big move up in the markets mid March despite a potential Greek Default. There could be bears looking to short the markets near the previous highs of last April. This could be the area I see 3/1-3/6 for a pullback. I don't recommend a short position here as those shorts could be taken out of their positions quickly with the building strength going into mid March with a grand trine between Pluto/Jupiter/Mars.
Novellus Systems (NVLS) a semiconductor equipment maker could make a short shallow correction near $44 for a song position in the next couple of weeks.
(Click to enlarge)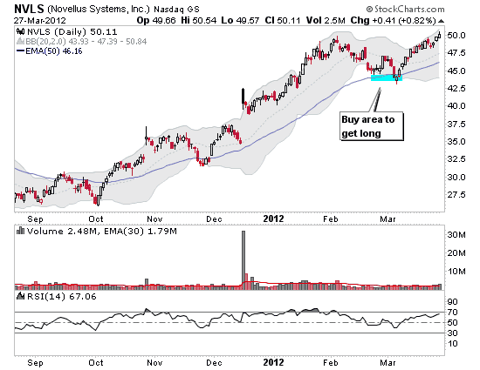 From my newsletter dated: March 3, 2012
"Continue to be mindful of a potential pullback in stocks 3/1-3/6
"March 1st.-9th: There could be a downturn in the markets here. The bears may try to take advantage of what may appear to be government instability. Most likely it won't work as the grand trine starts to have an influence March 7th. Watch for opportunities to establish long positions.
"This week I am adding to the watch list a company in the cloud computing space, Rackspace Hosting Inc. (NYSE:RAX). Watch for a pullback near $48.50 - 49.00 to setup a long position.
(Click to enlarge)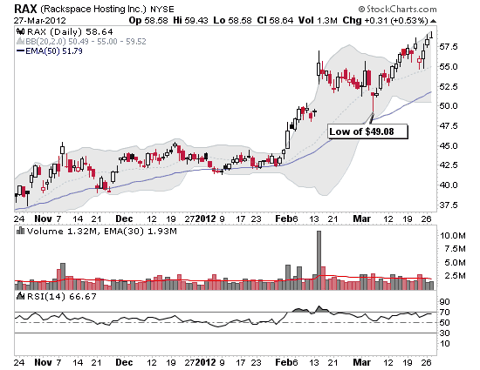 From my newsletter dated : February 26, 2012
"This week I am highlighting another stock form the bio-technology sector that I feel is a buy based on the technical analysis and the astrology. The company is Endologix Inc. ELGX is known for the development of vascular disease treatments. From the astrology perspective I like a company that makes a healing device for a disease of the stomach. This type of company could benefit from the Neptune (diseases that are hard to treat) trine to Venus in Cancer (Cancer rules the stomach) and could be an acquisition target by one of the bigger bio-tech companies." Consider a long position in ELGX between $12.50 -$13.00."
(Click to enlarge)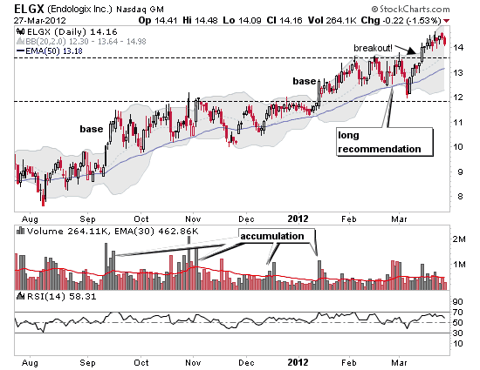 These are just a sample of the recent profitable trade recommendations from Astrology Traders. We currently have several other technology trades that are now poised to make gains along with recommendations that have hit the projected dates with TBT, Oil, Silver, Gold, steel, and Home Builders.
Get the timing, get the edge, sign up for Astrology Traders. Tomorrow we are having our first online webinar for subscribers and you don't want to miss that!