Below is an excerpt from the weekend update by All About Trends. Premium members receive daily market commentary, stock picks, and a concise trading plan. I personally recommend their service and you can try it here at 50% off regular price.
Now that none of us gets to live out our fantasies of winning Mega Millions lets now return to our regularly scheduled programing of moving forward the old fashioned way -- to earn it and be all that we can be. Think the phrase"If It's To Be It's Up To Me" and we're here to help with the steering.
After all, there really is only one pattern you'll ever need to know right? It's called Pullback Off Highs (NYSE:POH) of issues in clearly defined uptrends or emerging out of corrections and we have a slew of them. Wish we could say that for the indexes but that's not what the indexes are looking like currently so that's why its a market of stocks.
Wash, rinse, repeat, range bound, sideways wave 4? These are the current buzzwords in the market all the while it's a market of stocks that trade to the beat if their own drum with something for everyone. While on the subject of buzzwords? Add this to your list MOVING FORWARD as that's what our society is supposed to be focused upon right now and how do we do that, not just as a society as a whole but as individuals as well because after all you can't change the world till you can change yourself if you know what we mean. Prosperity consciousness is the name of the game. Ever hear of the book by William James called "As A Man (and Woman) thinketh"? Nuff said.
It's A Market of Stocks. The more we look through all the long side watch list and current holdings we see no problems with them. But when we look at the indexes? Gosh overbought and extended with no low risk entries to be had. All that really means currently is that the trend is intact, sell offs really don't last all that long, at least not yet BUT we assure you at some point they will. A correction or even a deep pullback has to happen sometime as they always do -- it's just a question of when and only the market knows.
We've been talking about the market potentially building out a sideways Wave four consolidation here and the more we go in time like we have been the greater the odds of that being the correct scenario so for the time being we'll just focus upon what we've been focusing upon and that is stocks that are trading to the beat of their own drum.
Going into next week if the market is going range bound in wash rinse repeat form we could get a gap up open that takes us right up to resistance then right back to range support so let's take it easy Monday to start the month with regards to new positions.
Let's start with the DOW
(Click to enlarge)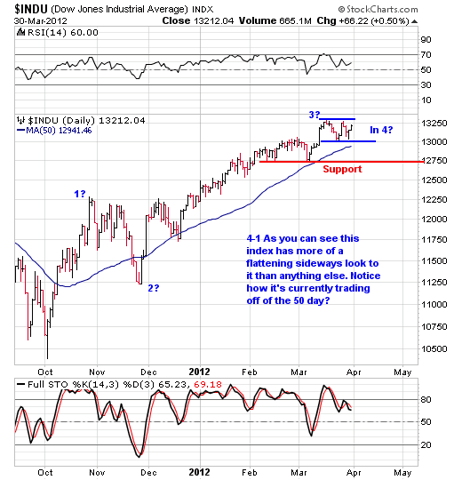 (Click to enlarge)