Mike Dever, Founder, CEO & Director of Research of Brandywine Asset Management, has the successful track record and the experience to author a book that questions the paradigms that investors so often take for granted with their poor-folios. Jackass Investing details 20 easy to follow chapters that turn every mantra that traders commonly use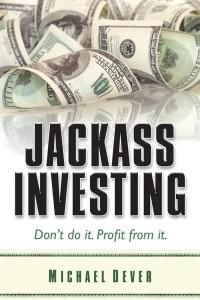 and upside-down, proclaiming that many are simply not true. This book is designed to provide amateur investors with a plan to manage their money while dispelling many of the common myths associated with investing.
In addition to myth-busting, this book comes with a companion section on his website that offers actionable trading strategies to cope with the myriad of situations the markets can throw at us. One such method involves scan parameters from the Piotroski trading strategy. Without going into exactly who he is or what those steps are it reminds me of a dogs of the Dow type strategy where you are trying to find undervalued stocksdefined by 9 specific parameters. My problem with this strategy is it's not for me as I don't pay attention to fundamentals and it requires a membership from AAII.
I'm not that keen on spending money on a book and then having to buy another membership to put a trading strategy into action. As a trader who has many different strategies myself, I didn't find that much use for what was on the site and they appeared to be very difficult to actually implement. This is one of those situations where these strategies may work for other traders as there is no one size fits all in trading/investing, so it may be worthwhile to check out as it doesn't cost anything to access these strategies. I just didn't find much use for it, nor did I like the fact I had to enter my name and email to receive this info. It should have just been included in the book if the author felt it was that important.
One key takeaway from this book is that it focuses on the concepts that markets change, we change, and the return drivers that determine our trading strategies constantly change. Therefore, we should always be evolving to ensure we are in the best possible situation to outpace inflation and have a rising equity curve. Another mission of the book that I really would have liked to see the author delve into more is "to turn the biased and often risky behavior of others into profit." Market psychology is and has been a fascination of mine and it should be for any trader as nearly every mistake you can possibly make is of the mental kind, and therefore taking advantage of others and gaining more control of your own mental processes should always be high on any traders list to master.

I feel Jackass Investing is best suited to new traders as it does a good job of touching on many of the cliches in trading, but for traders who have been around the block there isn't anything new here. I can't say that I personally agree with all of his conclusions but if anything they give you another side of the coin, which is always a good thing. Perspective is key. One that really resonates with me is Myth 2 -Buy and Hold Works Well for Long Term Investors. Michael says "Buy-and-hold is not an approach at all, but merely a way to rationalize losses" and I'm completely on board with that being a trader with a short holding period. To often I've heard stories about a trader who has becomes trapped in a position because the trade went against them and they would rather hold and hope that it turns around and at best break even.
Despite clocking in a tad shy of 300 pages, Jackass Investing can handily be read in a couple of settings. Truth be told it probably didn't need to be that long as much of it is historical information about the markets, financial history, and statistics. So if you are new to trading this may be a good book on the markets to start with, but for experienced traders I would pass.