The following is an excerpt form the mid day update by All About Trends. Premium members receive daily market commentary, stock picks, and a concise trading plan. I personally recommend their service for their insightful content and amazing value. Try it here at a significant discount.
Given that I'm bearish on the markets it's important to always consider the opposite trade. Right now All About Trends are mildly bullish and have been buying the dips in a conservative way. Below are charts detailing the bottom that could be forming.
A good exercise to perform when taking a trade or when thinking about taking a trade is to ask the question "what if this goes against me?"
Do you have an exit plan?
Do you have a stop?
Do you have a what/if statement ready so you aren't frozen and become trapped in a trade?
Mid Day Report
Speaking of where supports are? You MAY be looking at one in the making with the SPX. At least in the short term initially we've tagged it and are moving away from it. But again it doesn't matter as AAPL is going to call the ball.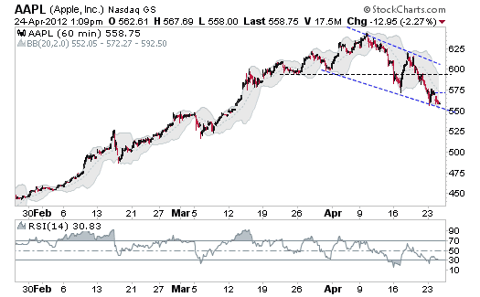 Index Charts: