By Chris Ebert
The Long Straddle/Strangle Index (LSSI) is within normal limits, so no surprises are expected. The Covered Call/Naked Put Index (CCNPI) is weak, but still mildly bullish while the Long Call/Married Put Index (LCMPI) is non-bullish. The markets are stuck in a stalemate, waiting for Europe to make the next move.

With the approaching U.S. holiday weekend, the mixed emotions portrayed by the option indices are unlikely to have much effect on Friday. Greed and fear fought a good battle this week, but neither side can declare victory. With the fear of the ongoing problems in Europe not likely to change significantly over the upcoming weekend, and with Friday's consumer sentiment report being the only anticipated catalyst for greed, both sides will probably call a temporary truce. Given the current level of the Option Indices, many traders can be expected to sit out Friday's session and extend the weekend to four days.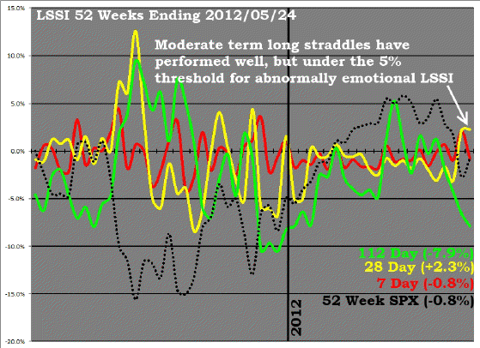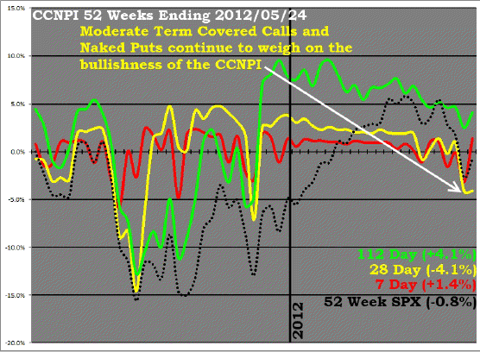 All Index values are calculated relative to the S&P 500 using volatility data to extrapolate the theoretical performance over the given time periods. It is not possible to match the exact performances shown because the strike prices and expiration dates available in actual trading will always differ from those used in the calculations.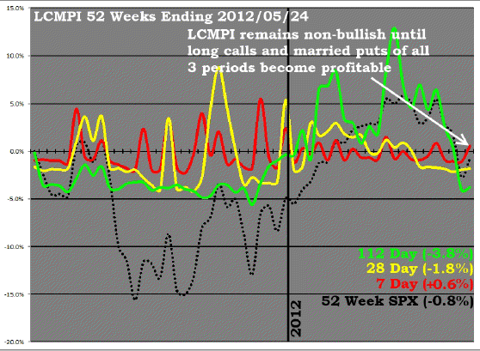 The preceding is a post by Christopher Ebert, who uses his engineering background to mix and match options as a means of preserving portfolio wealth while outpacing inflation. He studies options daily, trades options almost exclusively, and enjoys sharing his experiences. He recently co-published the book "Show Me Your Options".
Related Options Post:
Past Performance Eventually Guarantees Future Results
I'll Have Another Covered Call