By Chris Ebert
Facebook stock options are set to begin trading Tuesday, May 29. While many are waiting to see what the premiums will look like, a better approach might be to ask what they should look like. Would you buy car insurance from the first agent that offered you a policy? You might get a good deal, or you might not. While many drivers seem willing to spend a few minutes to ensure they are paying a fair premium, applying the same concept to Facebook option premiums, prior to actually trading them, seems prudent.
A feeling of mistrust may exist among some traders who believe the options market is rigged. The initial problems and rumors surrounding the Facebook IPO may tend to increase distrust of the fairness of Facebook options. To aid traders in making informed decisions about trading options, the following option chain is presented as representation of fair pricing along with the reasoning behind the calculations. Minor adjustments may be necessary if the underlying shares are trading at a price other than $32.
The actual option premiums may differ greatly from those shown here. A trader who believes that market makers are lining their pockets with outrageously high premiums always has the choice of joining the party by selling options himself, either naked or as part of a complex trade such as a covered call.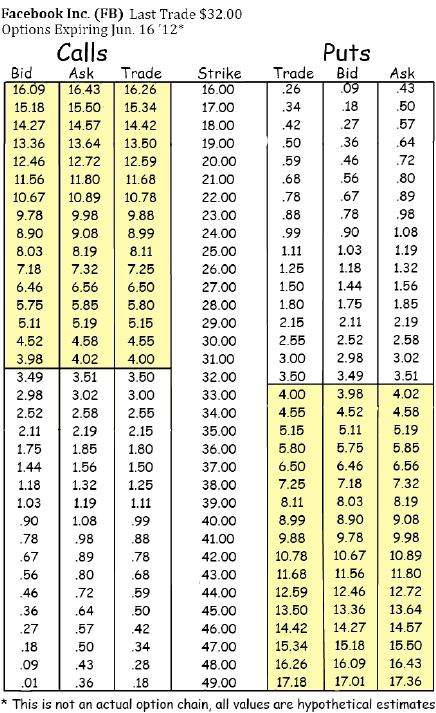 Volatility and time are the two most important factors in determining option premiums. Time to expiration is easily determined, but volatility is more abstract. Exactly how volatile is Facebook stock? There is no single correct response. Determining volatility is as much a scientific endeavor as it is an artistic interpretation of the market.
However, for near-term options such as those set to expire in June, one method of determining expected values of future volatility would be to assume that it will remain consistent with the historic volatility that has been observed over the past six days since FB began publicly trading. Lacking any significant projected event (earnings announcement, new product release, etc.) that might suggest a change in volatility prior to the June expiration, historic volatility appears to be a viable basis for estimating the future.

Determining historic volatility on a stock that has such a short track record is not exactly simple. It may be helpful to calculate volatility using several different methods to see how the results stack up.
Deviation from average closing price: From May 18th to the 25th the average closing price of Facebook was $33.37. The average daily closing price differed from that amount by $1.84, which is a rough estimate of daily standard deviation.
Standard deviation of closing price: Given the average closing price of $33.37, the average of the squared difference from that price is $5.63 and the square root of that amount is $2.37, which is a more accurate estimate of standard deviation.
Average daily price range: Although the stock price initially made huge percentage moves, more recent stability has lowered the average daily price range to $1.60, also an estimate of daily standard deviation.
One-week price range: The highest closing price from May 18th to the 25th was $38.23 and the lowest was $31.91 giving a one week range of $6.32. A conversion factor must be used to convert weekly volatility to daily volatility. Using a factor of 38% yields a value of $2.40, which can be considered to be an alternative estimate of daily standard deviation.
As the estimated values for daily standard deviation are all fairly close despite the method of calculation, averaging the results should give a good ballpark figure. Averaged together, the final estimate of daily standard deviation is $2.05, which is equivalent to an annualized standard deviation of approximately $32. Facebook shares are currently trading near $32, so a standard deviation of $32 represents an annualized implied volatility of 100%. That is high, but not unexpected after an IPO.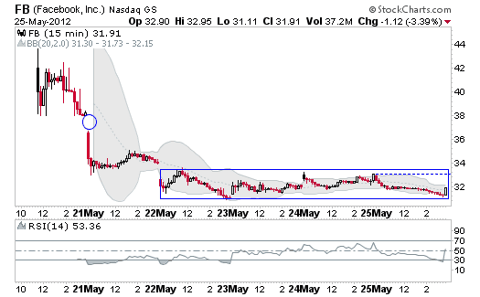 Using conversion tables found in the book "Show Me Your Options!" it is possible to determine the approximate premiums for at-the-money options. Based only upon the short history of trading of Facebook stock, at-the-money options on Facebook with June 16 expiration should have a value near $3.50 when they begin trading on May 29. Additional conversion tables and projected liquidity can then be used to determine premiums at other strike prices, which are shown in the hypothetical option chain above.
The preceding is a post by Christopher Ebert, who uses his engineering background to mix and match options as a means of preserving portfolio wealth while outpacing inflation. He studies options daily, trades options almost exclusively, and enjoys sharing his experiences. He recently co-published the book "Show Me Your Options".
Related Options Post:
Markets Are Stuck In A Stalemate
Past Performance Eventually Guarantees Future Results