By All About Trends

Hang on to your hats folks it COULD be a news driven bumpy ride next week. Doesn't mean it will just that it could.
We have the Greece elections
We have the Supreme court apparently making the call on "Obamacare"
We have the Fed
And who knows what else.
We nor anyone else knows how this whole twisted Greece thing is going to work out, one can jawbone all they want but the markets make the call. It's not going to be the news but the reaction to the news.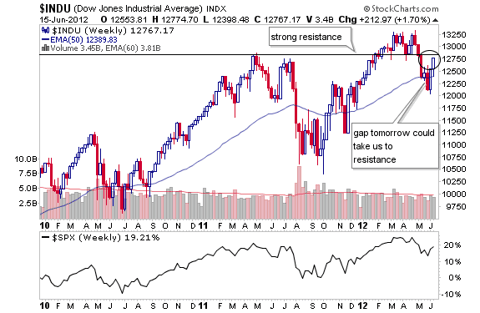 BUT does it really matter? Technically speaking it doesn't as we are sitting at some resistance zones (with a high cash position and a little short exposure) that should the markets want to honor those zones then we've ran our course or near ran our course.
Big upward move in a short period of time if you ask us. Here we are though overbought, on Negative RS divergence and starring at the 61.8 fib level.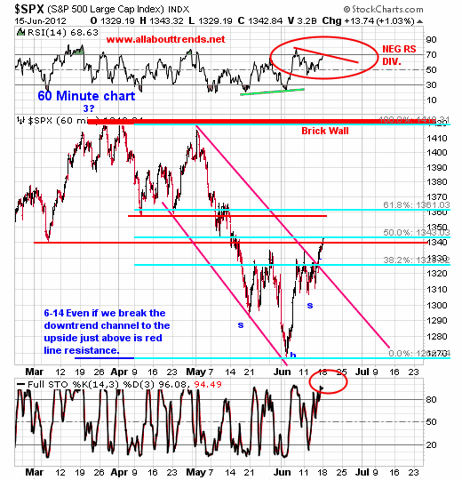 As you can see, Thursday on news of the Central Banks of the world uniting we broke thru the right shoulder of the mini head and shoulders bottom (which was also downtrend channel resistance) all in "Don't blink" form and a gap open. Now? We're overbought, tagging a fib level etc etc etc. Sure we can go higher from here and if so? You got it all in a gap up open but then what? We'll refer to what we said about spikes.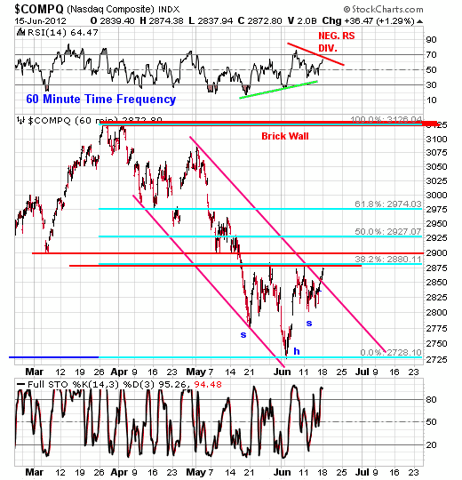 So what are we going to do about all that? Simple come Monday IF the markets spike they spike let the dust settle and then decide what to do IF anything. We're more apt to sweat it out while in the zone than anything else. If we gap up and stay up? So be it, upsides are limited to the Brick Walls as shown over time. In that case?
It reminds us of a Tony Robbins phrase : "God's delays aren't God's denials" Said another way? "The Market's delays aren't the Market's denials"
So really folks, one would be better off to sit back and watch the fireworks come Monday and above all DO NOT get emotional and freak out if you have any short positions on. Chasing stocks to buy here won't do you any good either, especially with a Fed meeting coming up.
NOTE: Keep in mind the bulk of this talk is assuming we gap up big. We nor anyone else has a clue as to what is going to occur. We only lean our talk to a gap up open so as to help keep you emotionally centered and grounded. In other words, don't jump to any conclusions at the open. We could just as easily fall like a rock too you know.
Lastly, if we were to gap higher? We'd lean towards taking a short sell in either an Inverse ETF or IBM (we're leaning towards IBM) so keep that in mind too as spikes in the markets are also opportunities to profit from, think Monday's pop and drop.
The following has been an excerpt from this weekend's premium update by All About Trends. Members receive daily market commentary and stock picks, a weekend wrap-up, and a concise trading plan. I personally recommend their service for their insightful content, trading methodology, and value. Try it here at a significant discount.
Related Posts:
The Only Pattern You'll Need In Downtrends