While I am surprised at the strength of the general markets over the last few weeks, nothing has changed from my long term trading perspective. I think the miners are ready to roll over as well as the general markets and I'm positioned accordingly. Today was exceptionally volatile in my personal account and I read that as traders really struggling with how to interpret all the macro news that's been thrown at them.
Two of the stronger sectors in the markets are showing topping broadening patterns with negative divergence on the RSI (indicated by red line). These are very bearish pattern and I expect these sectors to weaken here as well, although I wouldn't be shorting them. There are much better sectors to short such as nonferrous metals index (TCK FCX), oil and gas index (BP PTR STO), and defense index (GD LMT).
Here is an interesting chart of the Dow Jones Transports Index showing hitting a strong resistance trendline.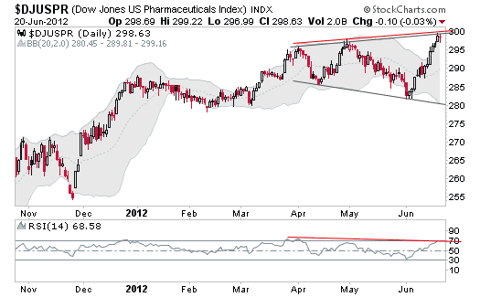 Get a new SPX options strategy delivered each week to your inbox.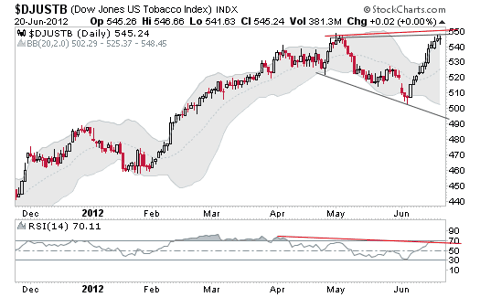 bearish pattern, at top of range