By Dave Ambrose
Story Stocks: Annie's Naturals - BNNY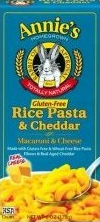 Why do I think there is a story behind Annie's Naturals? What is the catalyst that could drive this stock to new heights?
Well the first thing that comes to mind is my kids. I shouldn't be surprised by this since they are responsible for causing erratic spikes in water usage and record breaking amounts of paper towels. That said, they won't let me go into the mac and cheese isle without grabbing a few boxes of this stuff. And you know it's the most expensive one there because they usually have it on the top shelf, much like liquor stores do when they organize the wine from the stuff you make sangria with to the stuff you save for your next promotion. Either way, my kids are hooked and rightly so, I am definitely guilty of grabbing some of their Mac and cheese (I add a little white truffle oil when I make it, brings the favors out) for myself when it comes off the stove.
So here's this company, that has my kids addicted to their easy-to-make food, and you can pretty much buy it anywhere, from Whole Foods (WFM) to Target (NYSE:TGT).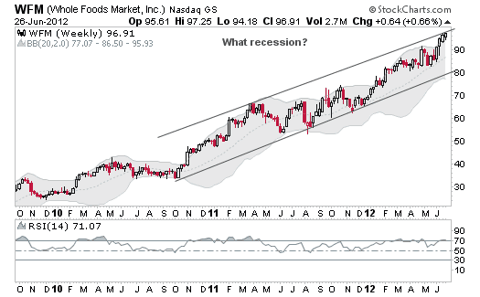 And it's about $2.00 a box. How much can this stuff possibly cost to make? I know it's organic but come on, it's dried pasta and powdered cheese. If you agree with the thesis that commodity prices should continue to ease, then that only means this company's very high profit margins on Mac and cheese will also improve over the coming year.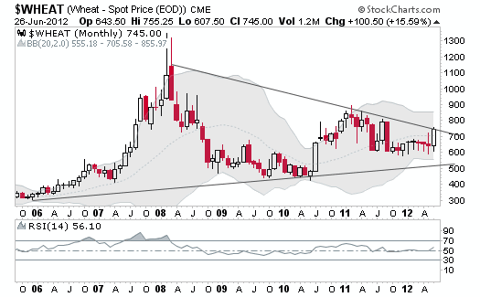 And here's the clincher, I actually feel like I'm doing a disservice to my kids if I buy the Kraft (KFT) stuff, even if it says "organic" on the box. It's like if I buy the other, less expensive brands of Mac and cheese, I feel like I'm saying that I don't care if the kids eat harmful processed chemical laden, glowing like Chernobyl Mac and cheese. I mean, come on Kraft, "Cheddar Explosion"? Maybe that's what happens if some of the powder comes into contact with an errant flame like in a granary… Regardless, I already feel bad buying the Mac and Cheese in the first place as it's not the best thing for the kids to be eating, but it is very easy to make. Many times I am too pressed for time to go making something that they will actually eat without a sales presentation and comparative analysis to chocolate bars and sugar coated breakfast cereals. Annie's basically allows me to buy them something they'll eat with 51% less guilt than other brands.
So, feelings and kids aside, here's something else to chew on when it comes to Annie's. According to the company's 10K from June, the company is aligned with United Natural Foods Inc (NASDAQ:UNFI) who are just monster distributors of Annie's and account for 25% for their product distribution to retailers. This is a heavy number that should only grow over time as people become more and more concerned with eating healthy and getting their kids to eat healthy. As their business grows, so do the businesses of the products that they sell. Increased sales combined with the thesis that agricultural commodities may fall in the near term will allow this company to beat on expectations going forward.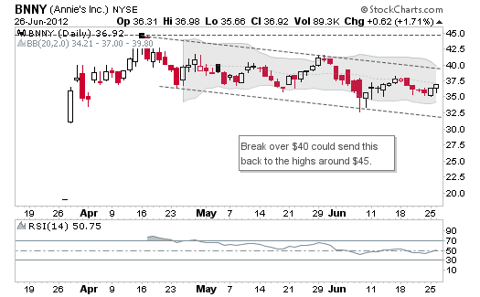 So the story is this in a nutshell:
1. My kids are addicted to Mac and cheese.
2. It's readily available for purchase in pretty much any food retailer AND they directly sell the products online via their swanky new integration with the Alice Storefront. This is basically a unified shopping cart for online shopping of packaged goods.
3. Margins only get better if commodities continue to fall.
4. They sell "caring about your kids" which is very tough to overcome when you are making your choices at the grocery store.
5. BNNY could be an acquisition target for a company looking to move into the organic snack food space. Think Stonyfield Farms.
6. This is a growth stock that sells a consumer staple so you get safety with the potential for capital appreciation on the stock price.
Good luck and happy investing. I'm going to go get my kids some fruit…
Dave Ambrose is an individual investor who found his niche in trading through researching stocks and basing his trading decisions on a company's story. Dave is also co-founder of the daily deals site helping traders get discounted trading tools - WallStDailyDeals.com
Related Story Stocks Posts:
Mexican Coke (NYSE:KOF) is a Cola Snob's Fix