By All About Trends
Friday we said:
"Short term we're overbought, that means no bus chasing with regards to taking on any new long positions here till we can see if we digest the gains in a Pullback Off Highs (NYSE:POH) form. If we see that and we take off then we may very well be on our way higher to a retest of recent highs.

Regarding weakness at these levels? We watch to see where it stalls to the downside if it stalls and rolls over. If that was it and we are done going down then we watch for some sort of POH to develop of relieve the short term overbought nature of the markets. That's for taking on new positions."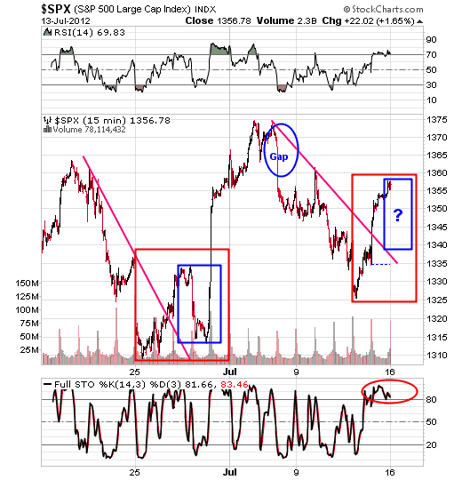 See that red box in June? We broke to the upside of the Micro Pink Downtrendline (POH) in "Don't Blink" and You snooze you lose out on the opportunity form which has been a trend as of late by the way. Then the index gets overbought and consolidates that pop by pulling back (Blue Box). Upon completing that digestion of gains it took off again. Fast forward to the last few days? We see the same thing setting up.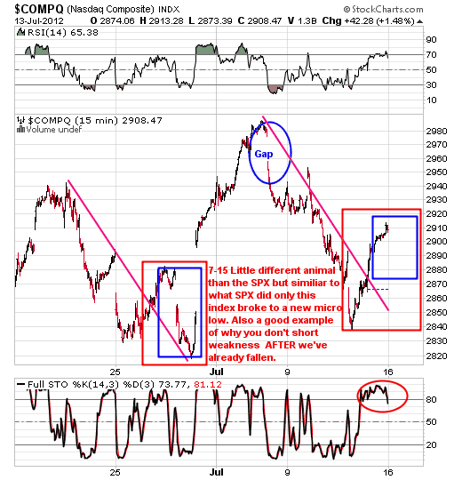 Everything on our long side watch list with regards to new entries on the long side stem from these micro index charts. Of course this all assumes we follow the red box blue box script.
Should we gap higher at the open? We do nothing because we do not chase buses around here, sure at times we'll miss a lot of trades that we could have profited from nicely (think all the names on the long side watch list from a few days ago when the indexes were at trend channel support) but overall if those are the bulk of our problems (missed opportunities)? then do we really have an problems?

Think about that for a bit, it's really a powerful statement.
Get used to it, you will miss trades, in which case? Just wait for the next bus because we all know emotional bus chasing is hazardous to one's financial health. For us when that happens we tend to say oh well and whatever. No sense in getting all riled up emotionally over that and mess with ones optimal state of mind. It's water over the dam so why play that mental game of being upset over missed trades because what's done is done and it's a game you can never win. It also shows us we are fishing in the right ponds and with the right bait. That in itself is a self confidence booster.
Now if you find yourself playing this game with yourself a lot? Such as "I knew I should have did this or that" (assuming you have a sound strategy in the first place not some seat of your pants trade style mind you)? And if it happens a lot to you? Well then you need to do something about that. The first thing you do is ask yourself why did you not take those trades when they were staring you in the face. The top answer is FEAR thats why, as in fear of loss. No you know why we use the terms of " In The Face Of Fear" around here a lot.
What would Rocky Balboa say about that? "You Gotta Be Willing To Take The Hits" thats what.
The following is an excerpt from this weekend's premium update by All About Trends. Subscribers receive daily commentary and a weekend wrap-up. I personally recommend their service for their accurate market analysis, trading methodology, and many times our stock watch lists overlap. Give it a try at a significant discount.