By All About Trends
For you Trekkies you'll understand that reference. And that's what we are looking at right in here - A whole lotta shaking errr resistance going on. In multiple forms we might add. Caution on the long side IS advised.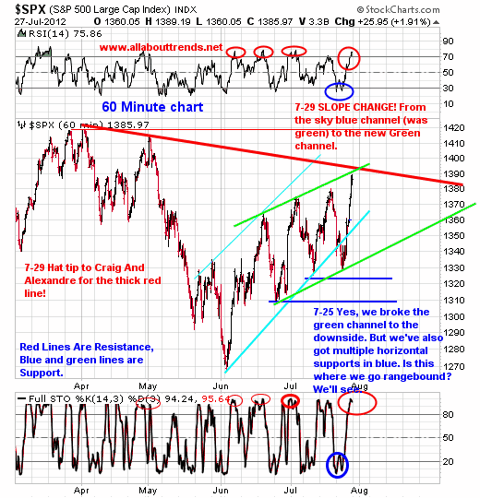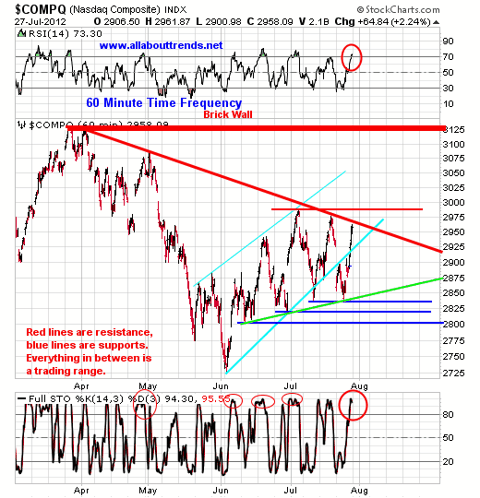 Quick question for you all. What if these two indexes above bust through to the upside of the thick red lines? Two things come to mind.
One: Well then we could make a run for a retest of the highs of 2012. But then what? It's MAJOR BRICK WALL RESISTANCE. So should you cover any short positions? Obviously not because we do not cover shorts at resistance, we sell longs and establish short positions. Consider this in the zone up in here.
We'd really like to see us test it to get it out of the way verses having that potentiality still lurking out there. If it were to happen don't fear, because it's a major lasting topping process in the making. We'll see if they want to pop us up there come Monday.
Two: The other thing that comes to mind is to NOT get sucked into the hoopla of "See! We broke that red downtrend line! Let's buy! "
Remember a few days ago when we broke to the downside of the Green uptrend channel that we have now colored sky blue compliments of a slope change? We recall seeing in blogosphere a lot of guys screaming about the downside break and it was all down hill from there. We were smarter than that as we told you to NOT become attached, as there were supports just under and sure enough, anyone who shorted that break got their face ripped off. Same deal here only in reverse.
Here is the bottom line. We have multiple resistance levels up here and we just staged a rip your face rally in the indexes. Even if we break to the upside we have very limited upside left. Folks this IS the summer rally. Does everyone know what comes after the summer rally?
On top of the potential for a fall sell off, the economic data we've been seeing? Then there is the subject of earnings. Notice how all that's really happened is that of better than expected has been the buzz BUT earnings are printing lower and lower and lower quarter to quarter to quarter? All of this is recipe for disaster in the making at some point just in time for the fall into the fall. THEN we jump on the long side NOT NOW.
Just remember when the market sees bad news on the horizon they run the markets higher. Huh Wha? You say? Simple it's all about what we said a week or so ago and that is "You have to sell peanuts while the circus is in town". In other terms when you have a ready willing and unknowledgeable crowd who has no clue how to manage their emotional state wants to buy? Sell em some peanuts! Can you imagine trying to sell a few million shares of a stock in a bad market? Now you know why we sell strength. We hate to use the analogy but "Think Like The House" and we all know the house has the edge right?.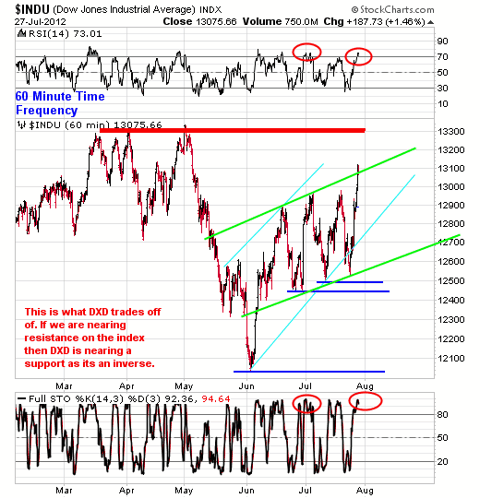 Click here to access which stocks All About Trends recommend to short and which they like on the long side this week. Subscribers receive daily commentary and a weekend wrap-up. I personally recommend their service for their accurate market analysis, trading methodology, and stock selection. This offer is for zentrader readers only and you save 33% off regular pricing.