By Karen Starich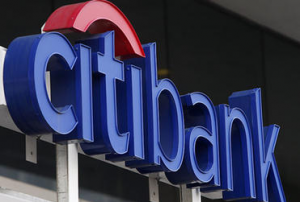 There have been recent accusations that Citi Group (C) could be the worst offender in the Libor rate fixing scandal, and based on some rare aspects to the IPO chart there could be a lawsuit, or new charges, against the bank from states or local governments in August. Many local state, municipal, and school boards were lured into sophisticated and incomprhensible bond deals, called constant maturity swaps (CMS), by slick Wall Street bankers. The deals poured millions in profits into Wall Street banks and is now pushing some of those communities and school boards who accepted the deals into bankruptcy.
In one case cited by Wagner, the Bethlehem Area School entered into 13 different swaps, covering $272.9 million in debt for school construction projects. Two swaps which had concluded at the time of Wagner's investigation cost taxpayers $10.2 million more than if the district had issued a standard fixed-rate bond or note and $15.5 million more than if the district had simply paid the interest on the variable-rate note without any swaps at all.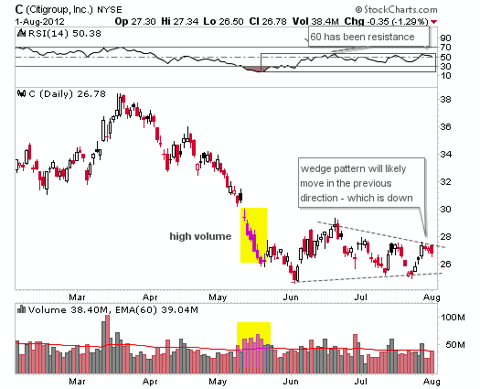 The challenging aspects to the IPO chart are coming from a rare conjunction of Saturn, Mars, and the Moon in latitude to Mercury (municipal government and education) and the 12th house of institutions in the IPO chart. Saturn and Mars in Libra represents the lawyers and a potential lawsuit that could be a setback to the CITI Group stock in August. The theme of Saturn in Libra beginning in October 2009 through October 5, 2012 is to bring a reconciliation of the attitudes and hoarding, and lawless behavior within the financial sector. Saturn will then square Neptune (rules bankruptcy and insolvency) in the Federal Reserve's chart and the CITI Group IPO chart. These are very critical transits however Jupiter will trine the Sun of the CITI Group chart which suggests there could be another potential bailout coming. The Saturn squares suggest there won't be additional QE in 2012, however we could see more QE near April 2013.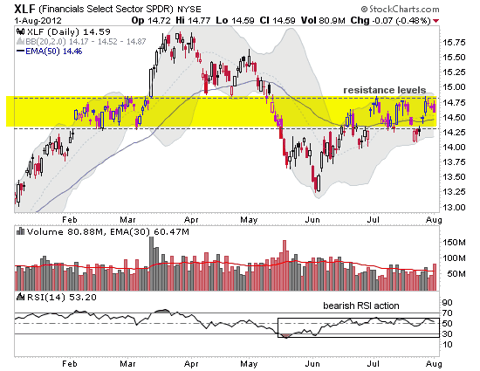 The following is by Karen Starich, who uses astrology to forecast events in the financial markets. Astrology Traders provides specific dates and in-depth analysis of future events for the financial markets through weekly updates, trade alerts, and educational webinars.
Related Financial Astrology Posts:
Mercury Retrograde through August 8th
Financial Astrology: Art Cashin Goes Lunar