As I was watching the markets today I felt like they need to correct before they could sustain another move up, but now I'm not so sure. The markets are funny that way because during market hours it's easy to have an idea about what they should be doing and then once the market closes and you have a chance to digest the day's move, you can come to a totally different conclusion. That happened to me tonight.
I've been bullish since August 6th, but my timing signal is yet to give a buy signal because the Nasdaq hasn't corrected enough to give a good reward/risk. Seeing how the NASDAQ is consolidating near it's highs, I'm thinking it's just going to break to the upside and leave all those who are waiting for a pullback (me included) in the dust.
Therefore the best strategy will be to focus on leading stocks that are having a positive reaction to earnings because I believe the markets are going higher. Or, put another way, at this point I don't see anything that suggests we're going down anytime soon.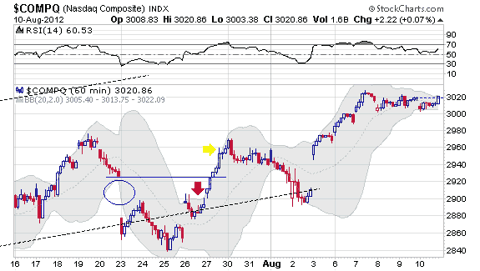 Dow has pullback back to support and rallied into the close.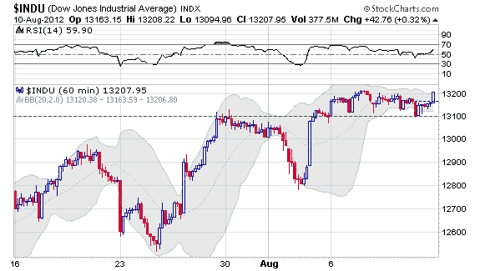 I'm following #chartcon on twitter, from the Stockcharts convention in Seattle and there is a lot of great information that I'm going to document here for my own personal records so I can revisit it later. I thought you may find it interesting as well and a big thanks to @TripleD42 for sharing this information on twitter.
There is no rhyme/reason to these facts, so just enjoy them.
When the dollar rallies you will usually see weakness in commodities, and that can lead to selling of stocks.
CDN dollar is closely correlated to commodities & so is the AUS dollar.
Falling bond yield boosts Dividend stocks. Remember to use "sector rotation" as a tool for trading.
Ratio of DVY vs SPX is a relative strength ratio. When compared against the TNX u will see a correlation.
Bond prices have been in a 30 year bull market. They r now dropping because of the Fed doing QE.
High yield corporate bonds tend to follow the stock market Moreno than the bond market.
The stock market tries to anticipate the economic situation and it has the best track record of being an economic indicator.
Very important to have your money in the right sector of the stock market. Different sectors can be performing better than others.
Sector performance analysis is best done when relative to something, ideally the S&P. Shows u the differences very clearly.
Tom Bowley looks at how the Russell2000 is doing compared to the S&P. Banks should at least perform at same level as S&P.
Compare RUT to SPX and also Banks vs SPX for confirmation of long term trends. BKX:SPX ratio.If BKX is dropping, it is a warning.
TNX:SPX Treasury Yields are falling off a cliff rt now. May be related to Quantitative Easing from the Fed.
Monday is the worst day of the week for positive trading. S&P down 16.4% historically on Mondays.
Wednesday is the best day of the week. S&P up 20.4% on Wednesdays.