By All About Trends
Friday we said:
"Trend channel support is 40 to 60 points lower on the S&P 500 so we could easily come down there and bounce right back up. Keep in mind tops are a process,not an exact. Look at the market top of March 2012. It chewed around there for about 2-3 weeks before giving way (SPX). And even then it came back to the scene of the crime a month later. The question is will we stage a chewing around topping process here (blue circles on the daily index charts) or just fall like a rock. If we are going to fall like a rock it's probably going to be some news driven event out of the EU or something."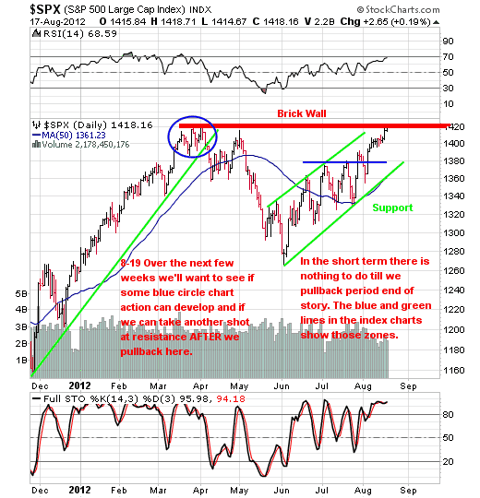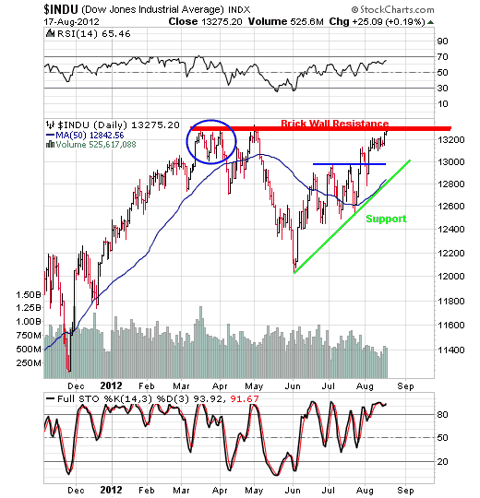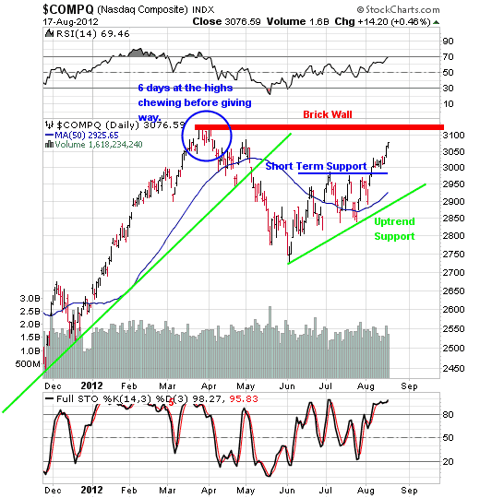 Don't get us wrong here, we could just as easily have started topping here too, but lets look at what's worked best for us over the years - that being support, resistance and trend channels. But for now don't kid yourself this is late summer, low volume, most traders on vacation, complacency trade environment that is not optimal for trading.
To sum it up, let's hone in on what to do with a much needed pullback and should the market fall like a rock we're positioned for that as well. The blue and green lines in the daily charts above are what we want to key in on here as they are support. Currently we're nowhere near them so now is not the time to chase stocks. Given they are support, we'll have to honor them baring any humpty dumpty news out of the EU.
When and if we get there? We look at our shorts and see if we should be covering, and we also look at who do we want to pick up on the long side at that moment in time, but not now. Should we need to adjust in order to maintain flexibility with the markets, we'll do what's needed to protect our subscribers.
The following is an excerpt from this weekend's premium update by All About Trends. Subscribers receive daily commentary and a weekend wrap-up. I personally recommend their service for their accurate market analysis, trading methodology, and stock selection. Zentrader readers receive a 33% discount with no time commitment.