By All About Trends
As far as the daily indexes are concerned we have two questions in the coming days that the market will answer for us here and they are:
1. Do we enter into chop fest mode like the blue circles here? (our biggest concern about the short side).
OR
2. Do we get slammed down to trend channel support, 50 day average or a blue line support. Bring it on because it's going to set up a bunch of short term Pullback Off Highs patterns we can work with on the long side.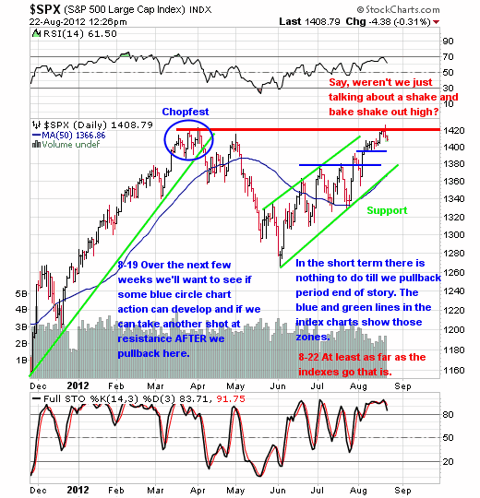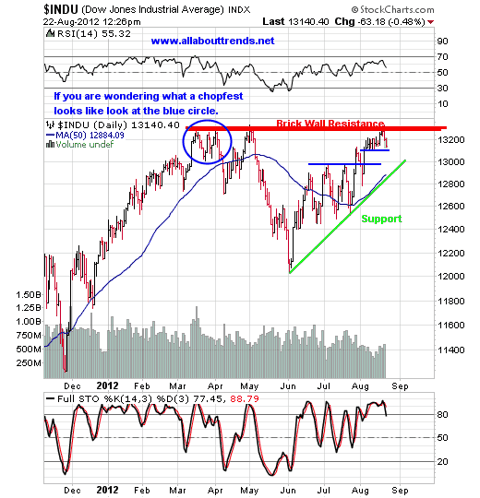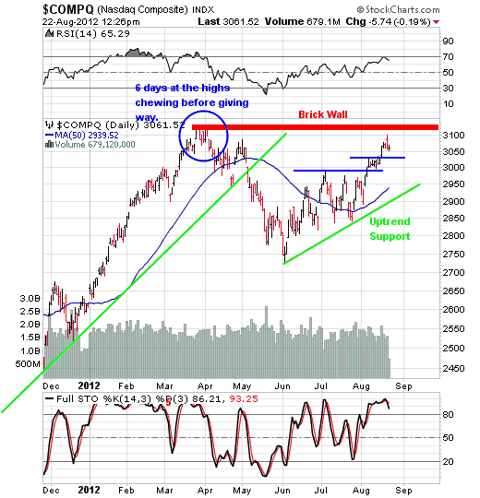 We don't know nor does anyone else on the planet, but we don't need to know. All we need to know is what to do if one of those scenarios shows up. If we do come down to trend channel support, expect it to be defended. If this is the case we'll look to buy stocks. If we enter into a chop-fest, then we'll continue to pick and choose on the long side - all from a hit and run perspective. With each scenarios we'll also want to be aware of a full blown breakdown.
Like we've said, topping is a process and rarely do markets top by looking at a high and falling off the face of a cliff unless its a climax run (think gold when it went vertical awhile back).
Later today we have Fed minutes and then tomorrow we have the Eurocrats jaw boning. That could have an impact on the markets. What bothers us about Thursday is the market's habit of taking Eurocrat gibberish and using as a reason to pop the market. We've seen it before. The way we've seen it is gap and go only to have 80% of the day's move take place in the gap.
We're all for making money long or short, but what we're not for is a chop-fest and getting chewed alive. That's the problem the last two weeks here for the most part in the late summer trade before Labor Day in the states we find ourselves in. That and a lack of volatility all again make for a difficult environment. For us we are in no hurry to overtrade. We're more interested in protecting what we have and staying focused vs. getting frustrated. It's not going to be forever we assure you. Odds favor September is when we can get back to a more normal trading environment. It's just a bit messy here.
The way to trade this market is to stay centered based on who we are and what we do which is being chartists.
The following is an excerpt from this today's premium update by All About Trends. Subscribers receive daily commentary and a weekend wrap-up. I personally recommend their service for their accurate market analysis, trading methodology, and stock selection. Zentrader readers receive a 33% discount with no time commitment. See the testimonials below.

"Your steady hand and colorful newsletters and of course stock picks have compelled me to put more money in my trading account so to get to my goals faster. Thanks and keep up the good work, much much appreciated," John - Bradenton, FL
"I have learned to find Pullback Off Highs in a stock's chart and that is a great tactic. I like it much better than IBD breakouts," Kent - Stillwater, OK
"I've been a client for almost a year now and I want to thank you for your spot on calls and remaining true to your disciplines," Ken - St. Petersburg, FL
"Not only do I learn from your newsletter but you're a coach to remind me daily on how to stay disciplined. The constant reminder to not chase the bus in invaluable. I also like the fact you sell into momentum instead of selling on weakness. Please keep up the good work." Paul - San Jose, CA