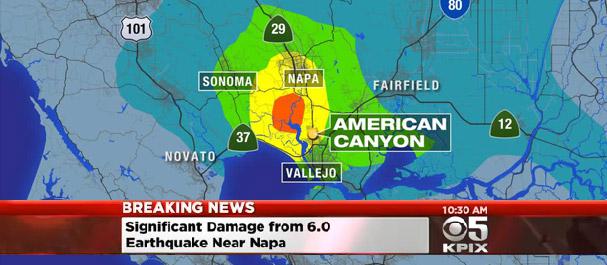 It always seems to begin the same. A "News Flash" scrolls across the lower portion of our TV screens. Or the music trumpets a change is coming on the radio. (For those always plugged in on their phones or iPods, though, I have no idea how they learn about anything!)
Yesterday morning's early birds watching or listening saw these alerts, while others heard about it shortly after they awoke. A few of our subscribers and clients probably felt it as it was happening.
A 6.0 earthquake rocked Napa Valley, disturbing the peace and quiet, the serenity that marks one of America's most beautiful regions. Windows on Napa's Main Street exploded into a shower of glass, racks holding both the highest and lowest quality vintages rocked and often disgorged their cargo indiscriminately into a broken mass of shards of glass with molten rivers of crimson and gold. Rubble fell from the fronts of buildings and mobile homes burst into flames. 89 people were injured, 3 very seriously.
It's a scene unique to the area this weekend, yet familiar to us all. Every community has had its disasters. While they are all of varying proportions, they share some of the same characteristics. First and foremost, our hearts, America's communal sense of empathy, goes out to every community experiencing the loss that these disasters bring.
Secondly, it is always the case that the specific disasters were unexpected at the time they occurred. Yet, almost paradoxically, the possibility of their occurrence was also almost always known with a certainty in advance.
While the earthquake this weekend could not be predicted with current technology, we know with a certainty that sooner or later the "big one" will hit the West Coast (that's 7 .5 to 9 on the Richter scale versus 6.0 for this one). Although we cannot predict precisely when or where tornadoes will touch down, we know with a certainty that hundreds will occur across the South and Midwest each year. And, while models keep getting better and better, we can't tell precisely where hurricanes are going to go ashore, yet we know that at least one will wreak havoc somewhere along our shoreline each year.
Of course, this is no different than what we have to deal with in the stock market (or with most financial asset classes, for that matter). Check out the three graphs of past stock market values. At the point where each red vertical line intersects the graph, each price line was hitting new all-time highs. But could you tell at that point that the bottom was about to drop out of stocks?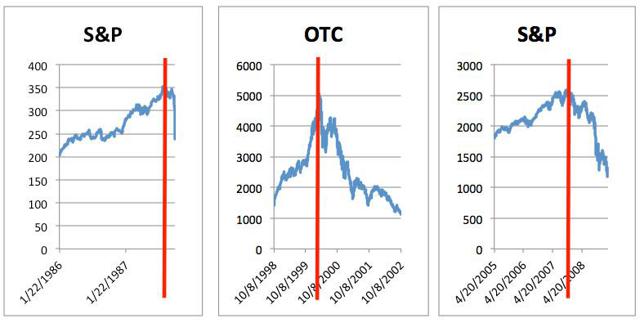 For more than a century, stocks have undergone these precipitous declines every five to seven years, on average. We know with a certainty that they will keep occurring, although no one knows for sure precisely when.
It is encouraging, however, that here at Flexible Plan we did have our clients 100% in cash for the first one in 1987, our rotational strategies made a profit during the 2000-2002 decline, and we substantially reduced losses versus the indexes for most strategies on the third occasion (2007-8).
How were we able to do this? Each of these market declines was very different from the other. In the 1987 example, stocks fell because of tightening operations of the Federal Reserve that were not widely recognized in advance. Fortunately, the primary indicator we were using for our market-timing decisions was developed to detect such operations, so we used that knowledge to protect our clients.
In the second crash, the decline occurred in waves. Not everything crashed at once and rotational strategies that seek to differentiate the leaders from the laggards were able to move smoothly from one asset class to another, profiting from the winners while avoiding the losers.
Finally, the last financial crisis was not widely anticipated, and most assets fell together when stocks collapsed. Protection was only achieved by having actively managed strategies with a defensive plan that automatically went into effect as prices fell, plus being widely diversified not only on an asset class basis, but also on a strategy basis.
Today, the financial markets are hitting new all-time highs, just as we have been suggesting that they would since late last year. All of the US stock market major indexes are up more than 3% this month alone, as stocks have moved higher for the last three weeks. Our STFand FUSION Indexes hit new all-time highs again repeatedly last week.
Yet you might ask, "What are we doing in anticipation of the next bear market?"
Some say the bear is right around the corner-if only because this bull market is growing old. If you count the March 2009 low as the bottom for stocks that preceded the current rally, the bull market has lasted more than five and a half years. This is longer than the average bull market.
Although this argument has been circulating Wall Street for some time, there is a different view possible. A bear market is traditionally defined as a decline of 20% or more in the major indexes. And it is true that the S&P 500 has not fallen 20% since March of 2009, but in 2011 the index did fall 19.38% from market close to market close, and on an intraday high to intraday low basis the decline was 21.58%.
If we count the end of that decline as the completion of a bear market, we now have a starting point of October 4, 2011 as the beginning of the current rally, and the current rally is then of less-than-average duration. This suggests that that the stock market rally could go on much longer.
On the indicator front, the picture is mixed. Earnings reports were decent, though not spectacular, yields for the month are lower, and all 11 economic reports last week equaled (1) or exceeded (10) expectations. At the same time, investor sentiment is getting into overly optimistic territory and we have an approaching political seasonality index top the first week in September. The first three indicators are my primary gauges, so I'll go with the higher prices are yet to come.
On the price or momentum front, obviously these new highs suggest higher highs as well, but more importantly, as we were saying a month ago, the primary trend line has held on each downturn, suggesting that the primary trend remains upward or, as I said at the beginning of last week, it is pointing toward "higher ground."
But what if this is neither a 1987-type decline (forecastable by indicators) nor a 2000-2002 melt down (tipped off by cascading momentum moves in different asset classes)? If it is, instead, a repeat of 2007-2008 or is something totally unexpected, what do we fall back on then?
That's when we have to depend on the defensive plans of all of our actively managed strategies and on our Strategic Diversification line of defense. Our FUSION strategies are based on the concept of targeting a level of risk and restraining portfolios to the resultant targeted maximum loss levels, by diversifying among less correlated asset classes and strategies.
Usually I explain correlation as being how different asset classes or strategies relate to each other-how do they move when another asset class moves one way or the other?
Everyone seems to nod their head when I say that you need to have different types of assets and strategies in your portfolio to protect yourself from the unexpected. Yet, few seem to realize that to do that you have to own some assets or strategies in your portfolio that are not going up when everything else is.
If you expect everything in a portfolio to be going up when the market is up, then the portfolio probably is not uncorrelated. And when prices go down, all of those same components are likely to go down as well. No diversifying asset or strategy goes up all the time.
Having a diversified portfolio requires some parts to be acting differently from other parts. Otherwise, it is not truly diversified.
Similarly, you can't have alternative strategies that move exactly like stocks or bonds when prices of either go up, and then expect them to behave differently when prices go down. Typically alternative investment assets or strategies underperform when stocks are strong and outperform when they are weak. But if you throw alternatives out when stocks are strong, then they are not there to help when unexpected losses occur.
Last Friday night, after I picked up my son at his house in Royal Oak to go downtown to the Lions-Jaguar football game, we had to drive through several blocks in the neighborhood around his home. It started two blocks away from his house, and continued for miles. Abruptly, the curbside had turned into four-foot or higher walls of litter. Soaked furniture, boxes, and unusable appliances were stacked high in front of every home.
Many who saw the water back up into their basements, and then saw it climb higher through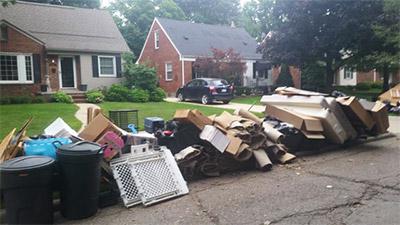 their floorboards and into the upstairs living quarters, lost everything. Most of the rest lost all of their possessions stored in their basements. The weeks since have been spent in clean up mode. While somehow my son's home had been miraculously spared, many Flexible Plan employees were among those victimized.
The State of Michigan declared it an emergency. Still, the City of Royal Oak is weeks behind in the pickup from the floods that submerged many of the Detroit suburbs two weeks ago. The deluge which had bested an over 100-year-old record, dumped as much as ten inches on the area in less than an hour.
The next day, the newspapers reported that that much rainfall in the Detroit area had been "totally unexpected."
All the best,
Jerry