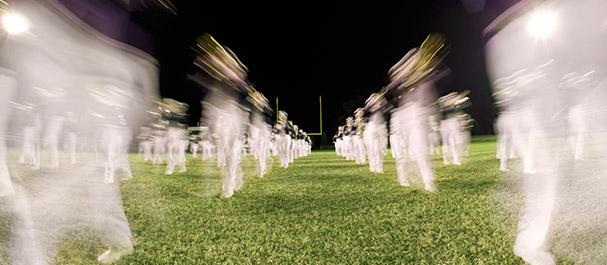 It was just past 8 AM on a beautiful fall morning. The temperatures are still solidly in the 70s here in Michigan, so the kitchen sliding door was open. A cool breeze drifted across the lake behind our home, and with it came the brassy notes of first-hour band class at the high school east of us.
The sounds we all know so well from well-rehearsed halftime shows floated on the gentle wind toward me. Souza, the Tijuana Brass, a familiar fight song-the tunes sounding strangely unchanged from 49 years ago when I commenced my last year of high school.
Stimulated by the air-borne melodies, I could easily imagine the band's orchestrated maneuvers on the high school football field. As they marched from one end to the other, the music's volume would at first seem louder, then trail off for a bit, only to increase again as the band turned en masse to march back toward me.
Of course, the music is not all there is to a marching band. Instead, the coordinated marching of the band also demonstrated their skills. Geometric patterns, shapes, letters, and even words would emerge from the tightly drawn lines of the parading bandsmen and bands women. Despite being a fan of Michigan State and Michigan, I always loved the famous script Ohio performed by the brilliant marching band of arch-enemy Ohio State whenever they came to town. You can see it here. (Stay on it to the end to see the tuba player dot the "I")
Flexible Plan Executive Vice President Renee Toth was in the marching band during her own high school days (also editor of the band's newsletter "The Squeaky Reed"). And music played a big role in her earlier life and that of her family, with her son Jason being a very gifted professional musician to this day. As Renee is beginning her 24th year with Flexible Plan, I've heard tales of her family's band exploits (including time in the University of Michigan band) for most of that time period.
One thing I've learned about band musicians from Renee's family's musical activities is that the marching band was not the entirety of their music careers. The time on the football field or in the orchestra classes was simply the core. They may have spent time in them covering the basics, but the spice of their musical lives was the extracurricular activities that allowed them to explore the boundaries of their musical education. Time with community orchestras, jazz combos, glee clubs, and bands litter their history.
The same is the case for balanced investment portfolios. The core is essential to make sure the fundamentals are covered, but a lesser portion should be set aside to explore and exploit investment strategies that can provide outside returns or added protection.
Our FUSION program does this automatically. If you examine the holdings of a typical portfolio, you will see outsized commitments to indexes that reflect the fundamental core of the appropriate suitability-based profile. Fixed income and alternative asset classes are favored for more conservative portfolios, and a wide array of equities tend to be selected in the more aggressive offerings. Yet, in both types of portfolios, you will see a spattering of smaller positions in less obvious strategies and indexes.
The former are the "core," the latter are the "explore" parts of the portfolio. The approach is one that investment professionals of all stripes-active or passive-have adopted in seeking the diversification necessary to deal with the unexpected.
While FUSION does this effortlessly for our clients, it does not mean that the same approach cannot be done by investors and/or their advisors. The key is that construction of a truly diversified portfolio begins with a core.
The need for a core is evidenced repeatedly by stock and bond market history. While both asset classes are susceptible to wicked bear markets, the rest of the time they often deliver necessary returns with rallies that tend to go on much longer than any investor or seer predicts.
Even with top-notch market timing to miss most of the bear markets, many timing strategies miss a portion of the recovery period and/or sell too soon. The core position in these markets, while best maintained within the confines of an actively managed strategy, is necessary to extract the positive market returns (or beta) from the chosen asset class.
Using FUSION as an example, it is clear that the core portion of the portfolio that we are talking about is not an allocation of 30%, 40%, or even 50%. To have the desired effect of capturing most of the beta of an asset class, be it bonds or equities, an allocation of 65% to 75% to the asset class, or preferably an actively risk managed strategy that invests in it, is absolutely necessary.
Flexible Plan provides many options for a core strategy. Market Leaders (Dynamic, Tactical, or Strategic), Lifetime Evolution, Faith Focused Investing and Dynamic Fund Profiles (which also delivers the greatest advisory-fee-saving credit) all fill the bill. The necessary characteristics are that each is actively managed and has a suitability profile base that allows for most of the portfolio to be compliant with each investor's suitability profile as determined by their answers to our suitability questionnaire.
As to the explore portion (5%-35%) of the portfolio, our select strategies provide plenty of options. Popular additions are STF, VAN, Managed Income, Select Alternatives, Third Day Tactical, S&P Trading Patterns, Best Tech, Bear Necessities, Global Select, Diversified Bonds or Diversified Tactical Equity, the list goes on and on. This allows investors and their advisors to skew their portfolios in an almost limitless range of possibilities. They can be positioned for foreign equities, mean reversion, long and short bonds, and so on, whatever matches the investor's and/or advisor's preference for the best extra performance or added risk aversion.
FUSION, while generally fulfilling a total portfolio solution, also can be used for the core portion. In the past, we have allowed investors to add an investment in our popular STF (Self-adjusting Trend Following) equity strategy. This week we announce the availability of two sector strategies, Market Leaders Sector Growth and Market Leaders Ultra Sectors, that also can be used in conjunction with FUSION. Research suggests that these also work well when combined with a Market Leaders (Dynamic, Tactical, or Strategic) core.
Turning to the financial markets-last week was, as we had suggested in our previous week's column, down to sideways in the equities markets. Hundred-plus point moves in the Dow Jones Industrial Average occurred every day last week (three drove prices down, two up). And when the week ended, despite a ferocious rally on Friday, the NASDAQ Composite had lost 1.48%, the S&P 500 was down 1.37%, and the Dow Jones Industrial Average recorded a weekly loss of 0.96%.
With two days yet to go, September has certainly lived up to its reputation as the worst month of the year. At this point in time every major stock market, commodity and bond market index is down for the month. There have been few places to hide. Stocks so far in September have seen the indexes fall: the S&P 500 is down 1.4%, the S&P Mid Cap 400 is down 3.75%, and the S&P Small Cap 600 is down 4.35%.
October is usually a friendlier month, and many analysts have pointed out that it tends to be positive. However, I would hasten to add that while October normally turns in positive numbers by month's end, it is better termed a turnaround month than a rally month. In many years, a market rally turns down (1987, 2007) or a market decline reverses (2003) in October. With September's dismal performance, we would bet on the latter rather than the former, but as we said last week, after a brief beginning of the month pause, the normal October rally does not begin until mid-month.
Focusing on our four core measures, interest rates have been rising, forecasts for earnings surprises have been negative, economic reports have disappointed (nine of twenty were worse than expected, only six were better), and bullish market sentiment continued higher than bearish for the eighth straight week. All of these suggest further weakness ahead.
In addition, a couple of my short-term trend indicators have now turned negative. While one measures the very short term, the other borders on the intermediate term. The same can be observed in the trajectory of a couple of asset classes that are normally harbingers of future stock market action.
Both small cap stocks, as measured by the Russell 2000 Index, and the high yield bond market, as measured by the HYG junk bond ETF, have fallen much more than the S&P 500. Missing much of the drop in high yield bonds, our Strategic High Yield Bond strategy sold out almost two weeks ago and moved to money markets instead. Both charts show no inclination of an upside reversal as yet.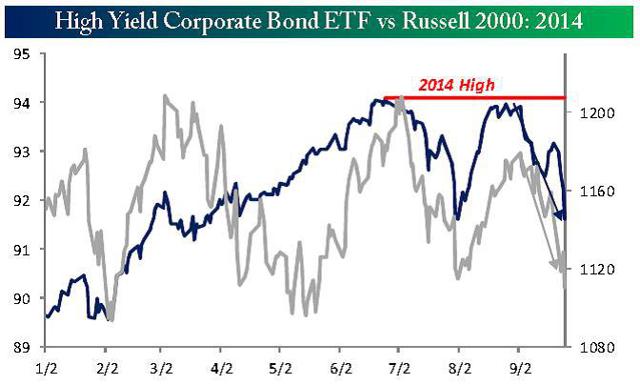 Source: Bespoke Investment Group
While all of these indicators remain negative in the short term, it is reassuring that the longer-term trend continues to point higher for stocks. Plus over the last 30 occurrences stretching all the way back to 1936, the S&P 500 Index has been up 87% of the time in the fourth quarter whenever it has hit a new high for the year in September like it did this year. Further, the final upgrade in the second quarter GDP report to a very robust 4.6 % annualized rate (from July's 4.0% reading and 4.2% in August) suggests that the economy is finally beginning to hit on all cylinders and should promote more growth. This is in sharp contrast to what has been occurring elsewhere around the world.
Similarly, 5%-plus appreciation in the US Dollar in a single quarter (we've topped 7% so far this quarter) normally leads to higher stock prices over the next one to three months. From the chart you can see why our more conservative FUSION portfolios have been using significant allocation to dollar indexes over the last quarter.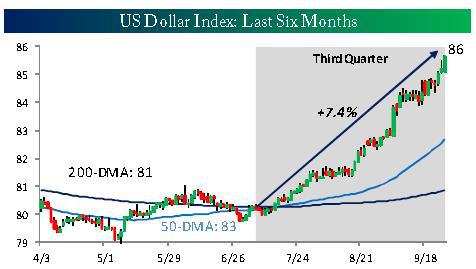 Source: Bespoke Investment Group
With seasonality bottoming by the end of the month and some of the stock market excesses broomed out of the way, it's likely that this October is an excellent time to buy the dips rather than run for cover. Using actively managed strategies that can seek cover if the primary trend is broken, is an excellent way to do so.
While marching bands mix both rousing tunes and highly choreographed routines, they are played out within the confines of a football stadium. But music is so varied. Orchestral, choral, jazz, and rock-and the blends among them are endless. Adding any one of these to one's musical repertoire broadens one's music knowledge-heck, it can also provide for better opportunities for employment. Jason Toth's been doing paid gigs playing Gypsy rock with the Café Antarsia Ensemble, listen to the group here.
All the best,
Jerry