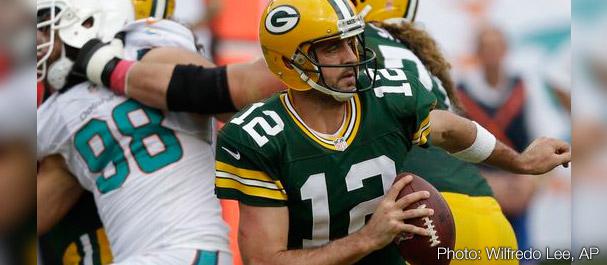 Although I'm a Detroit Lions' fan and thoroughly enjoyed my team's rare, 19-to-7 triumph over Green Bay's football team last month, I've always respected the Packers. (Maybe because as a Lions' season ticket holder since the 80s, I probably have seen the Lions lose to them more than anyone else.) They epitomize what football is all about.
They always seem to be a contender (with thirteen league championships - the most in the NFL, four of which were Super Bowl victories), the team is a non-profit operation owned by its fans (to the point where it's hard to tell where the stadium ends and the town begins), and its past stars are legends. The Lombardi teams of Starr, Tayor, Hornung, Kramer, Davis, Nitchke, and Aderley were a regular part of the season each fall during my childhood.
So I was delighted to see the Packer's come-from-behind victory on Sunday, even though it meant they stayed in a tie for the North Division leadership with the Lions. Trailing 24-17 with just 4:09 to go, they scored a field goal to make it 24-20 and tighten things up. Then with just three seconds left in the game, the Packers' perennial standout quarterback, Aaron Rodgers, reached back and tossed a perfect pass to tight end Andrew Quarless standing in the end zone. Game over, Packers' victory! The few cheeseheads in the Florida stands exploded.
Last week's stock market was a lot like Sunday's game. Yesterday the lead changed hands three times. First Green Bay surged ahead, then the Dolphins, and back and forth again before Green Bay put on the final surge. In the stock market, 1.5%-plus up and down days occurred back and forth throughout the week. Overall, the Dow advanced and declined over 2000 points in the last week alone. But this time it was the bears (and not the Chicago variety) that came out ahead.
Stocks were down severely in September, and it's been more of the same so far in the fourth quarter, so investors have to be asking: "Can the stock market make a comeback?"
With Ebola now spanning the Atlantic, recession worries shaking Europe, growth concerns in China, and earnings reports looming, most investors must feel like the punt returner who just caught the ball on the one-yard line and the entire opposing team is bearing down on him. Yet every weekend we see this occur, and every week some team marches 90-plus yards and scores a touchdown. I think this year is likely to end up in the same manner in the markets.
Like yesterday's Packers' game, though, I think we'll take a field goal first before the touchdown. By that I mean, if we follow seasonal patterns, stocks should bounce this week, then regroup before moving higher around the end of the month until year's end. Check out our Political Seasonal Index, which tracks over 100 years of the Dow Jones Industrial Average's history. Some of the mid-month gains projected arise from this being an options expirations week. These weeks are usually positive and, with the market being so oversold, a bounce seems likely.
Longer term, interest rates may hold the key. Certainly the fact that rates are down so far this quarter (making bonds along with gold one of the few winning investments in the period) is a positive short term for stocks. But increasingly I am coming around to the view that rates may stay low longer than most on Wall Street believe is possible.
With the aforementioned economic weakness abroad, global investors have few havens for their funds other than the US, if they are seeking safety. And, of course, the rising Dollar is a plus here as well. In addition, the news on inflation is encouraging. While there have been signs of inflation creeping up, it is not soaring. If inflation is under control, what is the rationale for the Federal Reserve to raise interest rates? If this is the case next spring and the weakness abroad continues, it's likely that the Fed might just wait a bit longer before it jacks up our interest rates. Notice how the Fed has reacted each time inflation prospects got this low: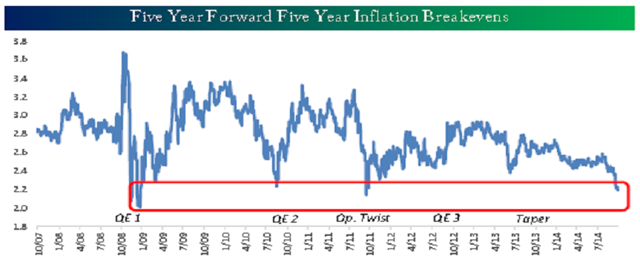 Source: Bespoke Investment Group
As further evidence of inflation's failure to heat up as yet in this recovery; check out the change in the price of gasoline. It's been falling since July, and if seasonal tendencies exert themselves, gas prices could have much lower to go. I actually paid $2.97 per gallon today. Not only does that put less inflationary pressure into the markets, but it means consumers have more discretionary money to save or spend.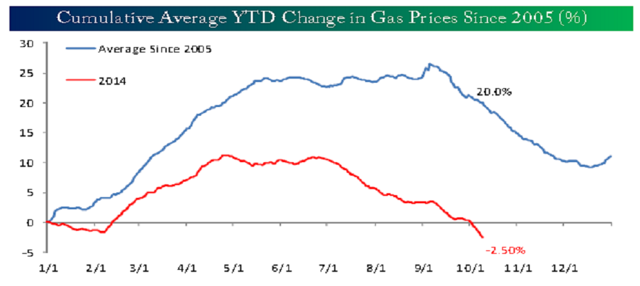 Source: Bespoke Investment Group
Economic reports have been generally underperforming expert predictions and have been one of the reasons why we have been forecasting the current set back in this newsletter for the last month, but last week we finally got a positive majority from the reports. While it was just a 4-2 split between the better-than-expected and less-than-expected economic missives, it was the first upturn in a while and could give some support to stocks, especially if the heavy number of reports on Wednesday and Thursday continue the positive trend.
Finally, earnings reports started off with a bang last week for the third quarter reporting season. Alcoa, always the first to report, outperformed analyst estimates. While there has been little predictive magic to Alcoa's past performance vis-à-vis the rest of the market's performance for the remainder of past earnings seasons, it is noteworthy that Alcoa is a multi-national corporation with overseas sales that seems not to have been hurt by the European or Chinese weakness - a big concern expressed by market bears.
Secondly, Alcoa's performance may be reflecting what will perhaps become a trend this earnings season. Analysts have been unmerciful over the last month in downgrading the earnings expectations for stocks. As Bespoke Investment Group points out in its usual excellent investment analysis, when analysts are generally negative, they tend to lower the bar to the point that most stocks surprise to the upside with their earnings reports, i.e. they beat the lower expectations. And when most stocks beat their earnings expectations, stocks as a whole tend to rise.
As the chart below illustrates, since 2009, whenever analysts lowered expectations on more stocks than they raised them on, more often than not the S&P has completed the earnings season higher rather than lower. (And, conversely, when more raised expectations, stocks underperformed.) Going into this earnings season there were 12% more S&P 500 company earnings downgrades than upgrades.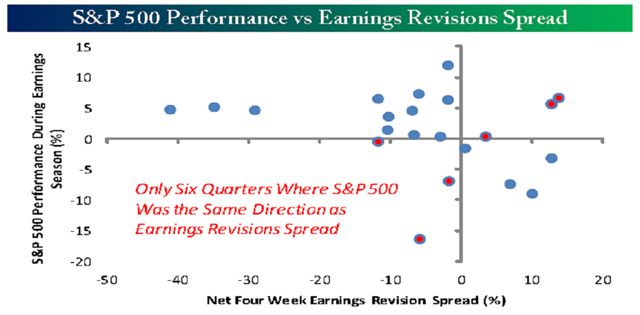 Source: Bespoke Investment Group
Stocks are oversold, seasonality is changing from negative to positive, yields are falling not rising, the economy here is humming, earnings reports (which won't come in heavily for two more weeks) seem likely to provide pleasant surprises, and Green Bay rallied to a win. If you know a cheesehead (like Michiganders they're everywhere), take him or her to lunch and say congratulations - comebacks are possible.
All the best,
Jerry