February 3, 2014 in In My Opinion by

Jerry Wagner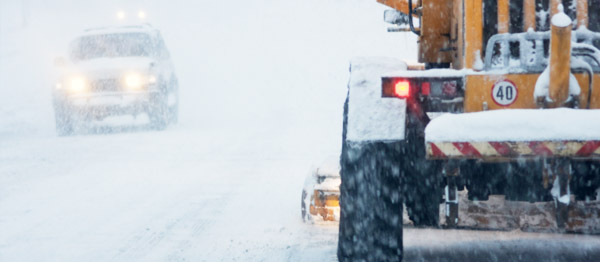 Yesterday we were at half our staff as about 40 of our employees were not able to make it in to work. (All those in trading showed up, thank you very much!) As the nation prepared for and then watched the Super Bowl, here in the Detroit area we were treated to steadily falling snow.
Even after Seattle inexplicably passed into the hands of a New England defender on a second and goal play from the one yard line, giving away what appeared to be certain victory, the snow continued-large wet flakes fell throughout the night. By the time we awoke Monday morning, Michiganders were greeted with over a foot of snow-16.7 inches at Detroit Metro Airport-the third worst snow fall in our history (130 years!).
All night through the storm the road crews labored. Like risk managers in the stock market, they knew the big one was coming, and they plowed and salted to make the roads safe for the next day's commuters. Still, as residents watched the snow pile higher and higher, they feared what the next day's drive to work would be like.
As declines were registered in the major stock market indexes in December, the fear index certainly also increased among investors. Now with January, again, ending in the negative column, I imagine even more investors are beginning to fear that the bull market surge that began in 2009 may be coming to an end.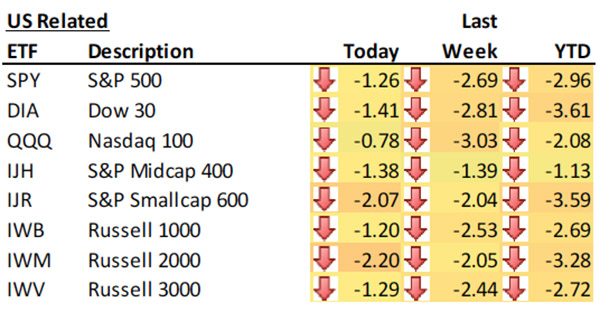 Source: Bespoke Investment Group
There is no doubt that the road has become icy. Stocks have been exhibiting greater volatility over the last two months. Recall the period just a month ago when the indexes were registering 1% or greater moves in both directions daily. And just this last week or so has seen the Dow move up or down at least 195 points each day for six days in a row, with today likely to be the seventh.
Icy is a good way to describe it. As I drove around Detroit yesterday, with temperatures falling toward zero, the still snow-covered but hard-packed streets made surefooted driving impossible. We all witnessed cars on the shoulder and many in the side ditches as their drivers lost control. Winter drivers quickly learn that a slide to the right cannot just be countered by a turn of the steering wheel to the left. The result of that action is likely to send one spinning into the ditches.
But even experienced drivers find themselves moving from left of center to right of center as we wiggle forward down ice covered roadways. One look at the stock market action of the last two months looks just like this highway pattern.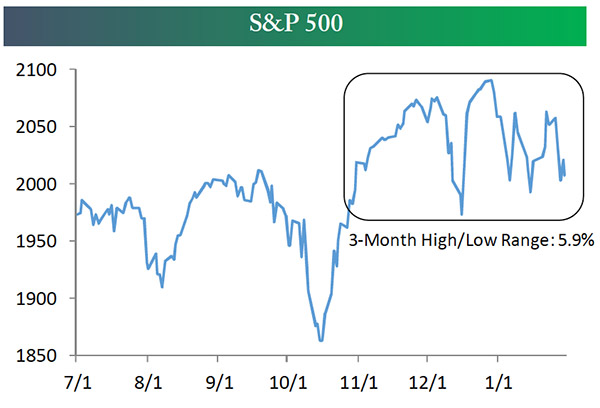 Source: Bespoke Investment Group
Yet as you can see from this chart through Friday's close, the S&P is near the low of its range. In addition, the lows have been higher on each of the last few retracements. That is encouraging.
However, it is also true that two down months in a row on the indexes tends to presage future declines in stocks. Our friends at the Bespoke Investment Group tell us that the S&P over its history has seen the index tumble, on average, -0.54% during the next month. Yet closer examination suggests that during bull markets, like we have been in since 2009, the occurrence of double-down months tends to be a good time to buy. Similarly, the experience since 2000 has generally been positive, with the index rising by an average of 0.58% over the subsequent one-month period.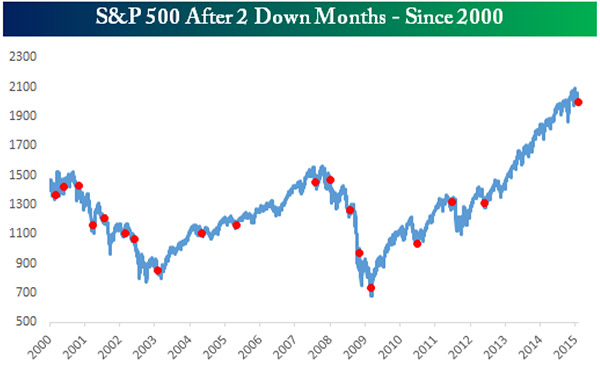 Source: Bespoke Investment Group
When we examine other prognosticators of future price changes in stocks, while their results remain mixed, the edge seems to go to a continuation of the bull market. The stock indexes have not slid off the road as yet.
Interest rates remain at record lows, which historically is good for stocks. Interpolating from futures prices in the treasury arena, the likely time for a Fed tightening continues to retreat. Remember when Wall Street pundits said it would be last December, then March, now June? The futures now suggest November but even this measure has been wrong of late, forecasting an earlier move continually over the last two years. The closer we get, the farther away from a move we seem.
We are smack dab in the middle of earnings season. While we have had some disappointments, lately the surprises all seem to be to the upside-Google, Boeing, and who can leave out Apple, with earnings that set an all-time record. Of course, many of the commentators seem to ignore the positive earnings surprises (on over 60% of stocks reporting so far) and have been focusing, instead, on company guidance for the future, which is often released by company executives at the time of their earnings reports.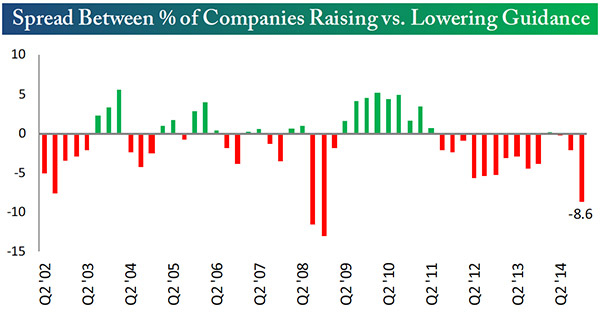 Source: Bespoke Investment Group
While guidance has been very negative, the worst since the last quarter of 2008 and the first of 2009, such guidance has traditionally been of little value in forecasting future earnings or even the direction of future stock prices. Instead, this lowered guidance seems to be designed to cause analysts to lower expectations (which they have!) and thus make an earnings "beat" the next quarter likely. Remember, throughout this bull market such guidance has been negative more often than positive. So do not put much "stock" in them.
Sentiment and economic indicators provide the most confusion of late. The former has less investors registering as bearish and more as bullish even as stock prices fell last week. This is normally bearish for future price movements.
The reports on economic activity continue to split between those that exceed expectations and those that disappoint. Unfortunately, week after week the edge seems to be going to the disappointers. Similarly, year-over-year comparisons show more negative comparisons than positive. Since these indicators reflect the heath of the US economy, we need them to snap out of it if we do not want our economy to follow the path of our European and Asian counterparts. Fortunately, there is no indication as yet of a recession returning to our horizon.
Of course, just as where a driver points his car usually determines where the car goes, even on an icy road, price trend is the best indicator of the future direction of stock prices. So far the major trend has not broken. While most of our trend indicators have remained solidly bullish despite the recent downturn, I must report that one of our short-term measures has moved our profitable STF strategy into cash. Still, that move has not been confirmed by our other US equity timing signals- so for the moment we believe the trend is still our friend and we are bullish on the stock market.
Icy roads, ditches, and piles of snow pose ever-present dangers to drivers in the US' frozen northern climes. In the stock market, investors must overcome obstacles each day that are ever-changing-be they a rising dollar, a declining oil price, European elections, Chinese economic weakness, or disappointing future earnings guidance here. Only actively managed strategies can be responsive to such hazards and know when to ignore them or when to take action based on historical tendencies and probabilities. So far most of these strategies remain bullish on equities. To borrow a phrase from one of my favorite songwriters from the US' northeast, Paul Simon, we don't expect stock prices or this bull market to go "slip sliding away" anytime soon.
All the best…
Jerry