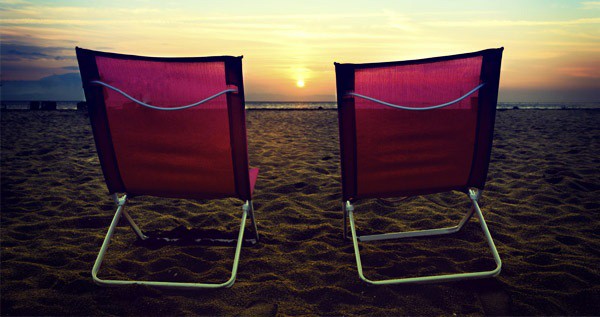 As kids in Michigan head back to school today, I'm sure many students are asking, "What happened to summer? Did I miss it?" When I was that age, it always seemed like the school year was so long and that summer just flew by.
Because the last week before Labor Day is one of the most popular vacation weeks, many investors were probably only vaguely aware of the financial market actions last week. With the extreme market swings of the previous week, they doubtless just wanted to lie down on a sandy beach, soak up some end-of-summer rays, and read some diverting summer fiction.
Ahh, but life goes on, and whether market makers were out in the Hamptons, up at a mountain retreat, or out visiting the Cape, the markets were open and running. Unfortunately, they continued to run in the wrong direction-down.
All of the major US stock market indexes fell last week by at least 2%, with the S&P 500 the worst of the bunch, tumbling 3.40%. But that was only the beginning-foreign bourses deducted 5% to 8% of their value, as well. And most commodities fell across the board.
The sole advancing segment was bonds. This is ironic, since much of the reason market "experts" ascribed to the downturn that accelerated on Friday was the perception that the Federal Reserve was going to raise rates due to a sanguine (at best) Employment Report.
Perhaps you missed it, but investors reacted on Friday with concern that the Employment Report was good enough that the Federal Reserve might be able to reload its ammunitions stocks (like it seems everyone else in this country is doing) and raise rates out of the zero-interest-rate environment we have been living in. This is an Employment Report where the unemployment rate fell on two factors. As the Bespoke Investment Group put it:
First, the Labor Force Participation Rate (LFPR) remains at its lowest levels (62.6%) since the late 1970s, and second, this month's report also saw upward revisions to prior reports of 44K. Looking a little deeper into the unemployment rate, we saw the long-term unemployment rate remain unchanged at 1.39%, while the percentage of Americans working part-time but who want to work full-time erased nearly all of last month's drop and ticked back up to 4.13%.
Those certainly seem like good reasons to tighten monetary policy, don't they? And the Report comes right on the heels of last week's dismal Manufacturing and Non-Manufacturing reports. Although the Non-Manufacturing Report (which covers a bigger slice of the economy) was the better of the two, both "Change" columns were a sea of red for the last month and for the year-over-year comparisons.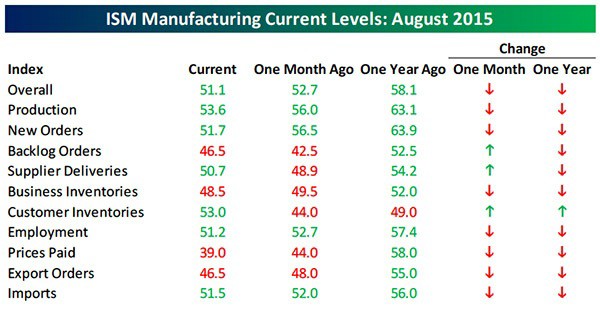 Source: Bespoke Investment Group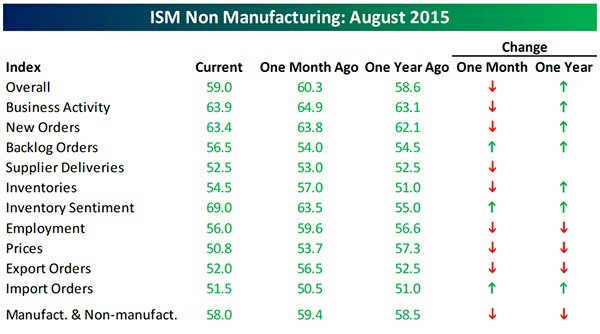 Source: Bespoke Investment Group
At the same time, inflation reports were down to neutral. Doesn't sound like the kind of over-heated economy that traditionally the Fed has required as a prelude to a rate hike, does it? Are we missing something, or is it the Fed?
Looking at the chart of the S&P 500, one of the things it is hard to miss is the fact that the primary intermediate-term uptrend in the market has been broken. Although the long-term rising trend since '09 remains intact, the shorter supporting trend line that began in 2013 has been decisively broken, suggesting a continued downturn to at least a retest of the October '14 lows.
By the way, a drop of just 3.3% in the S&P 500 would be required from today's opening to touch the October 2014 lows, while a test of the lower, longer-term trend line (around 1800) would double that tumble to 6.6%. If we were to fall to the top formed in 2007 (the horizontal line on the chart), the decline would be over 20% farther.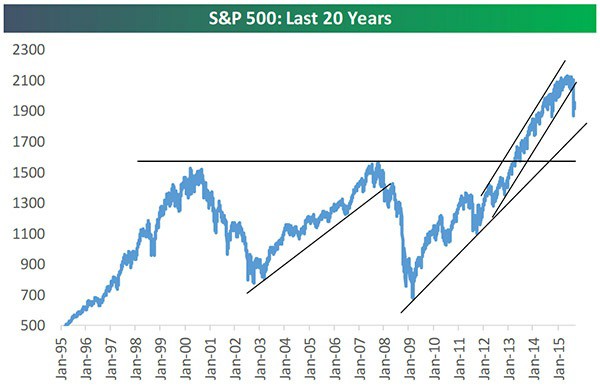 Source: Bespoke Investment Group
Today we are beginning the day with some positive news for a change, with the Chinese government reasserting that they will continue to provide support for their falling stock market. This, like the additional news that the Chinese government will devalue the Yuan further, is really a repeat of the action they took almost a month ago, which was then perceived as so negative that it started a slide in global financial markets. Yet today it is seen as positive news. What are we missing?
Did you ever have one of those conversations where a friend tells a joke and when he gets to the punch line, you just have to look at him and say "I don't get it?" I've been feeling that way lately.
Most confusing is when I see that a few of our clients are opting to move from our actively managed strategies to our money market managed accounts. Don't get me wrong, we started these strategies for nervous investors more than a decade ago because we wanted to have a place for every investor when they need to "catch their breath" without the inconvenience of a move to another platform. Such a move can take a long time and requires a whole new round of due diligence and paperwork.
Many forego the Managed Money Market option (for good reason, I think, since who wants to have to decide when to come out of the money market?) and opt instead for a strategy that happens to be in cash at the present time. Again, this is not a bad decision if you are nervous, and you at least get an actively managed strategy that has rules to re- invest you when the quantified discipline of the strategy gives an all-clear.
Yet, I still don't get it. Why change strategies in the first place? I've had advisors over the last two weeks initiate the procedure to make these moves only to stop and reverse their tracks when they learned that the strategy they were in was already invested defensively, i.e. mostly in cash and bond funds. As I said in a previous post, they did not look before they leaped.
While our advisors and clients can review their account positions daily and see that they are already defensively invested before a strategy change is initiated, I fear that many don't take the time. If they check with our service staff, they will find that we have created a new app to help with that review.
Our sales staff can now give a broad asset breakdown as of the first of the month for most of our client accounts. Advisors are often surprised by how defensive we have become and how fast we accomplished it.
This can be hard for new investors and their financial advisors to grasp after years of being in buy-and-hold accounts or having a passively allocated portfolio that relies solely on diversification to ward off market risk. When you have lived in one of those environments for most of your investment lifetime, it is difficult to adjust to the fact that "You do not have to react to market moves, we do it for you."
Responding to the market in a systematic and disciplined fashion is what you pay us for, and, once again, we have been doing it very well in the current market turmoil.
Our purpose for being is to take the emotion and worry out of your investments. Quantifiable, computer-driven investment strategies accomplish that for you. Not only do you sleep better when you realize this, but so do we, just knowing that our clients are being looked after by strategies that we have devoted our professional lifetimes to build for just these types of markets.
I think a lot of clients and reps have a hard time adjusting to a new world when they sign up for an actively managed account. They may have missed one of the advantages-we make all of the tactical, timing moves on their accounts for them. Did you miss it?
Hope you all had a great Labor Day weekend.
All the best,
Jerry