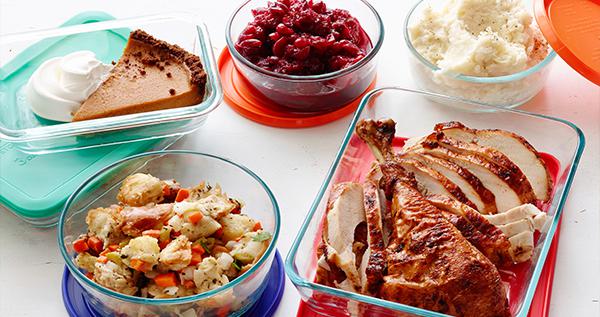 "Gather up the fragments left over, so that nothing may be lost." John 6:12
Turkey Day came and went Thursday, and on Friday came leftovers. Turkey, sweet potatoes, dressing and pumpkin pie-they sustained us not only on Friday and Saturday, but turkey soup appeared on Sunday. With all of the excess we see displayed in America, it is somehow comforting to have a day the result of which is nothing going to waste!
When Christ spoke the words in John 6:12, I think He had two meanings in mind. First is the obvious meaning: gather and make use of the food left over from the feeding of the 5,000. In my opinion, those fragments were a second miracle. Imagine, leftovers from the two small fish and five loaves of barley bread that fed the multitude. Somehow there were leftovers (twelve baskets full), and Christ wished to make sure that they would be used to feed others.
His second meaning, I believe, was to help people in need who have been left behind, "so that nothing may be lost." I think this sentiment is an undertone of the whole holiday season that we will experience over the next month, which began with our prayers of thanks on Thanksgiving.
In the financial markets "leftovers," too, can have a double meaning.
On a broad level, as a contrarian, I think of "leftovers" as those asset classes that have not been feeding the latest financial bubble. Since the market bottomed in 2009, we know that both bond and stock market investors have prospered. For stocks, it has been a six-year bull market. For bonds, the profits have been growing for 30 years!
Left behind through the last six years have been most other asset classes. Gold and commodities are surely in this category, as they seem to be making new lows on a daily basis. Just check the price of gasoline at your local gas station.
These and other "real" assets (for example, timber, real estate, and crops) are often referred to as alternatives when added to a portfolio. Yet, we here at Flexible Plan Investments, together with other financial firms that have joined our crusade over the last 30 years, have promoted a newer class of alternatives: alternative strategies.
Both alternative strategies and asset classes are added to a portfolio for one main reason: diversification. They are intended to add returns when stocks and bonds are not performing. (Note, while some strategies we offer are designed to grab the majority of the returns generated from rising stock or bond markets and mitigate the downside, many other strategies are designed to prosper when stocks and bonds do not. These are true alternatives.)
One of the great discoveries in investments over the last 20 years is that a portfolio is not truly diversified unless it holds alternatives, both asset classes and strategies.
Some investors have a hard time living with the consequences of this simple maxim. They buy into it when a new portfolio is created for them by their financial advisor. Of course they want it to be diversified. Of course they want it have the protection diversification historically has brought when the inevitable downturn in stocks or bonds occurs.
Yet when their first or second investment statement shows some assets or strategies experiencing losses, those same investors express concern. After a year or two, some strategies or asset classes may still be down in value, even while other parts of the portfolio are thriving. The very human tendency is to throw out the leftovers; throw out those asset classes and strategies left behind.
I constantly feel the need to remind these investors and their advisors of a simple truth: "If everything in your portfolio is going up, it is not diversified." Diversification comes from having investments that perform differently. Differently includes going in opposite directions. To actually diversify a portfolio against the ever-present risk of an unexpected change in the current financial conditions, the behavior of the portfolio's investments must not be fully correlated.
Warren Buffet is considered to be one of history's great investors. He espouses value investing. Value investing is based on the premise that one buys investments that are cheap and out of favor in order to benefit from their subsequent recovery.
Portfolio creation is based on this same premise. You hold assets that are out of favor, even in a market where other aspects of the portfolio are flourishing, because the tables may, or should I say will, turn someday.
For many years, one of the alternatives used has been bonds. They are an alternative to a 100% stock investment. If one reviews the market crashes that began in 2000 and 2007, bonds performed their role as an alternative very well. Even when they were only a small part of the portfolio, they reduced the massive losses incurred by stocks. They did this because they moved in the opposite direction.
Bonds can continue to perform this function. After all, most experts have thought interest rates would rise and bond prices would fall (that's how it works, folks) for many years, yet rates have trended lower and bond prices have risen.
Unfortunately, someday these experts will be right-rates will rise and prices will fall. When that occurs, they will not provide the traditional protection that bonds have brought to portfolios during the last 30 years. Something else had better be there to help investors when both the stocks and bonds in their portfolio are tumbling in price.
The something else will likely be alternative investments. While I expect that "real" asset classes (such as gold and real estate) will take on some of this role, I think alternative strategies will likely provide a more reliable source of low-correlation performance. They are actively managed, can move to the defensive asset classes that are performing well, and can often invest in funds that move in the opposite direction of stocks or bonds (inverse or short vehicles).
To the extent that these asset classes or strategies have been left behind, these financial leftovers may feed investors who have kept them in their portfolios long after the banquet in some asset classes has ended.
I see a second type of investment leftover every day in reviewing the portfolios of strategies chosen by our clients and financial advisors. They pick the popular strategies and leave behind others that they may not have been exposed to during the building process.
To a large extent, this is our fault here at Flexible Plan. With over a hundred strategies and suitability profiles available to choose from, we can't easily promote all of the strategies. In addition, because many of our strategies have third-party subadvisors, their focused promotion means that many home-grown strategies can get left behind.
This applies to old standbys such as Classic (a market-timing strategy that has been traded since the sixties) and Evolution II (Evolution was first developed in 1994). It also relates to newer strategies such as Volatility Adjusted NASDAQ (VAN), a 2011 offering, and S&P Tactical Patterns, brought out in 2012.
These latter two are an interesting pair. They tend to move in opposite directions. Yet they both can go long and short. They each can employ leverage. So, when one is on the wrong side of a trade, if the other is leveraged in the other direction, the entire portfolio can still make a profit.
Recently I was reviewing our new Crash Tested Report that we can run on most any strategy. It's currently available to financial professionals for our new All-Terrain strategies, showing their performance in a wide range of economic environments.
When I ran the report on all of our strategies, I noticed that during periods when the market had low volatility, VAN had been one of our top performers. Conversely, when we were in periods of high volatility, trend-following programs like VAN underperformed, and S&P Tactical Patterns soared.
I put the hypothetical research reports for both together in our illustration generator (50% invested in each) and here was the result: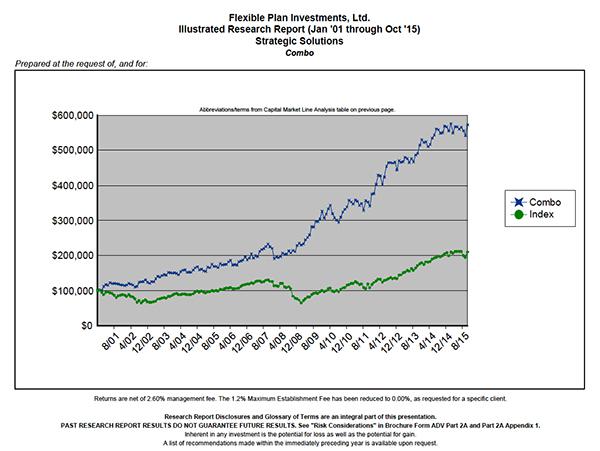 FPI Hypothetical Research Report
Index shown is S&P 500 (See attached Disclosures)
Not bad for a couple of leftovers! One is up this year (S&P Tactical Patterns), and one is down (VAN). Yet, a 50/50 portfolio of the two would have had a positive return for the year.
Finally, my opinion on the market has not changed much from last week. Stocks need to work some excesses off, and that usually means sideways to down in the next week or two.
In this holiday season, I hope you can avoid some of these excesses, too, and reach out and embrace the leftovers, whether they are in your investment portfolio or in society as a whole. By doing so, we can seek a common goal-"so that nothing may be lost."
All the best,
Jerry
HYPOTHETICAL RESEARCH REPORT DISCLOSURES
This presentation is provided for information purposes only and should not be used or construed as an indicator of future performance, an offer to sell, a solicitation of an offer to buy, or a recommendation for any security. Flexible Plan Investments, Ltd. cannot guarantee the suitability or potential value of any particular investment. The financial data between different Research Report versions may not be comparable for several reasons. Strategies are constantly being enhanced with the intent to have a positive impact on the risk/reward profile of the strategies. Additionally, calculations have been improved and changed over time to reflect what we believe to be a more accurate depiction of the risk attributes of a strategy.
The Research Report results are hypothetical and were achieved by means of retroactive application of a computer model, with the benefit of hindsight, and may not represent the results of actual trading. Therefore, Research Report results are NOT represented as actual trading or client experience and they do not reflect the impact on decision making or economic or market factors experienced during actual management of funds. The investment return and principal value of an investment may be lower or higher than the performance quoted; and investors' shares, when redeemed, may be worth more or less than their original cost. Annual returns are compounded monthly. Performance between selected dates may be misleading as indicative of overall performance of a strategy since the dates chosen by the operator of the program are susceptible of having been selected to present optimum performance.
As a result of ongoing research, enhancements may be made to strategies when a positive effect has been demonstrated. Unless otherwise noted, those incorporated into actual management at the time of publication are utilized in the report and applied throughout the period presented. Various minimum-holding periods for each fund or sub-account may be utilized to comply with trading restrictions. Advisor reserves the right to change these periods.
Results are shown after fees at the rate indicated and, if applicable, less a credit for use of any sub-advised funds. These fees are not taken into account in computing Annualized risk, Beta or Maximum loss (daily). Since monthly maximum loss is after fees, there may be an occasion when monthly max loss may exceed daily max loss. The maximum investment advisory fee is 2.6% yearly (1.75% for group retirement plans), dependent upon assets under management and is deducted quarterly in arrears. For the Foresters Equity Strategic Allocation Program, as well as, Strategic Solutions, Schwab, Nationwide MarketFLEX Advisor VA and Jefferson National Monument Advisor strategies, an establishment fee of up to 1.2% has been deducted at inception.
For Schwab (Load) ETF Market Leaders Strategic strategy, returns are presented net of approximate trading commissions of $860 annually (but prorated and applied quarterly) on a $150,000 account (minimum of $8.95 per trade with e-delivery of statements). For ETF strategies at Folio Institutional and Fidelity, Adviser primarily utilizes NTF (no transaction fee) funds. However, Folio Institutional and Fidelity may charge short-term (funds held less than 30 days) transaction fees ranging between $3.75 and $7.95 per trade. Additionally, Client accounts utilizing ETF strategies at Folio Institutional will be charged an annual brokerage fee of 20 basis points or a minimum of $50. These costs are the responsibility of the Client and are not included in the Adviser's fees. (See ADV brochure for details.)
Expenses of the funds are included to the extent they are reflected in the NAV. Sub-accounts of variable annuities, in addition to the expenses of a mutual fund, have mortality, administrative and other charges. Other fees may apply. All expenses are required to be disclosed in each investment's prospectus available from your financial representative and the product provider. Distributions have been reinvested. When provided, dividends are reinvested for indexes. In those cases where indexes do not provide dividend information, those returns would be understated. As individual tax rates vary, taxes have not been considered.
The Strategies, mutual funds, Exchange Traded Funds (ETFs) or annuity sub-accounts drawn from for investment (the Universe Components) may be reduced or added to from time to time due to closures and other operational considerations. The list represents the universe in use at the time of this report, and may differ from prior periods. We review the Universe Components periodically and make appropriate changes. In those cases where a Universe Component does not have sufficient price history, a substitute, including in the case of annuities, a mutual fund or market index after which the sub-account was "cloned," may be used in order to create a longer history from which to test. When this occurs, the daily value of the surrogate may differ from the NAV of the actual Universe Component used prospectively due to different internal expenses. If the expenses are lower or in the case of indexes used, non-existent, the result of their use will be to overstate returns. Conversely, higher internal expenses will understate returns. No index is directly tradable.
If the Universe Components consist of any of the following sub-advised funds, the client will receive a pro-rata credit for any such fees paid on their billing, since FPI serves as sub-advisor to such funds for which it is separately compensated. Read the prospectus carefully before investing. In deciding whether to invest in the funds described, you should carefully consider the investment objectives, risks and the charges and expenses of the investment company before investing. The prospectus and funds' SAI contain information regarding the above considerations and more. You may obtain a Prospectus and SAI through the following contact information:
Fund

Fund Advisor

Contact Information

The Gold Bullion Strategy Fund

http://www.goldbullionstrategyfund.com

Quantified All-Cap Equity Fund

Quantified Alternative Investment Fund

Quantified Managed Income Fund

Quantified Market Leaders Fund

Quantified Self Adjusting Trend Following Fund

Advisors Preferred

1445 Research Boulevard, Suite 530

Rockville, MD 20850

Phone: 855-650-7453
Advisor may predicate some strategies on trading signals furnished by non-affiliated firms. In such instances, the non-affiliated firm is under contract to Adviser to provide, and in certain instances, implement management of Client accounts in such strategies. Flexible Plan by necessity relies on information, data, and software provided by third parties, the reliability of which, while believed to be accurate, cannot be guaranteed and losses may result from reliance upon them. These are normal risks for which Flexible Plan takes no responsibility beyond use of reasonable care in its selection of the third party.
For many strategies, Adviser provides suitability-based profiles with names such as, without limitation, Conservative, Moderate, Balanced, Growth and Aggressive or with numerical designations such as 25, 40, 60, 80 and 100. Clients should draw no conclusions from such titles. Rather, they are simply a way of designating the hierarchical ranking of Adviser's Profiles within a strategy. They are not meant to imply any ranking within some universal risk measure or benchmark, nor are they equivalent to a Client's subjective concept of the term.
For Global View Capital Management clients, portfolios in this report may not reflect actual portfolios because the component strategies may change quarterly or when market conditions, in Flexible Plan's or the sub-adviser's opinion, warrant a change. These results are derived from the historical hypothetical research reports of the component strategies in each of the model portfolios. These results reflect a snapshot of those allocations carried backward in time to demonstrate how the combination would have performed in the historical period provided.
Strategy and asset allocation decisions may not always be correct and may adversely affect account performance. The use of leverage may magnify this risk. Leverage and funds employing derivatives carry other risks that may result in losses, including the effects of unexpected market shifts, default and/or the potential illiquidity of certain derivatives. Because Flexible Plan strategies make use of publically traded mutual funds and Exchange Traded Funds, investors should consider carefully information contained in the prospectus of these investments, including investment objectives, risks, charges and expenses. You can request a prospectus from your financial advisor. Please read the prospectus carefully before investing. Investment value will fluctuate, and shares, when redeemed, may be worth more or less than the original cost.
Flexible Plan's strategies are actively managed and their characteristics will vary among strategies. As a manager utilizing publically traded mutual funds and Exchange Traded Funds, the strategy is subject to the risks associated with the funds in which it invests. Mutual fund and Exchange Traded Fund values fluctuate in price so the value of your investment can go down depending on market conditions. International investing involves risks, including risks related to foreign currency, limited liquidity, less government regulation, and the possibility of substantial volatility due to adverse political, economic or other developments. These risks are often heightened for investments in emerging/developing markets or smaller capital markets. The two main risks related to fixed-income investing are interest-rate risk and credit risk. Typically, when interest rates rise, there is a corresponding decline in the market value of bonds. Credit risk refers to the possibility that the bond issuer will not be able to make principal and interest payments. Asset allocation strategies do not assure profit and do not protect against loss. Non-diversification of investments means that more assets are potentially invested in fewer securities than if investments were diversified, so risk is increased because each investment has a greater effect on performance and there may be more correlation of the fewer investments used. Investing in leveraged or inverse funds entails specific risks relating to liquidity, leverage and credit of the derivatives invested in by such funds, which may reduce returns and/or increase volatility.
Active investment management may involve more frequent buying and selling of assets. The majority of FPI's strategies utilize no load mutual funds with no transaction charge. Best efforts are employed to avoid short-term redemption charges, however, active managed strategies can still result in charges, especially when entering or exiting a strategy. Additionally, any commissioned investments will reflect the impact of more frequent buying and/or selling of assets. If investing within a non-tax-deferred investment, Investors should consider the tax consequences of moving positions more frequently. There is no guarantee that a diversified portfolio will enhance overall returns or outperform a non-diversified portfolio. Diversification cannot protect against all market risk.
PAST RESEARCH REPORT RESULTS DO NOT GUARANTEE FUTURE RESULTS.
Please read Flexible Plan Investments' Brochure Form ADV Part 2A carefully before investing.
As supplemental information, a listing of all recommendations made within the immediately preceding twelve months, all assumed trades and other data used to generate the referenced results is available upon request. Inherent in any investment is the potential for loss as well as the potential for gain.
V 11/15/2015