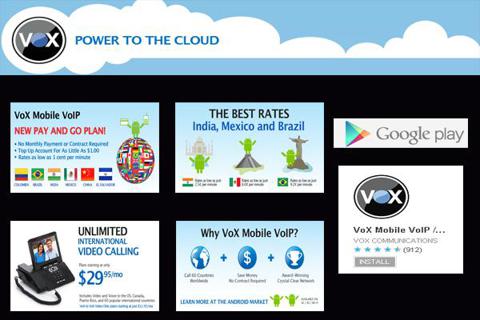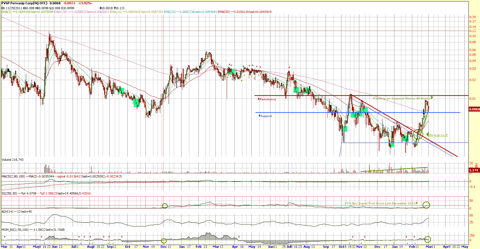 Pervasip Corp
(OTCQB:PVSP)
Risk Level: Low
Volatility Level: High
Liquidity Level: High
We are excited to bring back one of our all-time favorite OTC stocks this week and for most of the week due to its recent increases in volume, attention, and significant buzz around their recent rapid advancement within their segment! For years now we've come back to this company at key points in time and presented Pervasip Corp (OTC:PVSP) which has resulted in literally thousands of percent in profits . PVSP is at a key moment in time and they have shown significant profits time and time again for our followers. Last week we watched as PVSP made a big break North on huge volume based on their recent accomplishments with their Vox Communications application. Their app is very unique and has the ability to change the game on a global level for cloud-based VOIP calling for mobile phones now recently added video calling on an international level.
There amazing outcome on Google play and Samsung mobile App Store has been better than ever expected and is at the point now we can finally they can start to rake in revenues on years of development! An average international call can cost a person on average .25 cents from services such as Skype. Vox Communications has found a way to deliver amazing quality for a little as .01 cent per call internationally and is exploding in bread basket countries that were previously held hostage by their available options. By signing up for nothing more than a data plan on their cell phone they can download the Vox Communications app from Google Play where they currently have a 5 star rating from over 912 reviews! Or from the Samsung store where they are taking names and working their way into being placed in the U.S application directory!
Unlike many competitors they are offering a trial base offer to test the service and have an amazing revenue strategy which allows users to "top up" their account when the balance is running low. The math is very simple with this model. With competitors such as Skype seeing over 3 million additional active concurrent users added in a single month of 2012 they are witnessing over a 70% increase over the previous year. What is the overall difference though? It is easy, over 1500% increase in pricing from Vox Communications international plans.. In a market with that kind of growth could that mean for the Vox Communications underlying potential? If they added only 10,000 new clients they "topped up" their account only $10.00 per month they would immediately add over $100,000 dollars in residual monthly income! The truly amazing aspect to this in addition is the fact that their bottom line cost is unbelievably low, with a fully automated back end system this company is able to operate at one of the lowest bottom lines out of all industries creating an opportunity of one of the highest cost to revenue models existent today.
Does this make them a candidate for the Big Fish to want this technology?
Vox communications are literally pioneers with this technology and offer users a free 60 min. trial and the capabilities to make calls any country with unlimited calling if they sign up for the pay and go plan for as little as one dollar! Recent relationships like the one built with the mobile wallet P2P announced on February 13 gives them direct access to thousands of customers in the ability to grow their revenues overnight at a rapid rate! After all these years of watching this innovative company take all the necessary steps to become revenue-producing the team at Stock Legends is proud to announce that the time is now for Pervasip Corp!
Additional changes within the world economy and regulations may also find themselves being a driving factor in upward momentum of PVSP. On a global level things have been changing at a significant pace. Recently the Obama administration passed a new set of regulations which were designed to increase tax revenue for the United States. These new regulations force countries such as Switzerland to report companies and people hiding money as "tax havens" in their country. A mixture between this and the fact that the instability in the large-cap stocks are returning some of the smallest percentage gains in years are forcing large funds and big investors to find new and innovative ways to tie up money in investments. In previous years they would simply hold money offshore and hide from significant taxes and profit off the board stocks. Today we see a shift in the mentality of the big-money and they are now searching the Small and Microcap segments for innovative technologies to invest in creating what has been called the year of "Buyouts, Mergers, and Acquisitions".
With this being said the team at Stock Legends believes and this is based on our hundred percent opinions and analysis feels as if one of the largest contenders in the OTC for a big potential move such as this is Pervasive Corp. PVSP. Some of the biggest names in the business already involved with PVSP like the the founder of Napster who has already invested in PVSP appear as if they are going to have a front row seat to some of these magnificent changes to the industry!
Read this article that I published this weekend for an insight on the changes taking place in the small cap and micro-cap segments now:
ih.advfn.com/daily/quickdraw007/1200/why...-stocks
Read the full report on Pervasip Corp right now:
The team at Stock Legends is so excited about the opportunity unfolding right now for Pervasip investors that we are going to be focusing on this company for most of this week!
The Stock Legends Team
View The Full Report Now Here: