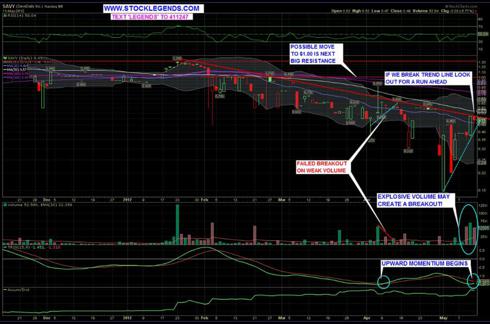 Save Daily Inc.
Ticker: SAVY
(OTC:BB)
Risk Level: Low
Volatility Level: Medium
Liquidity Level: Medium
Welcome back from the short weekend investors! The Stock Legends Team is ready to hit the ground running this week with another fast paced alert. We again want to congratulation you on the massive gains made from our Alert on Ticker TWWI - Thrive World Wide Inc last week that brought in single day gains of 100%
We have chosen the alert for 5/13 after scanning through numerous companies with potential opportunities. The Stock Legends Team took notice to the current position of the stock chart which is in the process of bouncing back from a deep bottom. We watched last week as volume poured into the stock once the bottom was confirmed and the trend started to reverse. These bottom plays are the favorite type of alert that we cover here because more times than not there is A potential opportunity to benefit in both the long term and the short term.
The Stock Legends Team was thrilled to see the aftermarket news for Ticker SAVY on Friday when the company announced that they have resumed full DTC eligibility and have been removed from the chill list. Save Daily appears to be taking all of the necessary steps to be able to operate to the highest standard within the Investment Services segment of the market.
SAVY owns its own proprietary financial services platform which they have worked on and protected over the last three years. Their main goal is to be able to provide suitable and affordable financial services for the average person or investor. SAVY has the technology within their proprietary platform to allow all mutual fund investing to any level of client, where up until present was set aside for the larger scale investors. Save Daily conducts all of its current business through their wholly owned subsidiary SaveDaily.com Inc and their current headquarters is located in Seal Beach California.
The Stock Legends team is excited about the share structure of SAVY as well with only 44,347,224 shares in the Outstanding share count and a very close 50 million in the Authorized share count. This shows that there is very little room if any for massive dilution. This plays a major role as in investor depending on your trading methodology. If you are long you can count on there being a nice share structure in place for you to lean back on.
One of the big questions when investing is; what is the path the company is on?
May 11, 2012 - Fully DTC Eligible
April 10, 2012 - Premier Credit adopts the SAVY platform for mutual fund investing
April 5, 2011 - SAVY closes 3 million in funding
Mar 21, 2012 - Petal Corp launches saving account using SAVY platform
Even though these are just the most recent updates from the company it is safe to say that they are moving in a direction that shows growth and a strategy for success. Customers of SAVY can benefit in numerous ways from this proprietary trading platform and this is something that in our opinion could take wind at lightning speed and become an extremely profitable investment.
This platform supports numerous account types and trading as follows:
Small investors (non qualified accounts)
Health Savings Accounts (HSA)
Education Savings 529 Plans
Qualified Retirement Plans
401k
IRA (Roth, Traditional, SEP, IRA, and Self Direct)
403 (b)
457
Safe Harbor Automatic IRA Rollovers
Direct To Consumer Space
We feel that this alert is going to be a perfect highlight and will be added to our huge list of profitable trades. As always we work hard to give you the best alerts at the right times for all types of traders. Please take the time to review the full Research Report that we have put together for you and the technical video chart as well! Make sure you set your alarm clock early! This one will not wait for anyone !
Click For Full Report:
http://stocklegends.com/todays-alert/
The Stock Legends Team