June 8th markets attempted to stay above support at S&P 500 levels of 1,320 (see big SP500 chart below). Markets jumped initially at open after China lowered its rates, and Initial Jobless claims came out exactly at expectation at 377k. Bernanke came out and ruined the show with a disappointing speech that said nothing indicating further easing is on the horizon. He basically just said that the recovery is slow but steady and that the Fed stood ready to help markets if the recovery falters significantly. The photocopied speech the Fed gives each time it wants to leave markets alone. Immediately after Bernanke's speech at 10:00EST markets fell almost 1% from 10:00EST to 11:00EST.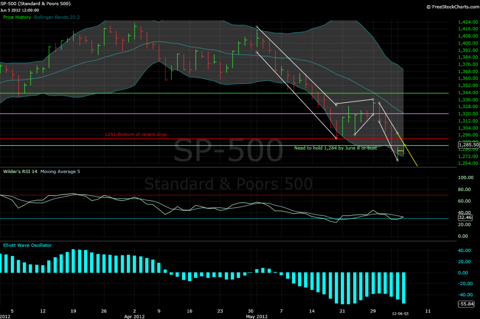 Big SP-500 June 5 3 Month Chart
Let's have someone professional tell it:
Peter Jankovskis, who helps manage about $2.8 billion at Oakbrook Investments in Lisle, Illinois. "Bernanke's comments weren't indicative of a Fed that will take aggressive action in the near future. They didn't match to expectations. There's also concern about the upcoming Greek election. We'll have to wait and see how all that plays out." (source: Bloomberg)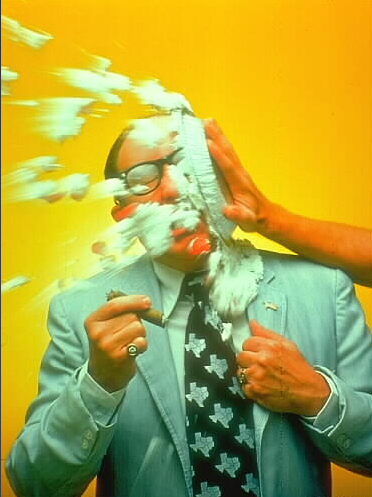 Aggregating iPath S&P 500 VIX Short Term Futures TM ETN (NYSE:VXX)
Today, June 8th, I aggregated VXX shares after we had bounced off $19.08 a few times. I finally pulled the trigger with just over an hour left in trading and bought at $19.08. VXX climbed to closed at 19.44 in the last hour of trading. I see a bit of a short squeeze possibly being at work in the last few days (June 4th to 8th 2012). Maybe that explains the daily flip-flop as stops are hit. I will continue to aggregate if VXX falls lower; VXX should be in the early 20s right now.
The G7 meeting was a complete dud, the worst thing to do during a crisis is publicly announce an emergency meeting regarding the crisis and… and then do nothing. No joint statement released. Nothing.
Next Week
For next week, June 11th, we don't have a lot of data happening. The market could do a few different things. Week of June 11th events say that we will be pricing in the disappointment of the dud G7 meeting, Bernanke's no effort speech, and the complete match of the jobless claims data. These things will not be full of spin. The spin will come from future events: Greek elections on June 17th, and the Fed meeting starting June 18th. The Greek elections will make the mainstream media paint a bunch of doom and gloom pictures of how things could turn out, including some experts on financial meltdowns coming out to set. The Fed meeting will be downplayed as inconsequential now that we have Bernanke's speech from June 8th showing us he is less excited about more expansionary policy than markets would like. They may throw in a few lines about how the June 18 meeting may be where they discuss future easing, but it could be just as easy to go the other direction.
Technically speaking we may also run out of steam. We have just about recovered from the 5% drop in the S&P we saw from May 29th to June 4th. This would be great except that the recovery was from June 4th to June 6th through a series of rip your face off rallies. I'm no expert but I'd say most of that was fuelled entirely by hopes and dreams for the G7, (a little of Draghi's speech), Bernanke's speech, and maybe Initial claims? I can't remember but there may have been some other fairy dust in there too. Either way that was all buying on HOPE (not a viable investment strategy).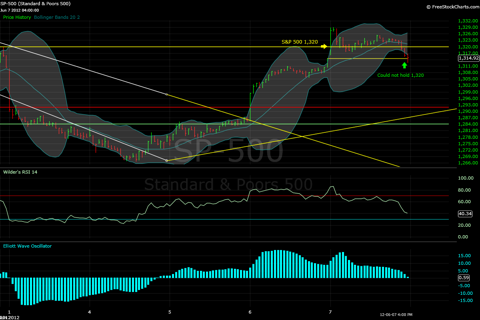 SP-500 June 8 1 Week Chart
Looking at the big S&P charts we see we were not able to hold 1,320 today, June 8th, and we are approaching our first level of resistance at 1,336. Just look at what happened after the Bernanke disappointment: S&P dropped from it's day high of 1,329 (at 09:56EST) to 1,317 (at 10:52EST). That's a drop of 0.9% in an hour, that's a violent risk off move. Market's were more or less flat for the rest of the day as everyone waited until the last hour to sell off (because there's nothing more to look forward to!) We ended up closing down -0.01% on the S&P on June 8th. If that doesn't show you the reliance of that 5% face ripping rally on good news from the leaders I don't know what would. We're seeing a short squeeze and HOPE (not a viable investment strategy) rally. We may go higher, but I don't see a reason to until Greek elections and the Fed meeting over a week away.
All in all I think the events next week point to a risk off week June 11-15.