Apple (NASDAQ:AAPL) is the single most valuable publicly traded company in the world, with a market capitalization of $567 billion. The company reported sales of $178,14 billion and earnings of $38.56 billion in the last twelve months.
Growth with new releases
The successor of the iPhone 5s and 5c, which were introduced in September 2013, will be unveiled on September, 9th. That's what sources like Re/code say, and it would continue the company's habit of introducing new phones in September.
The details already revealed about the new iPhone look very promising:
There will be two versions, a smaller one with a 4.7 inch screen and a bigger one with a 5.5 inch screen.
Both versions will contain the new A8 processor as well as an NFC chip.
Both iPhones will use the new operation system iOS 8.
The new iPhone release will be a huge opportunity for Apple. The first argument suggesting this is that the company can finally compete with Android systems in the large smartphone / phablet segment of the market. In the past, these sales were left for Samsung and others. A huge amount of expensive, premium smartphones are sold in this category, most of them in the $400+ prize range. Addressing this market segment, where smartphones sold were mainly in the Samsung Galaxy S series and in the Samsung Galaxy Note series, will help Apple grow sales of phones immensely.
The next plus is the new NFC chip. NFC stands for near field communication, a technology that allows non-contact communication over a couple of inches. So far, the technology has been used for micropayment systems. Apple will probably present a payment system based on this technology in the near future. This e-wallet system (iWallet?) will add a new feature to the Apple ecosystem, giving customers another reason to join into it by buying Apple products - and adding another negative point to competitor's products. Apple with its proven ability to grow and capitalize on new trends is the perfect developer of such a payment system, since it could provide the necessary hardware and software all at once. This is a much harder task for the competition, since there is a multiple of hardware producers and the development of the software happens at yet another company. The upcoming iWatch could also be employed into the payment system - imagine making payments by just waving your left arm, wearing your iWatch, along a sensor.
Lastly, the new iOS will add new customers for Apple. It will finally provide possibility for personalization and customization equal to Android systems, an argument often brought up against Apple's phones. The new iPhone with its new OS will be a valid option for former buyers of Android smartphones who didn't get an iPhone because the OS was too restricting.
There are several improvements which will allow Apple to grow its user base by expanding into new market segments (phablets) or addressing new customer groups (users keen on customization). This additional demand is reflected in Apple's decision to largely grow purchases. The company wants its manufacturers to build 70 million to 80 million of new iPhones, this Wall Street Journal article says. This is a huge increase over last year's initial order of 50 million to 60 million iPhones (both versions combined).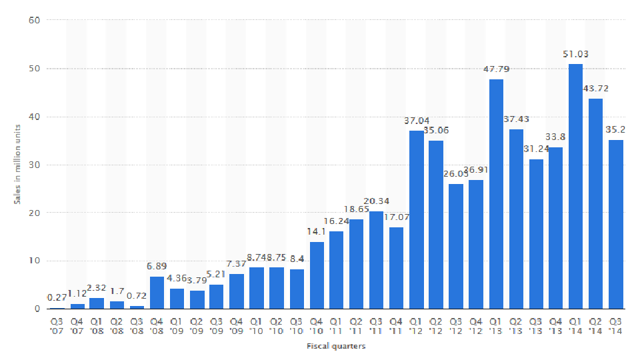 Sales have been growing with every new iPhone so far, with a huge jump in Q1 12 (October - December 2011). With the new iPhone there will be another huge increase in iPhones sold, Apple's decision to buy 20 million more phones in the first order (compared to one year prior) suggests that the growth in absolute numbers will be bigger than ever before.
Another introduction expected in the fall of 2014 is the iWatch: Rumor says the wearable product will be introduced in October. The tech homepage techradar expects 10 million to 15 million units sold till the end of the year, at an expected price of $250 to $300 this means additional revenue between $2.5 billion and $4.5 billion in the first quarter after its release.
It is difficult to forecast how much the iWatch will affect bottom line. If we calculate with an average of $3.5 billion in sales for the iWatch and use the company's average profit margin of 21.6% this would mean additional $750 million in net profits each quarter - or $3 billion each year.
Although the net profit on the iWatch could be lower due to lower margin, I think the iWatch offers the possibility to grow sales in other areas. The iWatch definitely is the wearable most hyped and awaited. There will be people who currently are not using Apple devices, but will turn down Android systems in order to switch to a single provider of both wearable and smartphone. Thus, the introduction of the iWatch will also grow sales in iPhones since it provides another reason to switch to the Apple ecosystem.
Apple SVP Eddy Cue is quoted saying he has never seen a better product pipeline in his 25 years at the company, we will see if Apple unveils something else in the next couple of months. In any case, this will become a good year for Apple and its shareholders.
Apple's valuation
The company's shares are up 20% year to date and up 47% compared to one year ago - incredible numbers for a company of Apple's size.
Yet Apple is not overvalued at all, compared to the market the company seems to be undervalued.
Apple's true P/E is below 15: For the P/E one divides the market capitalization by the earnings of the past 12 months. As of today those numbers are $567.29 billion and $38.56 billion respectively - the multiple is 14.7. On many financial information sites you will find different numbers, the reason is that the company's share buybacks aren't accounted for as they should be. For further explanation read this article by Seeking Alpha contributor Gary Morton.
The share buybacks are also the reason why Apple's market capitalization isn't near its peak at all, although share prices are near their (nominal) all time high (if adjusted for the stock split). Apple's current market capitalization lies $100 billion below its September 2012 high of $667.77 billion.
Right now the company has a P/E of 14.7, a dividend yield of 2%, above average margins and returns on capital, a prospected average EPS growth rate of 12.2% over the next five years and more than $50 billion left in its $130 billion capital return program.
The company also has only small amounts of debt with a Debt/Equity ratio of 0.26.
Taking a look at these metrics and the growth potential, buying Apple at today's price seems to be a good deal (obviously it would have been even better to become a shareholder a year ago) and I will probably start buying the stock in the coming days.
Disclosure: The author has no positions in any stocks mentioned, but may initiate a long position in AAPL over the next 72 hours. The author wrote this article themselves, and it expresses their own opinions. The author is not receiving compensation for it (other than from Seeking Alpha). The author has no business relationship with any company whose stock is mentioned in this article.