Apple's (NASDAQ:AAPL) share price has been going down continuously over the last month, with shares trading about twenty percent below the $133 top seen multiple times over the last year (in February, April and July).
Apple's share price decline also dragged down the SMAs (simple moving averages), which technical analysts use to determine whether a stock will go up or down over the near to medium time.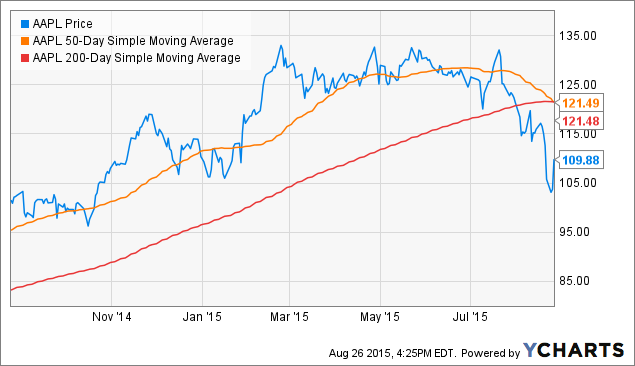 Apple's 50 day and 200 day moving averages have both been declining recently, the 50 day SMA since July and the 200 day SMA since mid August. Right now the 200 day SMA is just below the 50 day SMA, but the 50 day SMA (coming from above) is about to break below the 200 day SMA (which is moving at a lower pace) this week.
As the 50 day SMA loses about 30 cents a day (since stock prices of about $125 are replaced in the equation by stock prices of about $110) right now, whereas the 200 day SMA moves a lot slower, the crossing of these two lines in Apple's chart will likely happen tomorrow.
When the 50 day SMA moves below the 200 day SMA, this is called a death cross. Sounds bad, should we care about this? Let's take a look at the last death cross the Apple chart has seen: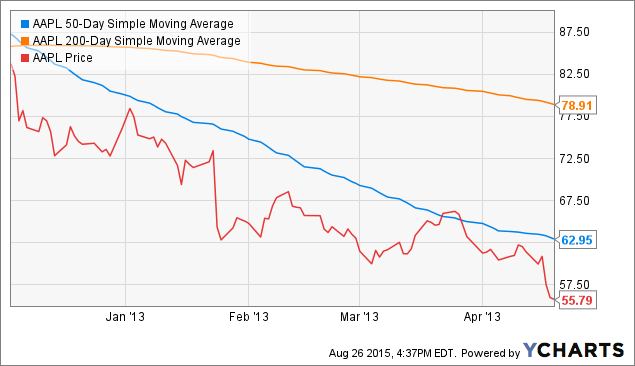 AAPL 50-Day Simple Moving Average data by YCharts
The last death cross (50 day SMA passing the 200 day SMA from above) in Apple's chart was seen in December 2012, in the following four months Apple's share price went down 30 percent -- Apple's biggest share price drop in the recent past.
Will something like this happen again in the next weeks and months? I don't believe so, due to a number of reasons:
1. Apple's valuation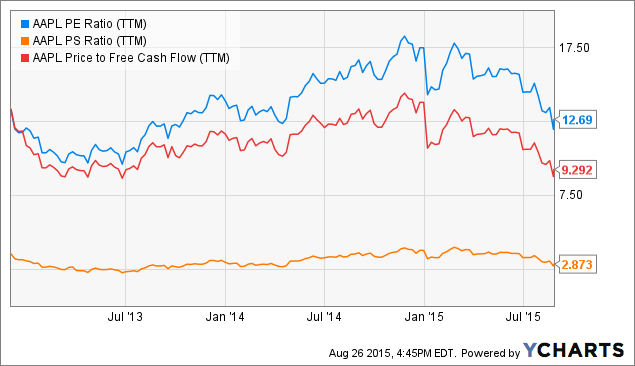 AAPL PE Ratio (NYSE:TTM) data by YCharts
At the end of 2012 Apple's valuation was higher than it is right now, measured by the company's trailing price to earnings ratio (12.7), the trailing price to sales ratio (2.87) and the trailing price to free cash flow ratio (9.3). Apple's PE ratio is five percent below the level of December 2012, Apple's price to sales ratio is 19 percent below the level of December 2012 and Apple's price to FCF ratio is a hefty 31 percent below the December 2012 level.
As Apple's valuation is lower than it was the last time we've seen a death cross, I believe the drawdown (should one occur) will be less severe.
2. Apple's buybacks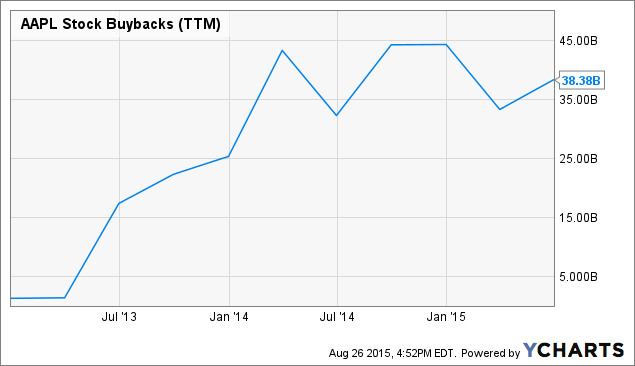 AAPL Stock Buybacks (TTM) data by YCharts
Back in late 2012 Apple did not have a share repurchase program yet, which got ramped up during 2013 and 2014. In the last twelve months Apple spent about $40 billion on stock buybacks, which is an enormous pace relative to the company's market capitalization of about $600 billion (six and a half percent). As Apple's aim is to retire a high amount of shares, it is only opportune for the company to ramp up its buyback pace when share prices are depressed (as they are right now). Should Apple's share price decline further, management will likely increase the amount spent on stock buybacks further, thus supporting the share price and preventing it from falling down too far. With (trailing) free cash flow of about $60 billion and huge cash reserves Apple's management could easily ramp up the amount spent on buybacks from $10 billion per quarter to $15 billion per quarter (at least for a while).
3. Apple's dividend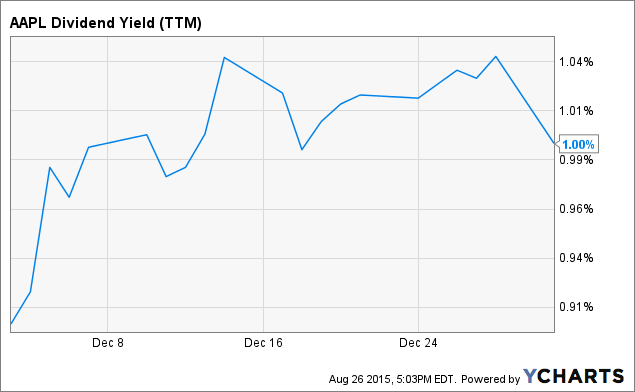 AAPL Dividend Yield (TTM) data by YCharts
In December 2012 Apple's shares offered a dividend yield of about 1.0 percent -- in August 2015 Apple's shares offer a dividend yield of about 1.9 percent. Apple's shares are thus more attractive for income investors right now than they were in 2012, which means two things:
- Income investors are more likely to hold Apple's shares in 2015 than they were in 2012, and these investors will likely not sell their shares based on technicals (such as the death cross).
- Investors looking for income are more likely to buy Apple's shares in 2015 if the stock corrects further, thus limiting the downside, since there probably are a lot of dividend growth investors who would love to enter a position in Apple with an initial dividend yield of two percent or above. A thirty percent decline (as in 2012) would mean Apple's shares would offer a dividend yield of 2.7 percent, this seems unlikely to happen in the near future.
Takeaway
The last time Apple's chart has seen a death cross the company's shares went down about thirty percent, but I don't believe we will see another decline like that in 2015, due to a number of reasons. Apple's valuation is lower than it was in 2012, Apple's buybacks should support the share price and Apple's dividend would attract a lot of investors if shares declined further. A 30 percent decline thus seems highly unlikely, but it is possible that Apple's shares will drop another couple of points. Short term investors and traders may better not enter a position right now, but I believe this is a very attractive price for long term investors.
Disclosure: I am/we are long AAPL.
I wrote this article myself, and it expresses my own opinions. I am not receiving compensation for it (other than from Seeking Alpha). I have no business relationship with any company whose stock is mentioned in this article.