IBM (NYSE:IBM) is trading at a price not seen for a long time, as the company got hit by a negative reaction to earnings as well as a negative reaction to a revenue recognition probe by the SEC.
Yesterday IBM also announced that the company would acquire the Weather Company in a $2 billion deal. The Weather Company wanted to sell itself for $3 billion since August (the company was valued at $3.5 billion in 2008), it seems a buyer has been found now.
Buying the Weather Company means a couple of positives for IBM:
First, this acquisition will increase IBM's revenues (and likely also earnings and cash flows) in the future. The Weather Company's forecasting unit already sells data / licenses its services to more than 5000 customers (source) which are dependent on accurate weather information, such as airlines & airport operators, insurance companies, agriculture, power production (e.g. wind mills & solar parks). Additionally, the Weather Company receives revenues from almost 100 million subscribers to the Weather Channel (source).
The Weather Company's annual revenues are $340 million (source), by acquiring the Weather Company these revenues (and associated cash flows and earnings) will go to IBM's pocket in the future.
The next point is that this acquisition further positions IBM as one of the leaders in a market which will grow immensely in the future: Predictive analytics. With its Watson system and its Smarter Planet unit IBM is already well positioned here, but all the data, the models and the human talent that will come with the Weather Company acquisition will increase IBM's capabilities in this area further. Predictive analytics are already used in marketing, financial services, healthcare and other fields, but there is a lot of points this technology could be used in the future (think about security, crime prevention & detection etc.). The people working at the Weather Company know how to come up with solutions to predict outcomes in one area, but since the statistical / mathematical methods are mostly the same in other areas, this talent can also be used to push IBM's predictive capabilities in other areas. In combination with IBM's Watson unit (which is doing well in healthcare and retail) and Smarter Planet this makes IBM one of the leaders in this area.
The Weather Company's predictive abilities also improves the services of other IBM units, e.g. using the Weather Company's ability to forecast weather situations with high accuracy, Smarter Planet can optimize power generation and grids further, by letting the operators of gas-fired plants know beforehand when solar panels are about to increase or decrease their production due to changes in the local weather (the same works for wind power).
IBM thus gets a lot of positives from this deal: Higher revenues, improvements to its existing offerings and overall better predictive abilities (which will grow in other areas with the help of the Weather Company's data, models and human talent). For a price of $2 billion, which is a lot less than the price the company was valued at in 2008, this sounds like an attractive deal for IBM (which has about $10 billion in cash, so there is no need to take on any debt for this deal).
I also want to shortly show that the company is not in too much debt at all, as this is something a lot of people get wrong: IBM has a cash position of $9.6 billion and a debt load of $39.7 billion. $26 billion of these $39.7 billion belong to IBM's Global Financing segment, which functions as a bank. IGF has a leverage ratio of 7:1, which is a rather low number in comparison to other banks. With $26 billion of debt belonging to IGF, this leaves $13.7 billion of debt for IBM ex IGF. $13.7 billion of debt for a company with $9.6 billion in cash and free cash flows of $13.6 billion in the last twelve months doesn't look like a problem at all -- if IBM wished to do so the company could pay back all of its non-IGF debt in less than a year. IBM has a AA- rating by Standard & Poor, which shows how fundamentally intact the company is (and how investing in the company is low risk).
Valuation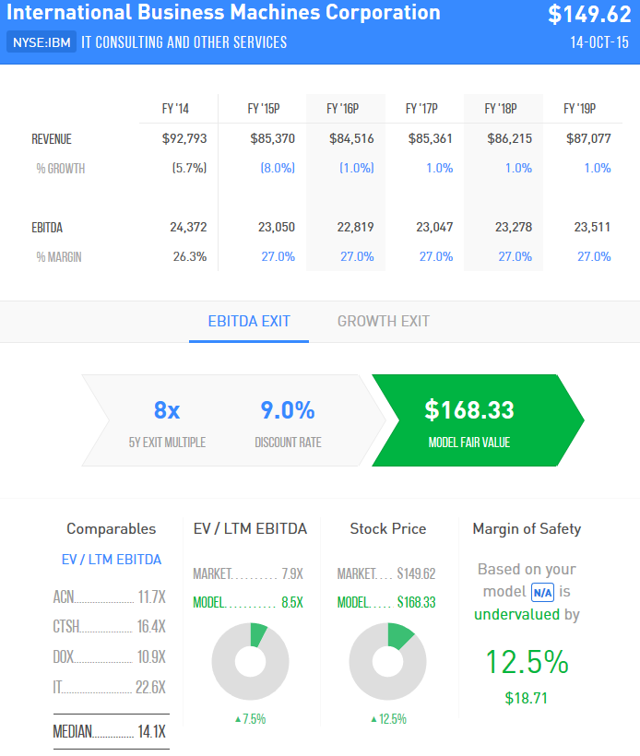 I used the finbox model to determine a fair price for IBM (which also functions as a check for whether one should enter a position now). Using a strong revenue decline in 2015, a small revenue decline in 2016 and light revenue growth beyond, as well as an exit EBITDA multiple of 8 (in comparison to a peer group average of 14), I get to a fair price of about $168, which means that the company's shares have upside of about twenty percent according to my calculation.
I also used the Discounted Cash Flow method to determine a fair price for IBM's shares:
At first we have to calculate the weighted average cost of capital (OTC:WACC), with a risk free rate of 4.0 percent, IBM's beta of 0.63 and an equity risk premium of 7.0 percent IBM's cost of equity is 8.4 percent. IBM's cost of debt is 2.4 percent, the after-tax cost of debt is 1.8 percent. With an equity valued at $141 billion and debt valued at $43 billion, IBM's WACC is thus 6.9 percent -- this is our discount factor.
| | |
| --- | --- |
| risk free rate | 4.0 |
| IBM's beta | 0.63 |
| equity risk premium | 7.0 |
| IBM's cost of equity | 8.4 |
| IBM's cost of debt | 2.4 |
| after-tax cost of debt | 1.8 |
| equity / (equity + debt) | 0.767 |
| debt / (equity + debt) | 0.233 |
| WACC | 6.9 |
IBM's free cash flow over the last twelve months was $13.2 billion, the growth rate over the last ten years was 2.5 percent (annually). When we assume that free cash flows will continue to grow by 2.5 percent annually over the next five years, and that free cash flows will then remain flat, we get to a total present value (of IBM's free cash flows) of $213 billion.
| | | |
| --- | --- | --- |
|   | Nominal value | Present value |
| 2015 | $13.2 billion | $13.2 billion |
| 2016 | $13.5 billion | $12.6 billion |
| 2017 | $13.9 billion | $12.2 billion |
| 2018 | $14.2 billion | $11.6 billion |
| 2019 | $14.6 billion | $11.2 billion |
| 2020 | $14.9 billion | $10.7 billion |
| From 2021 |   | $141.5 billion |
| Total |   | $213 billion |
In order to get to the value of IBM's shares, we have to subtract the present value of IBM's debt from the total present value, which gets us to a present equity value of $170 billion.
By dividing the total equity value by the number of shares, we get to the value of each individual share. In IBM's case (using a diluted share count of 980 million), this gets us to a fair value of $173 per share.
This is pretty much in line with the per share value of $168 I calculated above (using the EBITDA model), and signifies my argument that IBM's shares are undervalued right now. With an upside of about twenty percent right now looks like a good time to buy IBM's shares. Warren Buffet seems to agree that IBM's shares are undervalued right now, according to Reuters he told CNBC that Berkshire Hathaway has been adding more IBM shares during the third quarter (source).
Takeaway
IBM wants to buy the Weather Company, which will strengthen the company's predictive analytics abilities, increase revenues and make IBM's other services more valuable. For $2 billion this deal looks attractive to me.
I also believe that IBM continues to be undervalued right now, according to my calculations the company has upside of about twenty percent.
Disclosure: I am/we are long IBM.
I wrote this article myself, and it expresses my own opinions. I am not receiving compensation for it (other than from Seeking Alpha). I have no business relationship with any company whose stock is mentioned in this article.