Exxon Mobil (NYSE:XOM) reported third quarter earnings today (read the ER here). Exxon Mobil's earnings declined substantially, but came in higher than most analysts estimated. This was mainly due to a strong downstream segment contribution. Exxon Mobil is hurt by low oil prices but it looks as if the company is holding up pretty well.
Earnings recap
Exxon Mobil grossed revenues of $67 billion, a decrease of 37 percent yoy, but still $3.6 billion ahead of estimates. Exxon Mobil's earnings declined 47 percent to $4.2 billion (which means $1.01 per share).
Production volume grew 2.3 percent (to 3.9 million barrels a day), which is a positive, but at an unfortunate time: Exxon Mobil has been struggling with flat or declining production for years, since a couple of quarters Exxon Mobil's production is growing, at a time when the company can't fully capitalize on a higher production due to low oil prices (and now Exxon Mobil is even contributing to the oil glut). However, this is due to projects started years ago and thus no mismanagement on Exxon Mobil's side, just bad luck.
Segments
Exxon Mobil's upstream segment (the biggest contributor to Exxon Mobil's bottom line historically) has seen earnings decline to $1.4 billion (from $5.1 billion last year), which had to be expected due to the low oil price during the third quarter. Exxon Mobil's International upstream operations were more resilient ($1.8 billion in earnings), whereas Exxon Mobil's US upstream operations reported a loss of $400 million.
Exxon Mobil's downstream segment saw its earnings grow 100 percent to $2 billion, which was primarily the result of higher crack spreads in comparison to the prior year's quarter. Exxon Mobil's downstream segment could have earned even more money, but was negatively affected by lower activity due to maintenance shutdowns.
Exxon Mobil's chemicals segment saw earnings grow two percent to $1.2 billion, due to higher margins, which were partially offset by unfavourable currency rates.
Exxon Mobil's downstream and chemicals segment saw higher earnings in comparison to the prior year, but earnings did not grow enough to offset the huge earnings decline from Exxon Mobil's upstream division. Nevertheless this shows the strength of Exxon Mobil's integrated model, where earnings flows are less cyclical in comparison to pure upstream (or pure downstream) companies.
Cash generation and utilization
Exxon Mobil generated $9.7 billion in cash from its operations in the third quarter, $7.7 billion was spent on capital expenditures. This means lower cash generation and lower spending (capex are down sixteen percent through the first nine months of 2015). Exxon Mobil generated free cash flows of $2 billion in the third quarter, which is a positive on the one hand (since a lot of oil producers are not producing any positive free cash flows at all), but on the other hand this is not enough to pay for Exxon Mobil's shareholder returns.
During the third quarter Exxon Mobil has spent $500 million on share repurchases (in line with Exxon Mobil's plan to spend $2 billion annually) and has paid out total dividends of $3.1 billion to shareholders. Thus Exxon Mobil's shareholder returns ($3.6 billion) exceeded free cash flows by $1.6 billion.
Burning through $1.6 billion in cash each quarter is not a great position, but I believe Exxon Mobil should be able to continue to do so for a couple of years (or until the oil price improves enough to push Exxon Mobil's free cash flows to a more sustainable level).
The $2 billion spent on share repurchases don't have a material effect on Exxon Mobil's share count (about 0.6 percent of shares are bought back annually), so the company could decide to stop repurchasing shares in order to save $2 billion annually if the oil price remains this low for longer.
All in all we can summarize that Exxon Mobil's cash position is not great, but the dividend looks very safe when we look at the fact that it is mostly covered by free cash flows. Exxon Mobil could easily access debt markets with its AAA-worthy balance sheet if the company felt to do so.
Valuation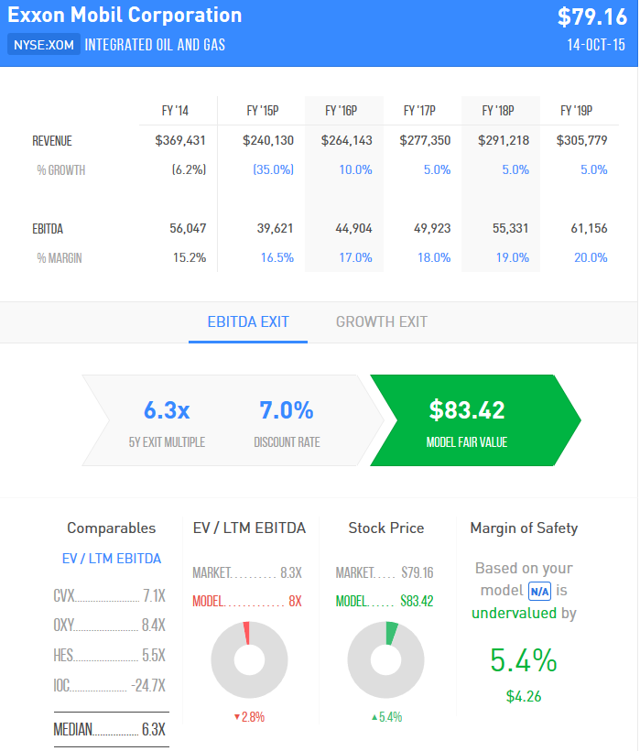 Exxon Mobil's valuation obviously depends on the future price of oil a lot, using the finbox valuation model I calculated that Exxon Mobil is pretty much fairly valued right here.
Assuming that revenues will grow five to ten percent annually over the next years (which seems appropriate when we look at the oil price future curve) and applying a seven percent discount rate (which seems appropriate for a AAA rated company with below average beta) as well as an exit EBITDA multiple of 6.3 (which is the peer group average) we get to a fair value of $83, which is not really a huge difference to today's share price.
Exxon Mobil thus looks fairly valued right here, not cheap enough to justify entering a new position but not too expensive to sell either. For income investors the situation might be different, with its dividend yield of 3.5 percent Exxon Mobil looks attractive in comparison to the broad market (which has a dividend yield of 2.0 percent and which isn't rated AAA at all).
Takeaway
Exxon Mobil's third quarter saw lower revenues and lower earnings, but the company beat expectations for the top and the bottom line, Exxon Mobil's chemical and downstream segment helped a lot.
Exxon Mobil remains free cash flow positive and the dividend looks secure (at least for a couple of years).
Exxon Mobil looks fairly valued right here, but might be interesting for income focused investors due to its 3.5 percent dividend yield, low beta and strong balance sheet.
Disclosure: I am/we are long XOM.
I wrote this article myself, and it expresses my own opinions. I am not receiving compensation for it (other than from Seeking Alpha). I have no business relationship with any company whose stock is mentioned in this article.