Dear Readers & Followers, in this short-form blog post I want to lay out why a focus on cash flows can be very helpful for investors, especially for those looking for a way to generate a reliable income stream.
Why Cash Flow Matters
The cash that a company generates can be used in many different ways, including for growth projects, repayment of debt, M&A, and shareholder returns via either dividend payouts or stock buybacks. The ability to generate cash is thus vital for a company and many of the things that drive shareholder value in the long run.
We feel that many investors and analysts are not putting enough focus on a company's ability to generate cash, instead they are focusing more on other metrics. Finding companies that generate large amounts of cash relative to their respective size can be a great way of finding stocks that will turn out to be winners eventually. This is why, at Cash Flow Kingdom, we focus on two types of investments primarily: Stocks that are undervalued since the market is not appreciating their cash flow generation potential, and stocks that have generous cash payout policies while being able to finance their dividends in many different environments.
This has allowed Cash Flow Kingdom to create a portfolio that has generated a highly reliable payout to those that invested alongside Cash Flow Kingdom's founder Darren McCammon: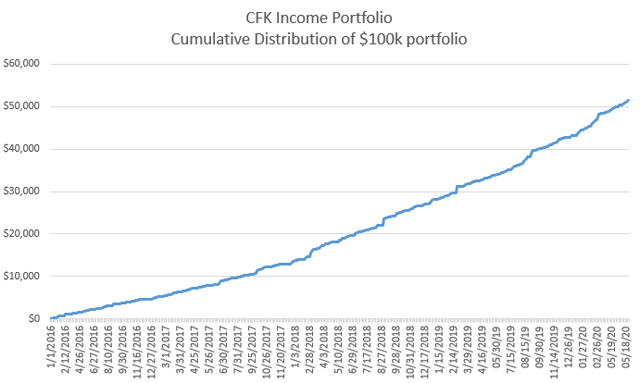 Cumulative distributions rose steadily during the last couple of years, with no major gaps even during times of crisis and market turmoil -- the Brexit surprise, trade war worries, and more. Even during the current pandemic, distributions continued to roll in thanks to a focus on income investments that are reliable and not overly dependent on a positive economic backdrop.
Owning a portfolio consisting of selected income stocks, preferred stocks, and additional asset classes such as CEFs and bonds has allowed for income proceeds that already exceed 50% of the original investment not even 5 years after the portfolio was created. 30 years ago, when bonds were trading with huge yields, that may have not been too much of a feat. However, in our current environment, where yield is hard to come by, this is a great outcome for all subscribers that invest along with Cash Flow Kingdom.
Why Choose Cash Flow Kingdom?
Cash Flow Kingdom does not only provide exclusive research on attractive income investments. Subscribers also get a range of additional benefits on top of that. This includes model portfolios, a regularly updated "Best Opportunities" list, and information on investment-related themes such as money management, allocation rules, risk management, a calendar with notable events, and more.
One of the key features is a chat room where members can exchange ideas with well over 100 other income-focused members, founder Darren McCammon, other contributors such as insurance specialist The CrickAnt, and me. Members are enjoying the Cash Flow Kingdom platform and its money-making advice, showcased by the fact that the platform has a 5.0-star rating.
For my followers, it may be interesting that most of my articles that are published on the Seeking Alpha public page get published on Cash Flow Kingdom before they are released to the public. Members thus get an exclusive preview for a couple of days, which can help when the article comes with actionable advice.
So, What Should You Do?
If you are interested in valuable advice that can help you make the right choices in these troubled times, and getting new ideas for income-generating investments, you should check out Cash Flow Kingdom now! There is a 14-day free trial -- come and take a two-week look. If you find it is not a good fit, you can cancel at no cost. If, on the other hand, you think what our other members are thinking -- that you want to be part of a steadily growing community of investors aiming for reliable income generation in good times and bad -- we welcome you to