What Walmart must learn from Costco
Walmart's May 30th annual meeting will offer shareholders who attend a chance to strengthen their underperforming company by turning employees into stakeholders. A shareholder proposal that will be introduced at the meeting urges that "for every dollar that the company spends on share repurchases", Walmart should "grant an equal amount to the Associate Stock Purchase Plan." This would provide up to $18.8 billion in shares to frontline employees. Similarly, a new report from the Roosevelt Institute urges the company to halt stock buybacks and instead invest $10 billion to increase its starting wage to $16.66 an hour.[1]
Before taking a stand on either of these radical-sounding proposals, shareholders would be wise to talk to the most "inside" of insider shareholders: workers at Walmart's more successful competitor Costco. These employee owners can explain why all shareholders win when a company turns workers into part-owners.
You won't have any trouble finding a Costco employee-insider: He might greet you at the entrance, wearing a badge that says "Juan Gonzales, employee since 1983." Or maybe your checkout clerk will be "Rebecca Jackson, employee since 2001." Their names never appear in Costco's SEC filings. But "Juan", "Rebecca" and Costco's 200,000 plus employees collectively own at least 4.39 percent of their company's stock through the company's ESOP, more than twice the shareholding of all other Costco insiders combined.[2] And that's before counting shares employees purchase commission-free through the Employee Stock Purchase Plan, available to every Costco worker from day one.[3]
Don't look for employee-owners at Walmart, where the dominant insiders never need to set foot in the stores. Descendants of founder Sam Walton own more than 50 percent of Walmart without ever having to greet a customer, stock a shelf or operate a cash register.
How Costco consistently beats Walmart and other competitors
Costco's boosts its bottom line by turning employees into stakeholders. Research by Zeynep Ton of the MIT Sloan School of Management shows how some retailers undercut their profitability by clinging to the false belief that higher wages + better benefits = lower profits while Costco and other "good jobs" companies leverage "higher pay, fuller training, better benefits and more convenient schedules" into top financial performance. The "good jobs" firms "have substantially higher asset and labor productivity than their competitors" and report "healthy sales and profit growth," she found. For example, Costco outperforms Sam's Club while providing workers 40 percent higher compensation. Sales per employee at Costco were almost double those of Sam's Club and sales per square foot were about 58 percent higher.[4]
Multiple data sources confirm that better compensation correlates with better financial performance. In September 2017, CNBC used glassdoor.com to estimate the average hourly wages for Sales Associates at each of the nation's 20 largest brick and mortar retailers. At that time, Costco paid an average of $12.92 per hour, about $3.50 per hour above competitors Walmart ($9.41) and Target ($9.45).[5] [[In the competition to attract and retain highly motivated sales workers, Costco outbids the next best paying big box brands, Nordstrom and Lowe's, by more than $1 per hour.]]
Despite (or Ton would argue because of) its higher payroll spending, a $10,000 investment in Costco five years ago (with dividends reinvested) has turned into more than $18,500 today. Costco beat the S&P 500 and easily outperformed Walmart ($12,400) and Target ($12,800).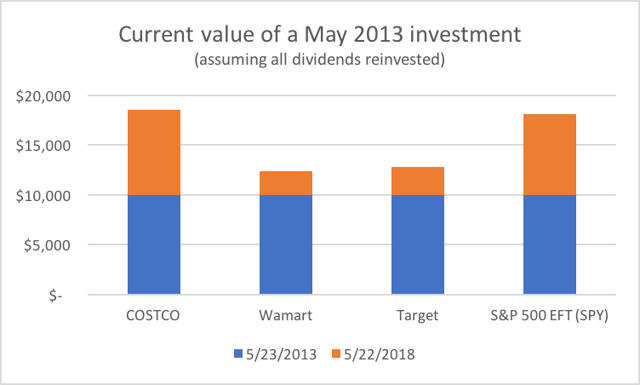 Calculated using Sentieo.com "plotter" for Returns, with dividends included.
Costco has achieved high performance without skimping on the dividends many investors crave. As a Wells Fargo analyst pointed out in April while raising Costco's rating to "outperform," Costco has issued special dividends equaling 4%-7% of stock price every two to three years since 2012.[6] Costco's ownership structure actually provides an extra incentive for generous payouts. Because dividends paid to ESOP participants are tax deductible, the company reported a $104 million tax benefit from the employee share of 2017's $7 special dividend.[7]
Costco is hardly unique. In the grocery industry, the latest data for Fortune 500 firms shows that employee-owned Publix, the nation's third largest grocery chain, dramatically outperforms its two larger rivals.[8] Publix, with about half the revenue of Albertson and one-fourth that of Kroger, produces higher profits than both combined.

Publix has enjoyed a 21-year run on Fortune's list of the 100 best companies to work for [9] and "may have the happiest, most motivated workforce in America," according to Fortune. Publix cements employee loyalty by promoting solely from within and by providing an annual bonus in the form of stock. That annual bonus, paid after one year on the job to anyone who worked at least 1,000 hours in the previous year, equals eight to twelve percent of pay.[10]
Why aren't more companies taking the high road to profitability traveled by companies like Costco and Publix? Short-term thinking is the main culprit, Ton argues. Because labor is the largest controllable cost in retailing, shortsighted companies seek a quick boost in quarterly earnings by slashing jobs and cutting their training budgets. This short-term fix leads to long-term underperformance.[11]
How Walmart can become a "good jobs," high performing company
One poor-performing retailer, Target, may have finally recognized the link between pay and profitability. In September 2017, Target announced an $11 hourly minimum wage and a plan to achieve $15 per hour by 2020. "This significant investment in its team will allow Target to continue to recruit and retain strong team members," the company said. Target also promised to provide team members "the tools, training and support our team needs to build their skills, develop professionally and offer the service and expertise that set Target apart."[12]
The business press sometimes fixates on the "knock-down, drag out clash" developing as Amazon moves into brick and mortar while Walmart seeks a toehold in online shopping.[13] But management must not ignore the competitive threat to Walmart's core store-based business. If Target continues to modernize personnel practices, it will create a new risk for low road competitors like Walmart.
The sad irony for Walmart is that executives know they must change yet drag their feet. In a recent interview, Walmart U.S. CEO Greg Foran confessed that "the engagement of associates wasn't where we need it to be" and that "we were having difficulty attracting the right talent to apply for jobs, let alone holding people for any length of time." But he ended by making excuses for slow progress: "The single biggest challenge is ... that we're doing something on a scale most businesses don't have to deal with. Most major retailers -Costco, H·E· B, Food Lion - have 400 or 500 stores. We have almost 5,000. You can't underestimate what happens when you go up by a factor of 10."[14]
Shareholders can't afford excuses. Especially in an election season when political leaders including Senators Cory Booker, Bob Casey and Tammy Baldwin are gearing to mount further pressure for market-wide change through a populist campaign to restrict buybacks or require a portion of the profits to go toward raising wages.
To salvage any hope for turning Walmart into a high performing company in today's tight labor mark, shareholders must demand that their company rapidly ratchet up Foran's promised reforms and turn high-turnover low wage associates into well-trained, well-compensated stakeholders.
Authors:
Steve Askin earned an MBA in Accounting at Columbia University School of Business and a Certificate in Economic and Business Journalism at Columbia Journalism School. He recently retired from the Service Employees International Union, where he conducted and led corporate financial analysis projects. Before joining SEIU, he worked as a journalist. His report on global business and economic issues appeared in publications including Business Week, the Christian Science Monitor and Le Monde Diplomatique.
Eddie Iny is the Campaigns Director at the Organization United for Respect. He has worked as a corporate research analyst and organizer in the labor movement for over 20 years. Eddie has a masters degree in urban planning and a bachelor's degree in geography, both from the University of California in Los Angeles.
---
[1] Making the Case: How Ending Walmart's Stock Buyback Program Would Help to Fix Our High-Profit, Low-Wage Economy - Roosevelt Institute
[2] The Top 5 Costco Shareholders (NASDAQ:COST)
[4] Why "Good Jobs" Are Good for Retailers, HBR, January-February 2012.
[5] Target just gave employees a raise - here's what 19 other major retailers pay
[6] Costco upgraded by Wells Fargo, predicts special dividend soon
[7][7] Costco 10K for year ended September 3, 2017, page 61.
[8] 2018 Fortune 500 list, available at Fortune 500 Companies 2018: Who Made the List
[10] My Five Days of 'Bleeding Green'
[11] http://goodjobsinstitute.org/wp-content/uploads/2018/03/Good-Jobs-Solution-Full-Report.pdf
[12] Target Raises Minimum Hourly Wage to $11, Commits to $15 Minimum Hourly Wage by End of 2020
[13] Amazon Vs. Walmart: Locking Horns In A Battle For Retail's Future | Stock News & Stock Market Analysis - IBD
[14] Steve Prokesch, "Q&A Greg Foran," Harvard Business Review, January-February 2018.