This week the market has stalled with the S&P500 slightly below its close a week ago. Intraday choppiness has not reached extreme levels and therefore, the VIX has remained complacent below the 20 level.
The past three sessions have printed Dojis indicating indecisiveness. This morning's open was positive as is usually the case on the first day of the month. Economic data has been showing signs of slight weakening but nothing alarming.
Top Performing This Week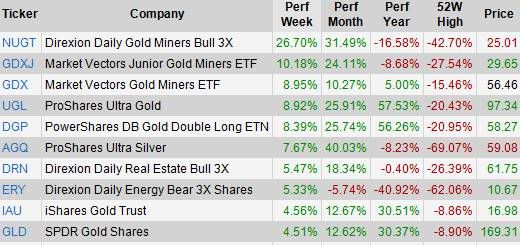 Gold dominates the top performers this week with seven of the top ten slots. Gold isn't the easy read that it used to be-inflation hedge and ultimate currency. Hedge funds dumped it to cover redemptions and speculators / day traders run in and out like a revolving door. However, it still may be telling us something.