Closing Read Feb 7, 2012
Primary trend = UP
Number of days= 31
1st target level = 126.26 (achieved 12/23)
2nd target level = 127.13 (achieved 1/3)
3rd target level = 129.17 (achieved 1/10)
4th target level = 131.59 (achieved 1/20, 131.57 on 1/19)
5th target level = 133.46 (133.40 achieved 1/26)
6th target level = 134.45 (134.45 achieved 2/3)
7th target level = 135.77
8th target level = 136.68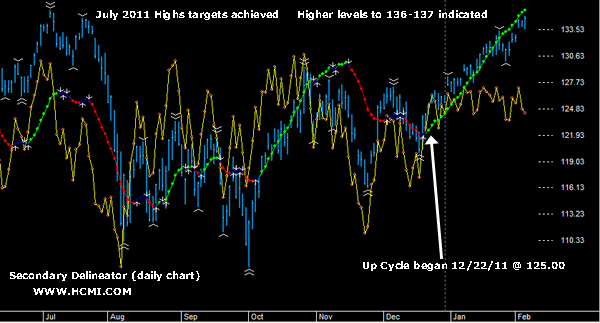 CLOSING READ FEB 7: The discipline of the Delineator is making decision based upon our understanding of how the Primary moves. Price can only sustain a rise if the Slope value is rising. So two days ago (Friday) when the Primary was overextended (+10500) and with +1800 signal weight, the Slope value was at a maximum as well. On that basis we knew those were the highs for that cycle on the Primary. Taking profits into strength on our trading positions was indicated. As with the prior 4 down cycles on the Primary, the core position at SPY 125.27 established on 12/22/2011 as the Secondary identified a new up cycle, remains untraded and long.