China cut its economic growth rate to 7.4% which is weak by their recent standards. They also targeted inflation at 4% which may be a pipedream. The eurozone reports contraction given their PMI readings. It's hard to believe this is bullish in anyway. Separately, and perhaps with great divergence, U.S. economic data continues to creep higher with ISM Services data (57.3 vs 56.8 prior and consensus 56) and Factory Orders (-1% vs prior 1.4% and consensus -1.6%).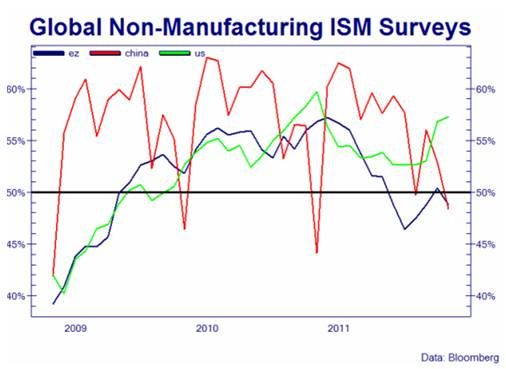 Morgan Stanley issued a note stating there remains a 75% chance of QE3 by June as economic slack continues. June may be the latest date to not interfere with the elections… and, I can't believe I just typed this.
U.S. stock markets opened lower and continued to fall through mid-morning. Then ubiquitous dip buyers stepped to the fore and did what they had been doing previously, launching another "stick save". This may have been prompted by the Morgan Stanley note. Bulls live on QE after all and this may have contributed to QE-addicted small caps (NYSEARCA:IWM).