Closing Read Mar 19, 2012
Primary trend = TRANSITIONING TO UP
Number of days = 5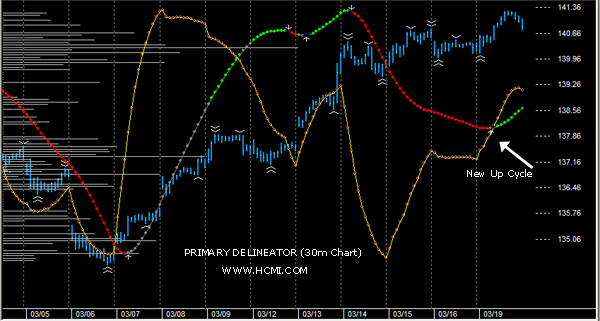 We knew on Friday that if signal weight opened moderately positive today that a new up cycle would be identified on the Primary (shown above). We also knew that the Secondary, the daily trend, was in a position to identify a new up cycle now as well.
The Secondary was not in a position to turn up when the Primary identified the last up cycle on March 7th that took SPY from under 135 to just over 140. By the 13th, the Primary was overextended at +10,800 and had no where to go but down. That down cycle ended this morning at 11:30 and for most of the day, both the Primary and the Secondary had identified new up cycles, a rare in-sync event.
But, the Secondary did not close up, due to exogenous factors (the rumor mill) that reduced signal weight just enough to keep it just fractionally down. However, it will very easily turn up on Tuesday given only modestly positive signal weight. (Secondary, shown below)