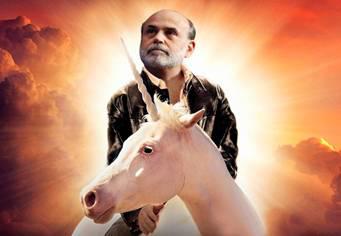 The S&P 500 chalked up eleven weeks in a row without printing a down week. The only time that has even come close to happening over the past 20 years was January to April 1998 at the launch of the dotcom bubble. But that was only ten weeks.
The market has gotten every miracle it asked for. Even on exceedingly low volume, miraculous money has appeared just when the market starts to dive. Headlines of miraculous bailouts in Europe hit the media with precision accuracy. With the S&P showing its first down week (a frightening -0.50%) Ben Bernanke just happens to make a speech before the market opens with every wink and nudge of another round of QE (i.e., "free money"). This week central bankers are meeting in Paris which always produces a Willy Wonkaadventure for the market.
What could possibly go wrong?