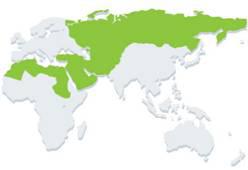 Russia is beginning to struggle with an aging population while the MENA (Middle East & Africa) sectors have a more youthful and developing consumer market. Demographics play a key role, and in that regard, selections in this diverse region are extremely varied.
Some parts of this region would be in the Pioneer category meaning they're truly in their infancy for investors. Others are quite mature and have existed for quite some time with high AUM (Assets under Management) investor interest and acceptance.
Russian and South African markets are rich in natural resources making for volatility along with the price action in commodity markets. South Africa has both a high level natural resources and excellent demographics meaning a rising consumer base.
During 2011 the MENA region has been swept up in the Arab Spring as long ruling dictators have been thrown out and new regimes will take their place. In the first quarter of 2012 this trend is continuing with the current battleground in Syria. It is uncertain how these developments will affect what markets exist in affected countries whether in Egypt, the Gulf States and so forth.