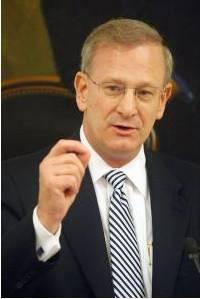 HOENIG SEES A BUBBLE & STOCKS SEE RED

As a dissenter Fed Governor Thomas Hoenig dared speak of bubbles and other heresies away from the official line. At the same time, Bernanke was testifying regarding current economic fragility. Who's right?

Hoenig stated:

"In particular, what are the hazards of holding the Federal Funds rate target close to zero? The risks of raising too soon are clear and compelling. My comments, however, concern the risks of raising rates too late. Such risks also can be significant but all too often seem more distant and less compelling, and therefore hold great long-term danger for us all…I have dissented at the last two FOMC meetings specifically because I believe the 'extended period' language is no longer warranted and I am concerned about the buildup of financial imbalances creating long-run risks….And, the market appears to interpret the extended period as at least six months. Such actions, moreover, have the effect of encouraging investors to place bets that rely on the continuance of exceptionally easy monetary policy.  I have no doubt that many on Wall Street are looking at this as a rare opportunity."

At least he's articulating what.
..
READ MORE!
Sign up to receive free Dave's Daily notifications sent to your email address only at 
http://www.etfdigest.com