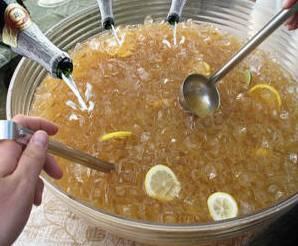 THE FED KEEPS THE PARTY GOING
The Fed gave bulls the green light to keep the good times flowing yesterday putting Eurozone worries to the background. It didn't hurt that earnings are coming through and Jobless Claims data while (cough) were "worse than expected" improved slightly over the previous week (448K vs 459K). I guess this is good but it seems that data is just crawling along the bottom. Also a little watched economic data from the Kansas City Fed showed economic activity at the highest level in two years.

Nevertheless, this is all bulls needed to get things going again. After the large sell-off Tuesday, stocks were no longer overbought; the Fed played ball; Europe seemed okay today; dip buyers were back in business.

The pattern remains the same—violent sell-offs on heavy volume followed by lighter volume melt-ups. Weak hands, or those cautious folks with trailing stops are screwed while Da Boyz on trading desks know just what to do with more cheap money from Uncle Sugar.....READ MORE!

Sign up to receive free Dave's Daily notifications sent to your email address only at http://www.etfdigest.com